February 17, 2017
2/17/17
Art by Anicka Yi "provokes intense desire; one wants to touch it and smell it," writes the New York Times. The conceptual artist, whose work was on view in NO MAN'S LAND, employs science and scent and integrates unusual materials like tempura-fried flowers, or snails injected with oxytocin, in her works. As the award recipient of the 2016 Hugo Boss Prize, Yi will host a solo exhibition at the Guggenheim Museum in New York.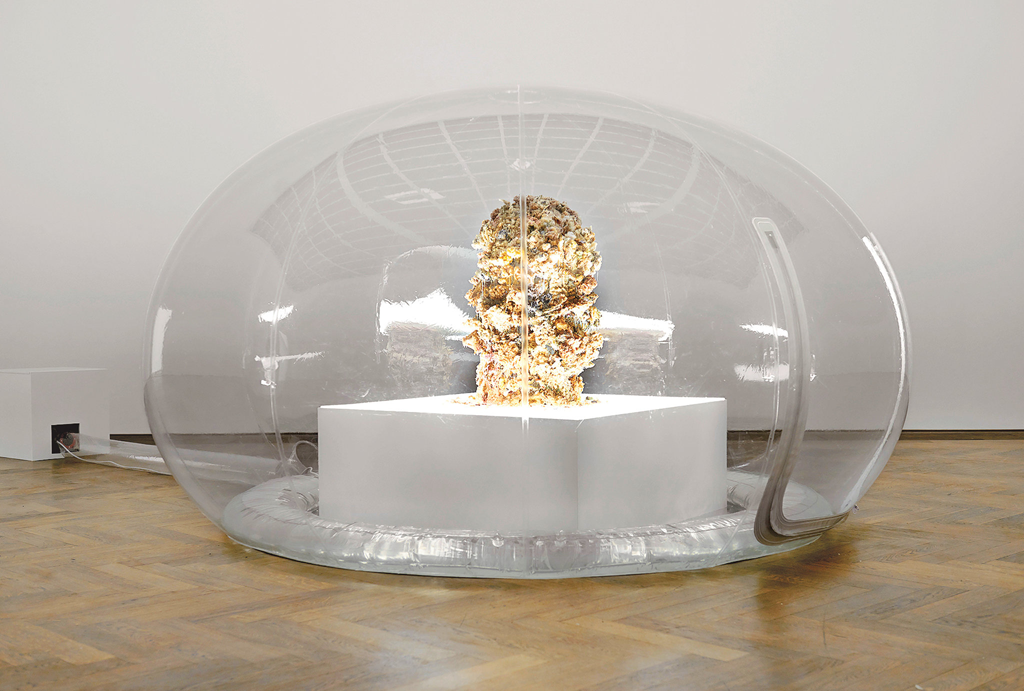 Another NMWA exhibitor, Women to Watch artist Rachel Sussman, fills cracks in the marble floor of the Des Moines Art Center with gold, similar to the Japanese ceramic repair practice kintsugi. NMWA book artist Kerry Miller assembles her mesmerizing cut parchment sculptures in a new video.
Front-Page Femmes
In a diary letter to Diego Rivera. Frida Kahlo wrote, "I'd like to paint you, but there are no colors, because there are so many, in my confusion, the tangible form of my great love."
After an earthquake destroyed New Zealand's Lyttelton Museum, artist Julia Holden revived the histories of 23 figures from the port town.
Judit Reigl, a 93-year-old painter, and Laetitia Badaut Haussmann, a 36-year-old photographer and sculptor, receive the inaugural AWARE art prize.
Madrid unveils plaques around the city to commemorate a lost generation of women writers, artists, scientists, and thinkers.
Art in America writes that the theatrical production The Town Hall Affair "reads as a warning about deadly masculinity."
Artist Joan Linder makes panoramic drawings of toxic and radioactive sites in the U.S.
A new biography seeks to "unearth who exactly Louise Nevelson was in all her contradictory poses."
In Identity Unknown: Rediscovering Seven American Women Artists, author Donna Seaman chronicles the lives of seven mostly forgotten artists.
Bustle features six women artists who confront anti-feminist statements to create empowering works of art.
Morgan Parker releases her second collection of poetry, There Are More Beautiful Things Than Beyoncé.
Ten female solo artists have collected the Album of the Year Grammy Award since 1990, compared to seven male solo artists.
Only 22.3 percent of the 206 songs in Billboard's Top 40 list in 2016 were sung by women.
Finding Kukan, by Chinese-American filmmaker Robin Lung, pieces together the story of a lost Oscar-winning film.
Shows We Want to See
French architect Emmanuelle Moureaux creates an immersive installation of 60,000 rainbow-colored numbers.

NO MAN'S LAND artist Nina Chanel Abney opens her first museum show at Duke University's Nasher Museum of Art.
Entangled: Threads and Making examines the idea of textiles as women's work and highlights the influence of different generations of women artists.
Tracing the Remains, on view at the Mütter Museum of the College of Physicians of Philadelphia, explores the life and decay of the human body—through sculptural fiber art.