February 19, 2016
2/19/16
NPR traces how Swiss artist Meret Oppenheim's "Object"—or "Luncheon in Fur" as it was dubbed by André Breton—became the symbol of Dadaism.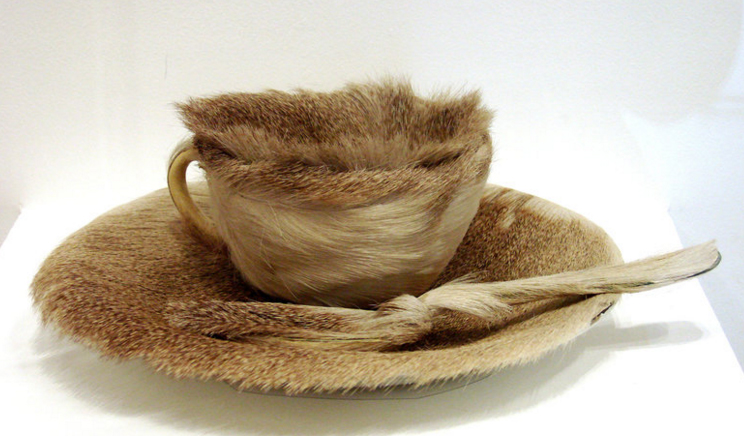 Oppenheim's teacup was purchased by MoMA for $50—making it the first work by a woman the museum acquired and earning Oppenheim the title of "First Lady of MoMA." NPR writes that "the sculpture became the receptacle of all kinds of theories, fears and longings," but the artist maintained that "all she had wanted was to take something familiar and make it strange."
Front-Page Femmes
Linda Vallejo transforms cultural icons into "Mexican-ized figures" to highlight the lack of Mexican American stories in Hollywood.
In the early 1990s, British photographer Jo Spence used her last works to create a poetic and morbidly funny reflection on her terminal cancer.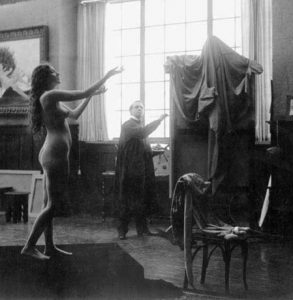 Hyperallergic introduces five women who were the muses for allegorical monuments around New York City.
Brooklyn-based artist Kari Cholnoky experiments with fur, polyurethane, wigs, and sex toys in her compositions.
18th-century French portraitist Elisabeth Louise Vigée Le Brun reached "unprecedented success" across Europe.
Harper Lee died today at age 89. The New York Times traces Lee's life and the enduring legacy of her first novel, To Kill a Mockingbird. The book sold more than 10 million copies, won the Pulitzer Prize for fiction, and cast Lee into an "oppressive" public spotlight.
Atlantic writer Adrienne LaFrance analyzed her own reporting for gender bias.
Musician Annie Clark, known as St. Vincent, helps design a signature guitar for women.
Newsweek profiles Beninese songstress Angelique Kidjo, recipient of the Best World Music Album at the Grammy Awards.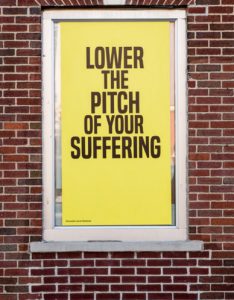 artnet features 10 black artists to celebrate in 2016, including Njideka Akunyili Crosby, Kameelah Janan Rasheed, Tabita Rezaire, Jennifer Packer, and Nina Chanel Abney
A new documentary tells the story of Iranian artist Monir Shahroudy Farmanfarmaian's return to Tehran 25 years after her exile.
Director Lizzie Borden discusses women's stories, grassroots efforts, and how she captured the "spirit of revolution" in her 1983 feminist film Born in Flames.
Six web series by women artists of the African diaspora tackle isolation, sex, identity, and social issues through entertaining webisodes.
Finnish composer Kaija Saariaho's L'Amour de Loin will be the first opera composed by a woman to be held at the Metropolitan Opera in more than a century.
The New Yorker celebrates the accomplishments of writer, composer, musician, and theatre director Liz Swados, who died on January 5, 2016.
Shows We Want to See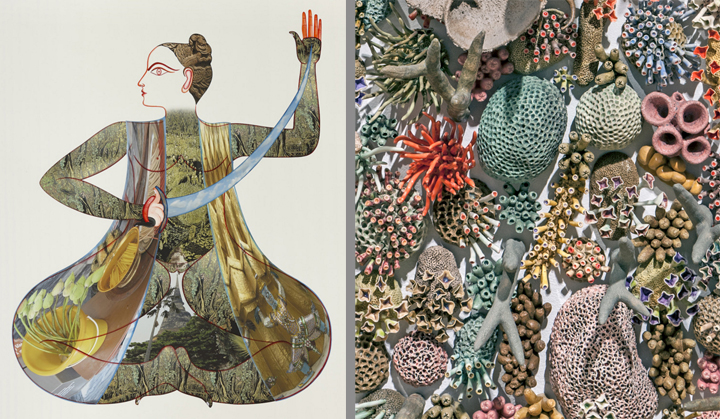 Rekha Rodwittiya's artwork features "an amalgamation of Indian classical and tribal images" where unconventional female figures become "talismanic subjects."
Environmental advocate and artist Courtney Mattison's large-scale ceramic installations are on view at the Virginia Museum of Contemporary Art.
Austrian artist Ulrike Muller's solo exhibition at the Museum Moderner Kunst Stiftung Ludwig Wien confronts concepts of the "other" through abstraction and figuration. Artforum says the exhibition presents "modernity as an artistically and psychologically twisted state."