January 6, 2017
1/6/17
Carmen Herrera, now 101 years old, discusses her career with the Guardian. Herrera recalls the obstacles she faced as a woman artist in the mid-20th century. She explains, "Because everything was controlled by men, not just art."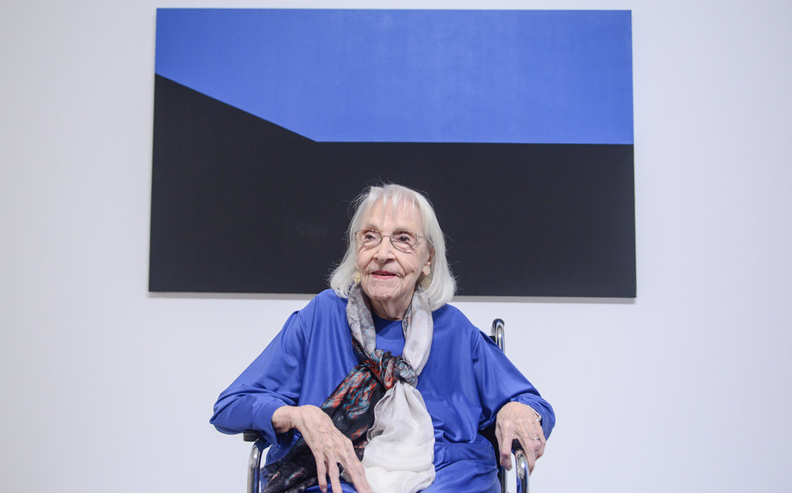 Herrera famously sold her first painting at age 89. The Huffington Post discusses her solo show Lines of Sight at the Whitney Museum of American Art, on view through January 9, 2017.
Front-Page Femmes
The Women's March on Washington, in collaboration with the Amplifier Foundation, asks for art submissions to be used on posters and banners during the march. The deadline is 2 p.m. on Sunday, January 8, 2017.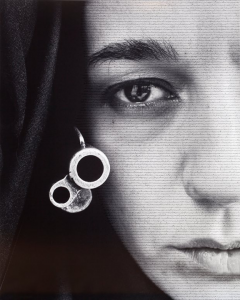 She Who Tells a Story artist Shirin Neshat describes her photograph Speechless from the series "Women of Allah." Neshat says, "It's usually printed larger than life—so that when someone stands in front of it, the gun is pointing straight at their stomach."
Barbara Jatta is the first woman to direct the Vatican Museums.
The Guardian features vivid, abstract paintings by Sandra Blow.
Leila Abdelrazaq draws comics representing the experiences of Palestinian refugees and immigrants.
Wiebke Maurer sculpts place settings in gold and silver filigree.
Artsy highlights eight women who turned food into feminist art.
Bustle reviews the film Hidden Figures, based on Margot Shetterly's book about the black women mathematicians who helped make space flight possible.
The New York Times interviews Ruth Negga about her leading role in the film Loving.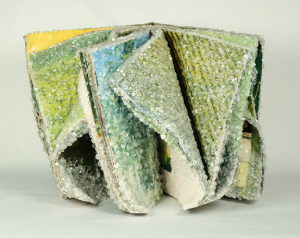 Alexis Arnold poses discarded books and covers them in borax crystals.
New York's Second Avenue Subway features expansive public art installations by Sarah Sze and Jean Shin.
NPR remembers Debbie Reynolds and Carrie Fisher.
Beyoncé will be the first black woman to headline the music festival Coachella.
Actress Marlene Dietrich accumulated a massive collection of books and left handwritten notes in many of them.
NPR records Angel Olsen performing her song "Give It Up" in a church in the Bronx.
"Horror creeps into the most ordinary lines" in the novel Fever Dream by Argentinian author Samanta Schweblin.
In her new short story collection, Difficult Women, Roxanne Gay explores "stories of women who go to impossible places but are fighting to find their way back."
Shows We Want to See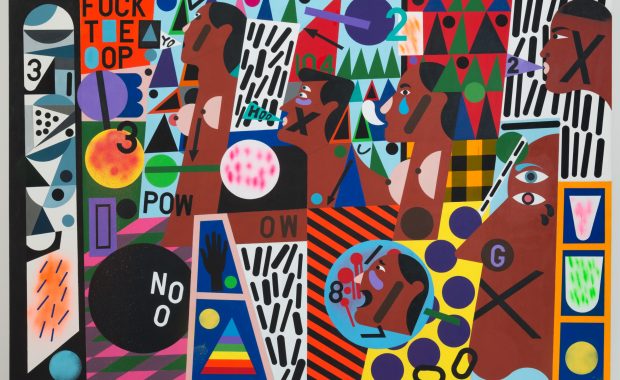 Nina Chanel Abney: Royal Flush, opening next month at the Nasher Museum of Art, features around 30 of Abney's paintings. "Through her monumental paintings, Abney gives us the chance to have a meaningful conversation about issues of racial violence and social justice."
The Creators Project interviews the co-directors of the crowd-sourced NASTY WOMEN Exhibition. The Huffington Post shares a small selection of the featured works submitted by 694 artists.
The Georgia Museum of Art features kinetic sculptures by New Orleans-based artist Lin Emery. "Executed in either polished or brushed aluminum, the sculptures take their cue from music, dance, and natural forms."