August 4, 2018
8/4/18
The fifth installment of NMWA's Women to Watch exhibition series, Heavy Metal, is presented by the museum and participating national and international outreach committees. The exhibition showcases contemporary artists working in metal, including those who create sculpture, jewelry, and conceptual forms. Heavy Metal engages with the fluidity between "fine" art, design, and craft, whose traditional definitions are rooted in gender discrimination.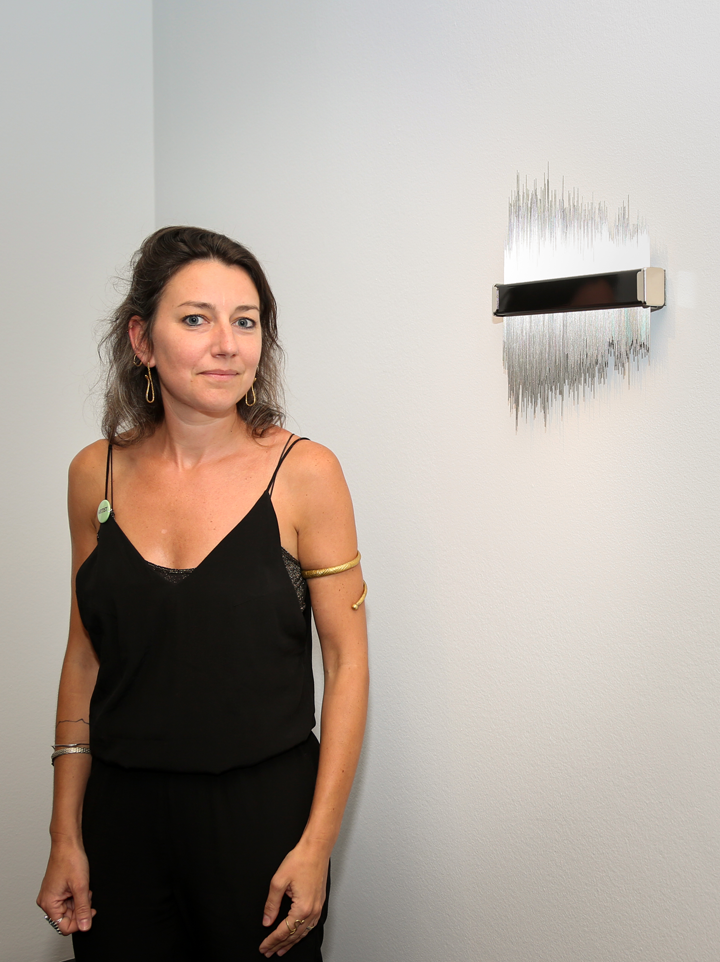 Heavy Metal—Women to Watch 2018
Artist: Charlotte Charbonnel
Nominating committee: Les Amis du NMWA (France) / Consulting curator: Alicia Knock, Centre Pompidou
Works by French artist Charlotte Charbonnel often highlight invisible forces, like sound and magnetic waves. Charbonnel's work focuses on "different visual qualities, the physical instability, and the acoustic properties of elements."
Two of Charbonnel's works in Heavy Metal, Petit colosse n°7 (2016) and Resonarium (2011), contain iron filings suspended in space by magnetism. Resonarium, in particular, demonstrates the strange way in which magnets can help metal defy gravity. The work's central core rotates slowly on a motor while iron filings shift subtly, pulled by an invisible magnetic attraction. Viewers may find the work to have a magical, hypnotic quality.
Charbonnel is attracted to metal for its transformative qualities. "Metal, through its different states (powder, solid, and liquid) allows a transformation that I try to reveal in my work," says the artist. "Because metal can transform from one state to another, it seems almost alive, organic."
Charbonnel sees iron filings as "independent, mutable pieces until they come into contact with magnets." She is interested in the way that the "resulting shape can evoke a mineral, an animal, or a fossil." Charbonnel's intriguing sculptures and installations blend science and art and highlight the enigmatic beauty of natural forces.
Visit the museum to see Heavy Metal, on view through September 16, 2018. Hear from more of the featured artists through the online Heavy Metal Audio Guide.