July 25, 2018
7/25/18
The fifth installment of NMWA's Women to Watch exhibition series, Heavy Metal, is presented by the museum and participating national and international outreach committees. The exhibition showcases contemporary artists working in metal, including those who create sculpture, jewelry, and conceptual forms. Heavy Metal engages with the fluidity between "fine" art, design, and craft, whose traditional definitions are rooted in gender discrimination.
Heavy Metal—Women to Watch 2018
Artist: Leila Khoury
Nominating committee: Ohio Advisory Group / Consulting curators: Reto Thüring, Cleveland Museum of Art, and Matt Distel, The Carnegie
The art of Leila Khoury is both powerful and deeply personal, and responds to the continuing horrors of the Syrian Civil War. The conflict, now in its seventh year, began during Khoury's time as an undergraduate art student. Her family's deep roots in the country inspired her to create work focusing the effects of the conflict.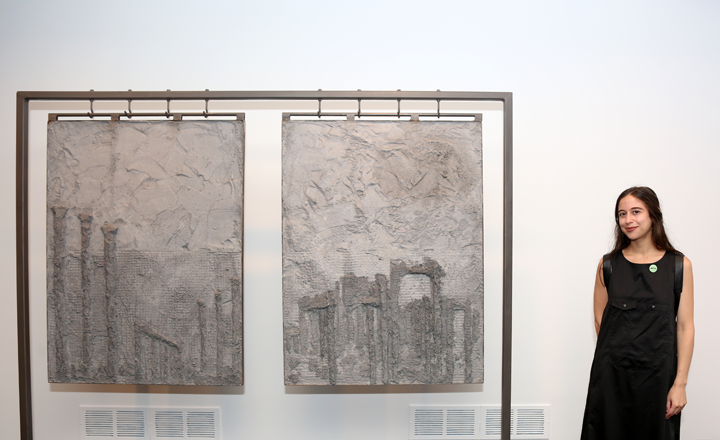 Two works by Khoury on view in Heavy Metal directly reference places damaged by the war. Palmyra (2015) is a large pair of hanging concrete slabs, with the forms of ruins emerging from the rough grey material. Violence caused considerable damage to the ancient city in 2015. To create the work, Khoury spent an hour attempting to build an image of the city without consulting any photos. "It was a really spiritual experience because I was having to face the fact that I might never see this place [again] in my life while I was making it," she says about the process.
Her other work in the show, Summer House (2015), confronts the way the war has affected her family. Khoury felt that the repeated square windows of the piece evoked memories of visiting her grandmother's beach house in Syria. She filled them with concrete to symbolize the fact that her summers spent visiting that place were over, perhaps forever. The artist salvaged the metal for the piece from a scrap yard herself. Her interest in metal comes from her kinship and experimentation in the metal shop community she joined as an undergrad, where she "became enamored by the nature of metal, and the ease at which welding enabled [her] to work large-scale."
"It is my hope that my work brings visibility to a common immigrant experience, that which is complex and defined by mixed, often conflicting cultural identities," the artist explains. "I am still learning how to communicate this in a language that is universal."
Visit the museum to see Heavy Metal, on view through September 16, 2018. Hear from more of the featured artists through the online Heavy Metal Audio Guide.