December 5, 2017
12/5/17
Magnetic Fields: Expanding American Abstraction, 1960s to Today places abstract works by multiple generations of black women artists in context with one another—and within the larger history of abstract art—for the first time, revealing the artists' role as under-recognized leaders in abstraction.
Magnetic Fields (1991)
By: Mildred Thompson (b. 1936, Jacksonville, Florida; d. 2003, Atlanta)
"Each new creation presents a visual manifestation of the sum total of this lifelong investigation and serves as a reaffirmation of my commitment to the arts," said Mildred Thompson. NMWA's exhibition features four works by Thompson, including three wall sculptures made from found wood and painted white, and the expansive painting Magnetic Fields (1991), from which the exhibition takes its name.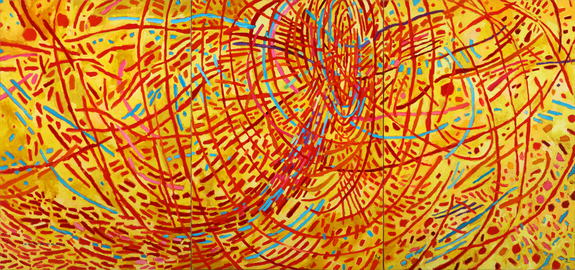 Magnetic Fields exemplifies Thompson's style. She often found inspiration in scientific theories and universal systems. The triptych contains a vibrant, buzzing palette of yellows and reds—as well as a combination of calligraphic brushstrokes and geographic shapes—to evoke Thompson's visual interpretation of the invisible forces of magnetic energy. After receiving her BA in 1957 from Howard University in Washington, D.C., Thompson spent three years at the Hamburg Art Academy in Germany. She later moved to New York City, where the Museum of Modern Art and the Brooklyn Museum acquired her work—a significant recognition of her talents. However, feeling the effects of racial and gender discrimination in the U.S., Thompson moved to Europe for 13 years. She returned to the U.S. in 1986, and proceeded to create art as well as teach art history, art theory, and studio art, in Atlanta for the last 18 years of her life.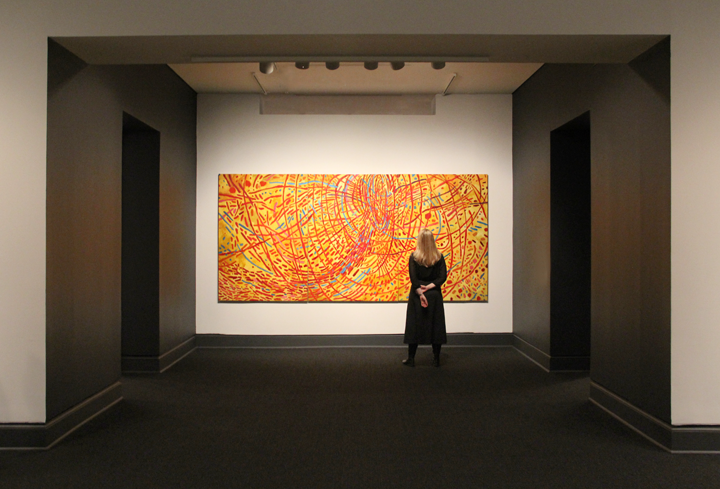 Over four decades, Thompson produced more than 5,000 works in painting, drawing, printmaking, photography, and sculpture. Thompson was one of only a few black women artists trained in the European tradition of Abstract Expressionism, to which she devoted her life. Renowned for her lively abstract paintings and unique use of color, Thompson continuously worked to expand her abstract language and encouraged her students to search for new modes of artistic expression.
Visit the museum and explore Magnetic Fields, on view through January 21, 2018. Learn more through the Magnetic Fields Mobile Guide.