March 7, 2016
3/7/16
Latin American art is often known for its brightly colored, fantastical works—most notably portrayed in Frida Kahlo's Surrealist paintings—as well as its use of magical realism and folk mythology. However, the breadth of the region reaches into widely varied art forms, such as geometric abstraction, which originated in Europe and spread throughout Latin America between the 1930s and 1970s. Colombian artist Fanny Sanín became a pioneer of the geometric abstraction movement and a key figure in modern Latin American art.
Born in 1938, Sanín grew up in Bogotá, Colombia, and studied art at the University of Los Andes. Her emergence onto the art scene, along with contemporaries Jesús Rafael Soto and Raúl Lozza, coincided with post-war European influences of geometric abstraction. As a style rooted in orderliness and stability, geometric abstraction offered artists a respite from their volatile surroundings.
During the mid-20th century, many Latin American countries experienced extended periods of civil unrest, tumultuous government, and stalling economies. Geometric abstraction is based on systematic expressions of organization and structure that many artists' lives and environments may have lacked. Although Sanín left Colombia to study at the University of Illinois in 1962 and continues to work abroad, Sanín's paintings reflect her identity, rooted in Colombia.
To construct visual discipline in her paintings, Sanín explores spatial order through symmetry. Her Acrylic No. 7 and Acrylic No. 3, on view at NMWA, are representative of her oeuvre.
A prolific color field painter, Sanín repeats symmetrical design motifs characterized by blocky, simplified shapes consisting of two to five colors. Sanín's paintings vary in size and composition, but each shares the artist's unique aesthetic. Her cohesive geometric works evoke a sense of calm in their methodical construction.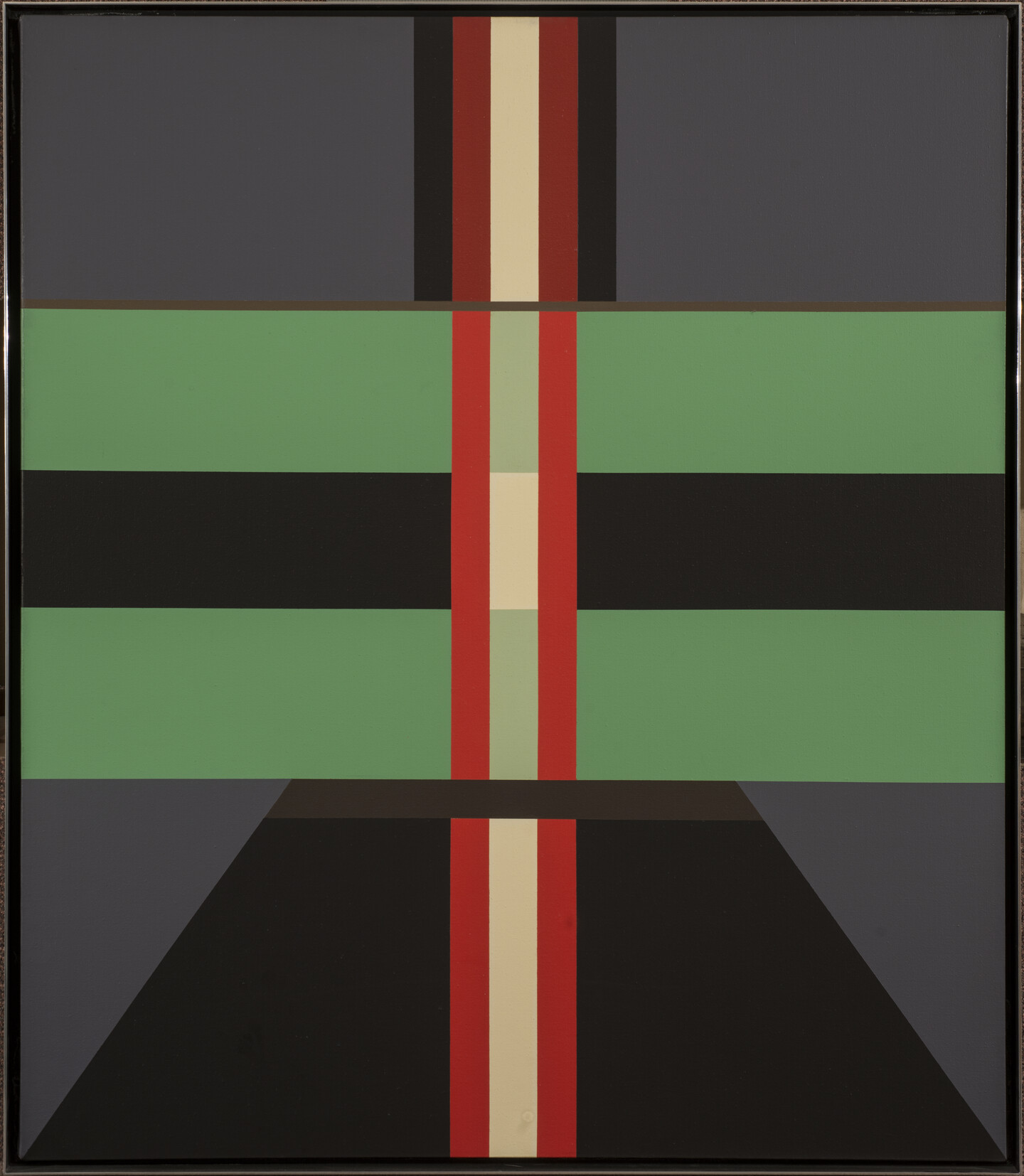 Sanín's paintings join other 20th-century abstract works in the museum's third floor galleries, including colorful expressionist paintings by Elaine de Kooning and Joan Mitchell.
Sanín was one of the few female geometric abstraction artists, and she breathed life into the genre, particularly at a time when other artistic genres often overshadowed it. In the under-recognized field of Latin American geometric abstraction, it is important to note Sanín's contributions creating artwork reflective of the political, economic, and social realities in Latin American history.