May 27, 2020
5/27/20
On June 5, 1944, the day before D-Day, when Allied forces invaded the coast of Normandy to begin liberating western Europe from Nazi occupation, Life magazine published images of nine paintings by artist Edna Reindel (1894–1990). The picture story "Women at War" featured color reproductions of Reindel's canvases depicting women working in assembly lines at a shipyard and aircraft factory near Los Angeles. NMWA's collection includes four of the original paintings, which the artist donated to the museum in 1990, along with her personal papers.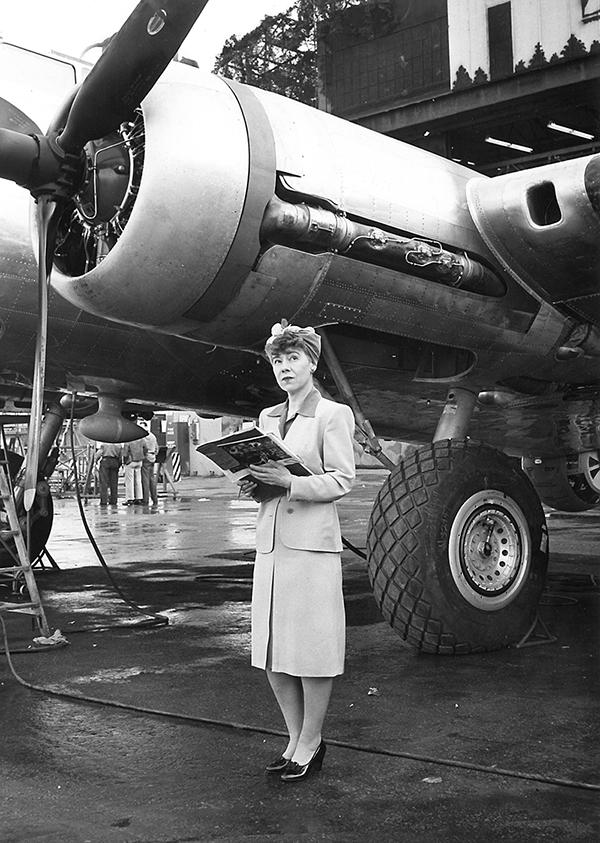 Reindel's images reflect the efflorescence of the Rosie the Riveter character in American culture in the 1940s. With so many male workers deployed overseas during World War II, women gained access to factories and other workplaces that previously excluded them. The Life article notes that women hoped their work would help bring loved ones home and that they appreciated earning as much as men did for the same type of employment. "Miss Reindel found that all of them take personal pride and interest in what they are doing," the article adds. To contemporary eyes, Reindel's paintings emblematize feminism and the attainment (if temporary) of economic equity. In the context of the physical, social, and economic privations that define spring 2020, her images also offer a perspective on human resilience.
Around 1942, Reindel contacted an acquaintance at Life to pitch her idea for the article, and the magazine agreed to pay her $1,500 to create her paintings. She visited a shipyard and the Lockheed Air Craft factory to make photographs and preparatory sketches. Each painting includes a caption that identifies the subject and sometimes a bit of her biography, details Reindel learned as she worked.
Twenty-one-year-old Lili Conyer, seen in Welder Working on the Intake Duct of a P-38 (1943), came from Oklahoma to Lockheed for her first job. In Woman Fastening the Plastic Canopy of a P-38 (1943), Adeline Dingler assembles the covering for the plane's cockpit using screws drawn from the red box beside her. Martiann Martinez, who, the article explains, was born in Mexico, leads a group of assembly workers—both women and men—in Assembly Line for the P-38 at Lockheed (1942). Reindel's tight cropping makes the figures appear close to the picture plane, emphasizing each woman's work—her mental focus, handling of tools, and the assembly processes she mastered.
Reindel honed her style, which included simplified forms and a high-keyed color palette, during the 1930s as she participated in numerous Works Progress Administration (WPA) projects. During the Great Depression, the WPA paid artists to create new murals and easel paintings for court houses, schools, hospitals, and public housing. At a time when steady employment was a distant dream for many, artists gave form to that dream. They painted scenes of people planting, harvesting, building, mending, selling, teaching, and healing— conveying their vision of a resourceful and determined American people.
In her commission for Life, Reindel similarly presented images of collaborative work, and newfound gender equity, as central to American life during World War II. Her stylized paintings express her optimistic vision of a forward-thinking and open-minded new generation.
In Lockheed Worker Working on the Fuselage of a P-38 (1942), Vera Lowe trims the edge of a steel wheel well with a high-speed router. Coworkers assemble an aircraft behind her as she guides the router expertly, wearing protective eyewear to keep tiny metal filings from getting into her eyes. Reindel's nine paintings express her viewpoint that humans endure—and even thrive— during challenging times when they work communally and pursue equity.