July 6, 2017
7/6/17
In celebration of NMWA's 30th anniversary, and inspired by the museum's focus on contemporary women artists as catalysts for change, Revival illuminates how women working in sculpture, photography, and video use spectacle and scale for expressive effect.
Sonya Clark (b. 1967, Washington, D.C.)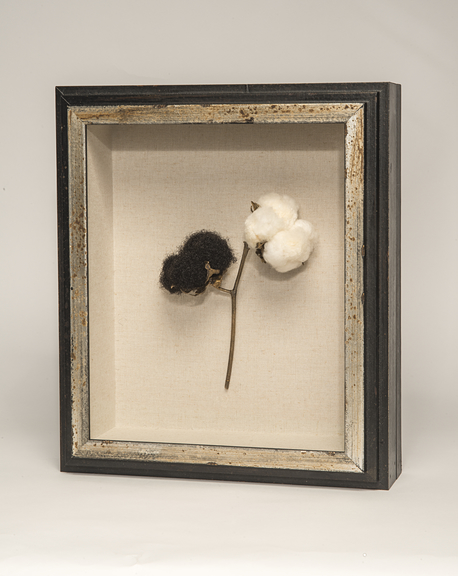 Sonya Clark is a multimedia and textile artist of Afro-Caribbean descent based in Richmond, Virginia. Clark's maternal grandparents, a tailor and a woodworker, and cultural background inspired her interest in the arts and her use of non-traditional materials.
Her works explore racial identity and the connotations assigned to various everyday objects, as well as the double meaning these objects can hold for African American communities. Working with combs, money, flags, and—most strikingly—human hair, Clark examines the intricacies of African American identity. She often uses these quotidian materials to create portraits of prominent black figures from American history, including Madame C.J. Walker and Barack Obama.
The Artist's Voice:
"I am instinctively drawn to objects that connect to my personal narrative as a point of departure: a comb, a piece of cloth, a penny, or hair. . . . I question these collective meanings. My stories, your stories, our stories are held in the object. In this way, the everyday 'thing' becomes a lens through which we may better see one another."—Sonya Clark, artist statement
"Here's one of the things about hair—it brings us together, our DNA is in our hair; we spend a fair amount of time primping ourselves. Hair becomes one of those things we can look racially past ourselves. It's a way in which we're all connected to our ancestors; hair brings us together and it separates us."—Sonya Clark, interview in The Roanoker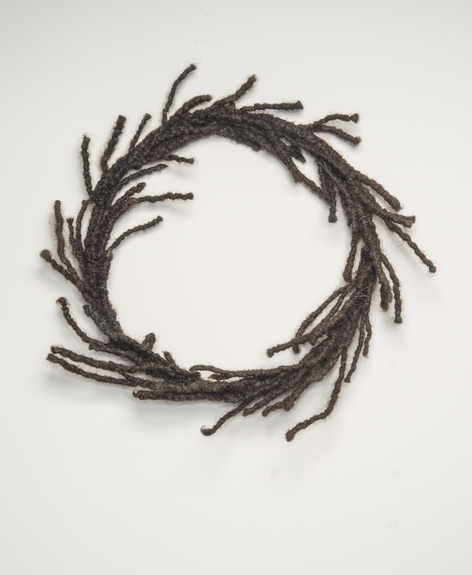 Revival Highlight:
Two works by Clark, Hair Wreath (2012) and Cotton to Hair (2012) are on view in Revival. In both Clark incorporates human hair to reflect on racial identity and cultural prejudices. By using wire to bind strands of dark hair, Clark's Hair Wreath can be seen as an adornment—much like hair itself is often decorative.
Using human hair to question social issues exemplifies Revival's theme of artists manipulating scale and spectacle in order to achieve the desired expressive effect in their works. By combining the recognizable forms of both hair and a wreath in an unexpected juxtaposition, Clark holds the viewer's attention. One of the smaller works in the exhibition, Hair Wreath encourages audiences to look closer, which may lead to a deeper examination of their own relationship to the work.
Visit the museum and explore Revival, on view through September 10, 2017.