July 5, 2013
7/5/13
Click here for Part 1 of 2!
Louise Moillon's work became known to the public in 1629 when her stepfather, François Garnier, was invited to exhibit his work in Grenoble. Betraying her professional ambitions, Louise begged her stepfather to display one of her paintings alongside his. Garnier balked, but Moillon's mother interceded on her daughter's behalf, insisting that one painting depicting a bowl of peaches be shown in Grenoble. To Garnier's shock, the painting sold immediately, and Moillon's artistic star rose from then on. She produced more paintings, began selling them commercially, and earned a reputation as a talented, precise artist. Although the exact number of her paintings is unknown, she was prolific: an inventory of Moillon's mother's possessions at the time of her death in 1630 shows 13 paintings in her mother's collection alone, when Louise was just 20 years old.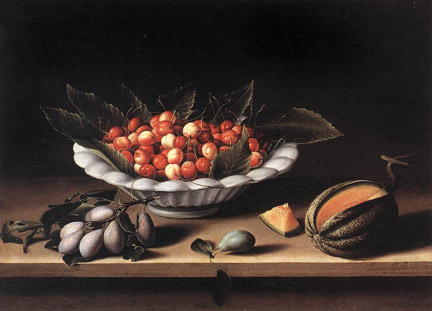 Moillon's preferred medium was oil paint, usually on small wooden panels. However, she began working on a larger scale in the 1630s, incorporating human figures into her work. Having never received formal artistic training, Moillon became the pupil of Abraham Bosse (1604–1676), an artist and instructor at the Royal Academy of Painting and Sculpture. Curiously, Bosse's depictions of men and women have been characterized as stiff and awkward; a quick glance at many of Moillon's still-lifes incorporating human figures—usually sturdy, strong women hauling baskets of fruit, like those seen in At the Market Stall, n.d.—suggests that Moillon's portrayals were similarly rigid. This is perhaps also because, as a woman artist, she lacked access to live models. Nevertheless, Moillon successfully included depictions of people in her still-lifes without sacrificing the genre: the fruits and vegetables always take center stage as the subject of the paintings, with human figures of secondary visual interest.
Unlike many of her still-life predecessors, Moillon's paintings do not appear to hint at the eventual decay of the fruit depicted. Prevalent in Dutch and Flemish painting, this expected subtlety lent moral undertones hinting at the fleeting nature of life. Such a technique was considered a viable alternative for Protestant artists to incorporate messages of morality, since they eschewed the overt, figural religious art commissioned for the Catholic Church. Moillon's apparent lack of moral and metaphorical intent suggests that she abandoned this Protestant tradition in order to appeal to a largely Catholic French clientele, or, alternatively, that as a patriotic French woman grateful for religious freedom and aware of widespread religious persecutions, she wanted to produce paintings free from the trappings of religion. Moillon's paintings appear soundly secular, intended to adorn homes and chateaux with naturalistic portrayals of nature.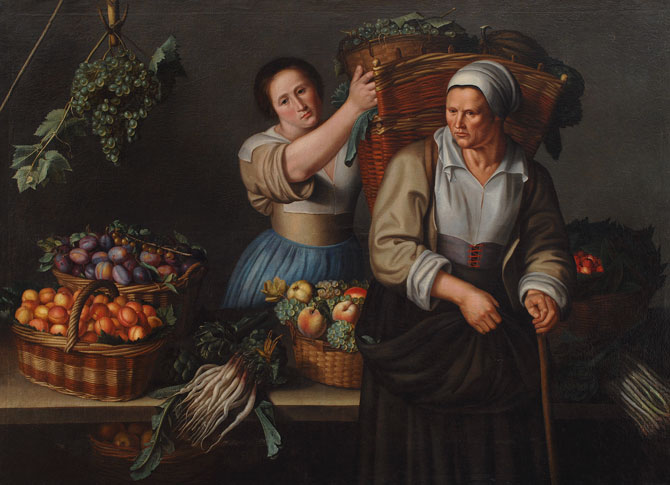 Unthinkably for a woman of her time, Moillon became an artistic sensation in France, earning the support of prestigious clients at home and abroad. It is believed that King Louis XIII (1601–1643), upon hearing of Moillon's popularity and her Grenoble peach painting, commissioned a painting depicting fruit and a candelabrum arranged on a table. Another royal to possess works by Moillon was England's King Charles I, whose art collection in 1639 reportedly included five of her paintings. The artist's most devoted public fan was likely Claude de Bullion (1569–1640), Louis XIII's Minister of Finance, who bought many of Moillon's paintings for himself and for the king. His personal collection included 12 of her paintings, one of which he commissioned for his private residence. In 1640, at age 30, Moillon married Etienne Girardot, a wealthy lumber merchant and devout Protestant. For the next three decades, Moillon dedicated herself to managing her household and raising their three children, producing only one painting dated 1641. In 1648, Girardot died, but Louise did not resume her artistic career until the 1670s, with known works from her last decades dating to 1674 and 1684.
The last 11 years of Moillon's life were racked by religious strife reflecting the national political scene. In 1685, King Louis XV signed the Revocation of the Edict of Nantes, effectively stripping Protestants in France of their religious freedom and threatening them with imprisonment or death. Still staunchly Protestant at age 75 at the time of the Revocation, Louise fled to London with her two daughters, where she learned of her son's imprisonment in the Bastille for refusing to recant his beliefs (he eventually converted). Louise later returned to France, perhaps under threat of the confiscation of her paintings, where she was apparently compelled to adopt Catholicism: a Protestant bulletin of the time recounts that her son was present when she received the last rites of the Catholic Church on her deathbed. In 1696, Louise succumbed to heart failure.
Boasting one of the most stellar artistic careers in 17th-century France, Louise Moillon played a crucial role in raising the genre of still-life painting to one of the most popular art forms in France. With her minute attention to detail, clever incorporation of human figures, and secular style, Moillon contributed to one of France's most important cultural peaks, the Grand Siècle of 17th-century art that propelled France to the forefront of European art.
Works Consulted:
Museo Thyssen Bornemisza, n.d. Retrieved June 15, 2013, from www.museothyssen.org/en/thyssen/ficha_artista/409
Park, Rebecca (2010). From the Vault: Louise Moillon. Retrieved June 15, 2013, from http://womeninthearts.wordpress.com/2010/08/24/from-the-vault-louise-moillon/
Sowa, Helen (1998). Louise Moillon, Seventeenth Century Still-Life Artist. Chateau Publishing, Inc.