October 24, 2014
10/24/14
Two artists born in October are not often discussed together. However, both created early-career work that elicited strong reactions from the American public and art world, later cementing their places in the history of art.
Born October 25, 1941, Lynda Benglis first gained renown for her poured-latex sculptures. The bright splashes of color departed from—but also engaged with—the restrained minimalist art popular with critics and art galleries.
Although she has exhibited primarily as a painter and sculptor, Benglis is well known for a controversial ad that ran in a 1974 issue of Artforum. The ad featured Benglis, naked except for a pair of sunglasses, holding a plastic dildo between her legs. The aggressive object and pose, and the overt, in-your-face sexuality of the ad, created a firestorm in the art world. Critics and artists either loved it or hated it; Artforum editors even left the magazine to protest its inclusion. Though the art world called the image everything from pornography to a centerfold, today the image can be found in art history books as a remarkable statement about feminism and gender in art. A sculpture by Benglis in NMWA's collection exemplifies another phase of her work, in which metal appears to fold and curl like fabric.
Another October-born artist, Maya Lin, has by turns provoked controversy and praise.
Lin, born October 5, 1959, has designed major works such as the Civil Rights memorial in Montgomery, Alabama, and the museum of African art in New York. Her Vietnam Veterans' Memorial—a subtle, powerful memorial like no one had created before—is a major tourist destination in D.C. Its construction caused a furor of discussion among about public spaces, monuments, and memorials.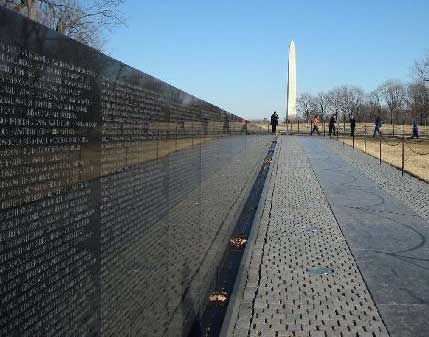 Lin's design won a 1981 contest and was selected for the memorial. Instead of glorifying the war, her design for the memorial was envisioned as a testament to loss. What Lin described as a black wound in the grass, symbolizing the impact of war on the nation, was at first seen by some as unpatriotic, and stylistically unbecoming of an American monument. Despite the initial backlash, Lin's memorial is praised today for its careful consideration of the grief of war, and for the quiet solemnity of the space. It has ushered in new modes of memorial architecture.
Lin's recent work has addressed environmental issues, particularly through a multisite work called What is Missing that tracks extinctions due to habitat degradation and loss. Just two days after her birthday earlier this month, it was announced that she is the recipient of the $300,000 Dorothy and Lillian Gish Prize, to be awarded November 12.
Maybe there's something in the air in October—whether quietly or loudly, these two artists have wrestled their way into art's history.