July 15, 2014
7/15/14
On view in Meret Oppenheim: Tender Friendships, the artist's early work Schoolgirl's Notebook (Cahier d'une Écoliere) provides insight into her spirit and ambition as a young artist, as well as her inclination toward Surrealism.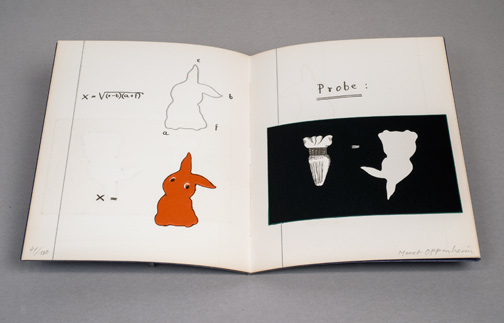 In 1930, when she was 16 years old, Meret Oppenheim created a collage in her mathematics exercise book for her father's birthday. She did not like school, and her first Surrealist work was the absurd equation x = hare (or rather an image of an orangey-red hare or rabbit) was intended to convince her father that she was ill-suited for conventional education and should be allowed to become an artist and go to Paris. Her strategy worked, and in 1932 Oppenheim went to Paris, with her friend Irène Zurkinden, to study art.
In 1957, André Breton, leader of the Surrealist movement, published Oppenheim's Schoolgirl's Notebook in the magazine Le Surrealisme même. After Breton died, his wife Elisa returned the notebook to Oppenheim. It was published in 1973 in a limited edition of 100 copies.
The exhibition also includes a selection of Oppenheim's correspondence, including a handwritten letter to Elisa Breton in which Oppenheim mentioned the notebook.
Meret Oppenheim: Tender Friendships is on view at NMWA through September 14. Exhibition curator Krystyna Wasserman will lead a tour of the show at noon on Wednesday, July 16.