December 10, 2020
12/10/20
Colombian-born artist Fanny Sanín (b. 1938) is best known for her colorful geometric abstract paintings. Newly available from the Museum Shop, Fanny Sanín—The Concrete Language of Color and Structure is the first comprehensive monograph on the pioneering painter. We spoke with the artist about her long career and the painting that embodied her transition to geometric abstraction.
1. Among six other paintings of yours, NMWA's collection includes Acrylic No. 7 (1970). Can you share any details or memories about creating this work?
This work was created in Monterrey, Mexico, after returning from a nearly three-year stay in London. I used acrylic paint instead of oils, which I had used up to 1969. I found that they were more conducive to getting surfaces with an even finish and no brushstroke marks. Acrylics also dried much faster than oils, which would let me continue working on the painting without a long wait.
2. This painting embodies your transition from a gestural painting style to geometric abstraction. Was this a deliberate shift or something that occurred naturally over time?
The change while I was in London was both gradual and conscious. It evolved naturally after being surrounded by the works of many contemporary artists working in abstraction and using newer mediums like acrylics. On my way back to Monterrey, I stopped in Paris and saw The Art of the Real exhibition at the Museum of Modern Art. It showcased the works of many American artists—Helen Frankenthaler, Frank Stella, Ellsworth Kelly, Kenneth Noland, and many others—who were exhibited for the first time in Europe. My work started to use less details and more planar surfaces—first, hard edge geometric surfaces, and finally, vertical bands, such as in Acrylic No. 7 (1970).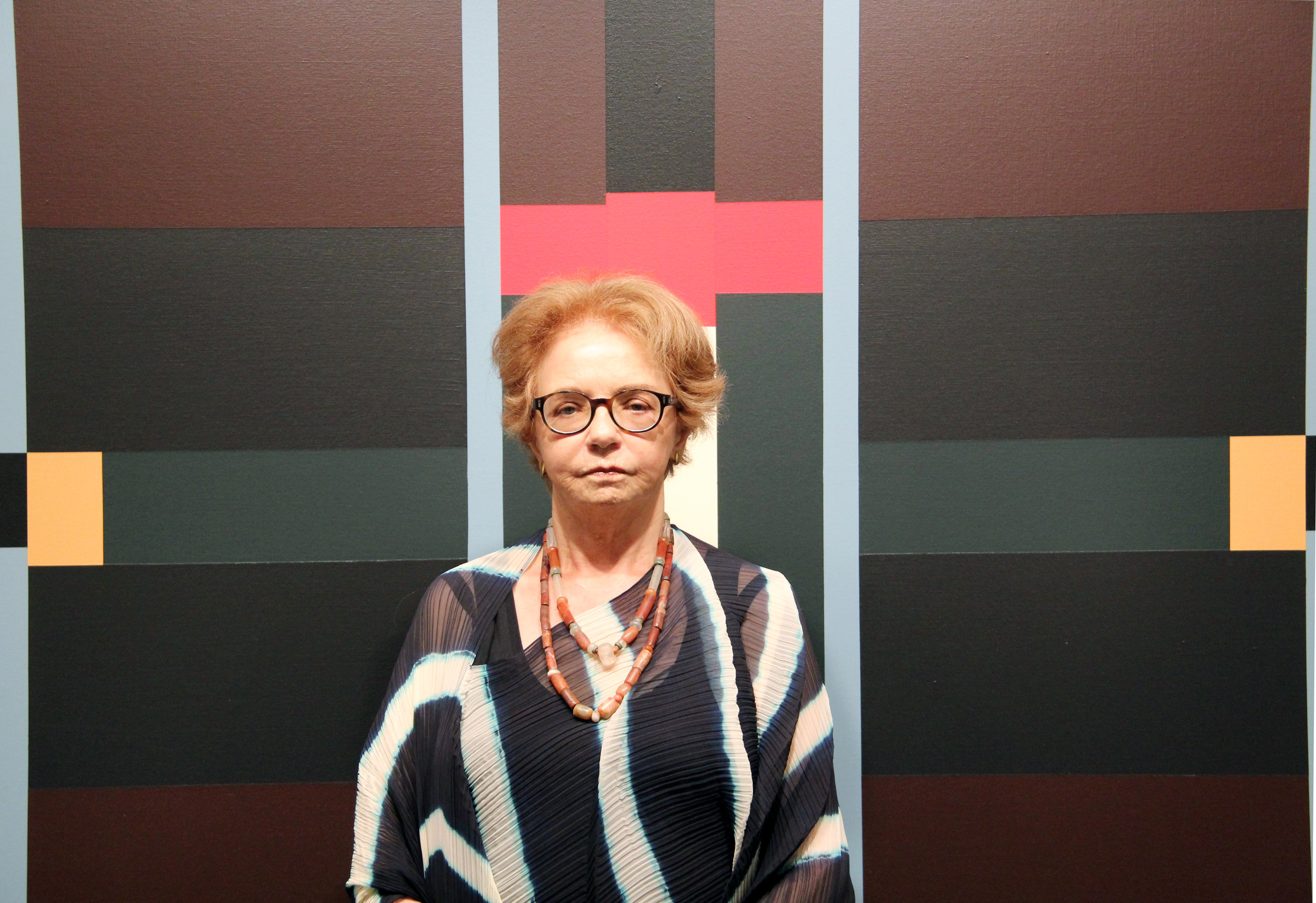 3. Has your Colombian heritage shaped your artistic style?
I have traveled and lived in different countries and cultures—that enables me to say that my art has always been imbued with universal meaning. However, I cannot deny that my Colombian roots and values are still latently present.
4. Do you have a favorite decade or period of your long career?
My professional career has been very rewarding throughout its six decades. There have been many highlights that I remember dearly, and, of course, some downs. Moments that stand out include my first exhibition in Bogotá in 1965 at the Museum of Modern Art; struggling in New York in the early 1970s in the presence of discrimination against women artists; being included in the groundbreaking exhibition Latin American Women Artists, 1915–1995 that toured museums around the country, including NMWA. I also cherish all who contributed to the first comprehensive monograph on my work, Fanny Sanin—The Concrete Language of Color and Structure.
---
Explore Sanín's work in NMWA's online exhibition Balancing Act: the Paintings of Fanny Sanin.