September 28, 2016
9/28/16
Sculptor and printmaker Alison Saar (b. 1956) often carves wood, which led to her attraction to the woodcut printmaking technique. She makes most of her prints after her sculptures, using them to revisit and reevaluate her three-dimensional imagery. Printed against spare backgrounds, Saar's figures retain a sculptural quality despite their two-dimensional format.
"One of the main things that I like about printmaking is that it's accessible to many people," says Saar. "And I also view it as what I call a 'palette' cleansing. My sculptures take a lot of effort, and my hands are usually tired at the end of all of that, so printmaking offers a chance to sit back and look at the piece one more time and make any changes that I want to, or just re-think the work graphically."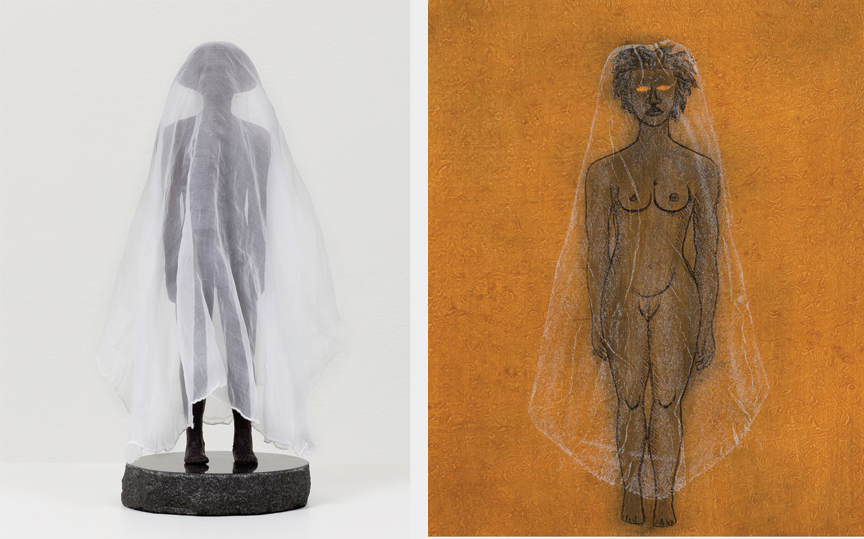 In the sculpture Pallor Trick (2013) and related print Pallor Tricks (2004), Saar deftly alludes to the subjects of racial identity and societal definitions of beauty. The titles feature a play on words, referring to the notion of a parlor trick, an illusion meant to entertain guests. In each work, the female figure stands with a white sheet draped over her head as if playing a game of hide and seek. Saar plays a trick of her own, using the word "pallor" to draw attention to the translucent white sheets that partially veil the figures' dark skin.

Saar created Snake Man (1994) several years after completing her sculpture Snake Charmer (1985), also on view in the exhibition. Inspired by Saar's encounter with a snake charmer, this bust-length figure with blank eyes resembles an ancient statue. The figure, who daringly holds a snake in his mouth, may represent a shaman. Although serpents are seen as sinister by many cultures, this snake, balanced between the man's teeth, suggests equilibrium between good and evil. Against a spare background, the print's figure resembles the freestanding sculpture, becoming a potent distillation of Saar's three-dimensional form. Saar created the dynamic texture in the image by printing from a discarded piece of cracked linoleum.
Saar's prints, and the sculptures on which they are based, focus on individual life experiences as well as broader cultural prejudices. Her figures draw viewers to reflect on gender, race, and identity, subjects that resonate powerfully in today's world.
Visit the museum to see Alison Saar In Print before the exhibition closes on Sunday, October 2, 2016.