July 27, 2010
7/27/10
"Language is the touchstone, the pivot point of all my work."
– Lesley Dill
Lesley Dill combines the human body, language, and a range of materials to construct her artwork. The Poetic Body–Gloves, Ears, and Eyes, 1992, exemplifies this practice. It can be seen in The Collaborative Print: Works from SOLO Impression at NMWA through September 13.
Dill was born in 1950 in Bronxville, New York. Her fascination with language and art is evident throughout her education. She received a Bachelors of Art in English from Trinity College in 1972 and she received a Masters for Teaching from Smith College soon after. In 1980, she received a Master of Fine Arts from Maryland Institute College of Art. In 1992, Dill began to work at Landfall Press where she experimented with combining words with lithography, silkscreening, etching, and collage.
Dill uses a variety of media to create her artwork—photography, printmaking, drawing, sculpture, and even performance art. Her signature affinity for language and the human body materializes in several ways. Early in her career, Dill created wire and paper sculptures to form figures, dresses, and suits. Eventually, she began to cover her sculptures with words. The poetry of Emily Dickinson is especially monumental in her work. Lines by the private poet are often strewn across Dill's lithographs, collages, and sculptures. In 2008 Dill devised Divide Light, a full-scale opera inspired by the words of Dickinson.
Dill has received numerous awards for her work including a Joan Mitchell Foundation Grant in 1996 and the Rockefeller Foundation Multi Artists Production Award in 2007. Her work has been in numerous exhibitions and museum collections. Her first solo exhibition, Lesley Dill: A Ten Year Survey, was shown at NMWA in 2003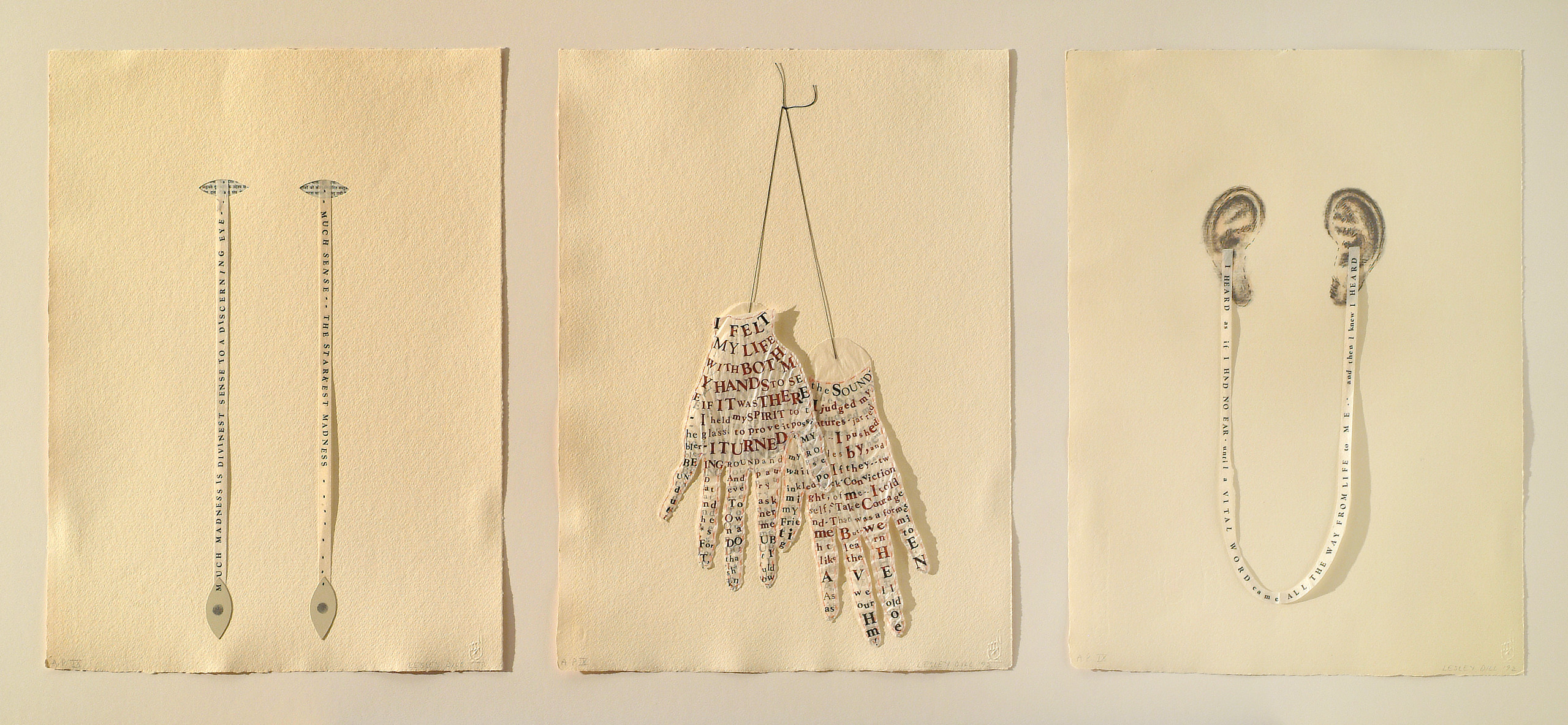 The Poetic Body–Gloves, Ears, and Eyes is one of many prints Dill worked on with Master Printer Judith Solodkin. A lithograph with letterpress and collage, The Poetic Body, like many of her works, features the words of Emily Dickinson: "I heard as if I had no ear" begins Dickinson's text which coils an ear, and "I felt my life with the bottom of my hands" is written across a glove. The Poetic Body exemplifies the union of body and language that Dill has explored throughout her entire career.