October 17, 2017
10/17/17
Magnetic Fields: Expanding American Abstraction, 1960s to Today places abstract works by multiple generations of Black women artists in context with one another—and within the larger history of abstract art—for the first time, revealing the artists' role as under-recognized leaders in abstraction.
Racism is Like Rain, Either it's Raining or it's Gathering Somewhere (1993) by Mary Lovelace O'Neal (b. 1942, Jackson, Mississippi)

Racism is Like Rain, Either it's Raining or it's Gathering Somewhere (1993) combines several trademark aspects of Mary Lovelace O'Neal's style: bold, precise color; contrasting, velvety black; and aerobic, free-spirited movement. Together, they work to illustrate marginalized experience through representative abstraction. A vibrant "cloud" of heavy brushstrokes permeates the stark, matte background, underscoring the omnipresent and unavoidable nature of racism. The piece was originally on view at the California Afro-American No Justice, No Peace? Resolutions exhibition in 1993, a reaction to the Rodney King verdict and ensuing race riots of 1992.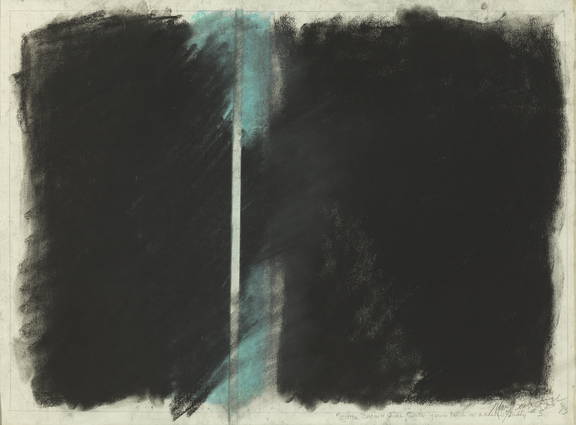 O'Neal's roots in activism—she was mentored by figures like Martin Luther King, Jr., Malcolm X, and James Baldwin during the 1960s—are inextricably intertwined with her artwork. She examines the continuing influences of racism and celebrates the resilience of Black culture in her other Magnetic Fields works "Little Brown Girl with your Hair in a Curl"/Daddy #5 (1973) and "…And a Twinkle in Your Eye"/Daddy #6 (1973), both of which involve O'Neal's signature black pigment smothering a streak of light blue.
O'Neal does not use abstraction as an elaborate metaphor for Black experience; rather, she views abstraction as a more transparent way to "give voice to the 'intangible elements of the human spirit.'" O'Neal's repeated use of black pigment and its obvious symbolism throughout her works speaks to this unfiltered exploration of racial politics in the United States.
The artist makes a point of being clear with her intentions in her artwork, particularly in the way she titles each piece. "My paintings and their titles speak for me. They're not attitudes of despair; they just simply state a factual existence that continues." Consequently, O'Neal's paintings carry a sense of optimism and joy despite the weight of their subject matter. Although Racism is Like Rain, Either it's Raining or it's Gathering Somewhere portrays a push-and-pull of power dynamics, there is a whimsical freedom in the illusion of movement.
Visit the museum and explore Magnetic Fields, on view through January 21, 2018. Learn more through the Magnetic Fields Audio Guide.