August 31, 2015
8/31/15
The fourth installment of NMWA's biennial exhibition series, Organic Matters—Women to Watch 2015 is presented by the museum and participating national and international outreach committees. The exhibition's artists redefine the relationship between women, art, and nature.
Organic Matters—Women to Watch 2015
Artist: Rachel Sussman
Nominating committee: Greater New York Committee / Consulting curators: Christiane Paul, Whitney Museum of American Art; Dana Miller, Whitney Museum of American Art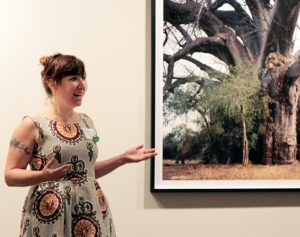 Rachel Sussman mixes art and science to spark reflection on the oldest living organisms on the planet. "It's part art, it's part science, and it's part philosophy," explains Sussman. Her conceptual photograph series "Oldest Living Things in the World" delves into "deep-time and long-term thinking."
Although her subjects have survived for millennia, Sussman brings awareness to the fragility of their existence due to recent climate change and human encroachment.
Working with a team of biologists, Sussman traveled the globe in an attempt to record 30 organisms that have survived for 2,000 years or more. Not merely scientific documentation, Sussman's photographs serve as portraits of individual organisms—each with their own kind of dignity and personality. Sussman shot her subjects using a Mamiya 7 II camera, which she has owned since 2004. She reveals, "It has been with me through the entire project and has been to every continent."
Organic Matters includes three large-scale photographs from her series. La Llareta #0308-2B31 (2,000+ years old; Atacama Desert, Chile) is what Sussman calls the "poster child of the project." These alien-like shrubs are related to parsley and carrots and are comprised of thousands of densely packed branches. Sussman photographed La Llareta at an elevation of 15,000 feet in an area of the Atacama Desert with no recorded rainfall in history.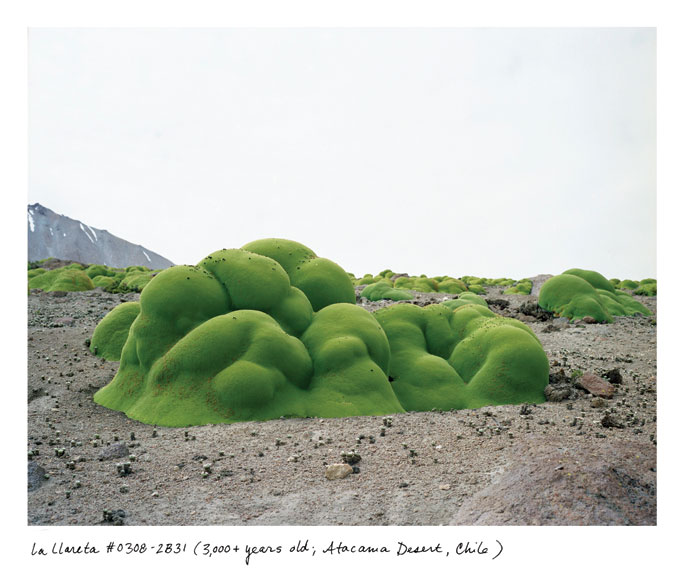 Spruce Gran Picea #0909-11A07 (9,500 years old; Fulufjället, Sweden) portrays the oldest organism in on view in Organic Matters. As a clonal organism, the spruce tree grows genetically identical shoots. Sussman refers to the tree as "a portrait of climate change." The mass of low-lying branches represents how the tree appeared for 9,500 years. Over the last 50 years, a spindly trunk has grown from its center—a climate-related anomaly.
Continuously engrossed in art and science collaborations, Sussman mentions Trevor Paglen's space-proof photos, Ed Burtynsky's environmental landscape work, and Henning Rogge's reclaimed war landscapes as inspiring and thought-provoking. Because her subjects are located around the planet, yet they share the capacity to inspire viewers with their evocation of time, Sussman views her "Oldest Living Things" as something "that just transcends the things that divide us."