April 18, 2013
4/18/13
Unsurprisingly, Skagen artists found willing models in their family members. Anna and Michael Ancher painted each other as well as other members of the close-knit Brøndum family, as shown in the "Family" section of A World Apart: Anna Ancher and the Skagen Art Colony.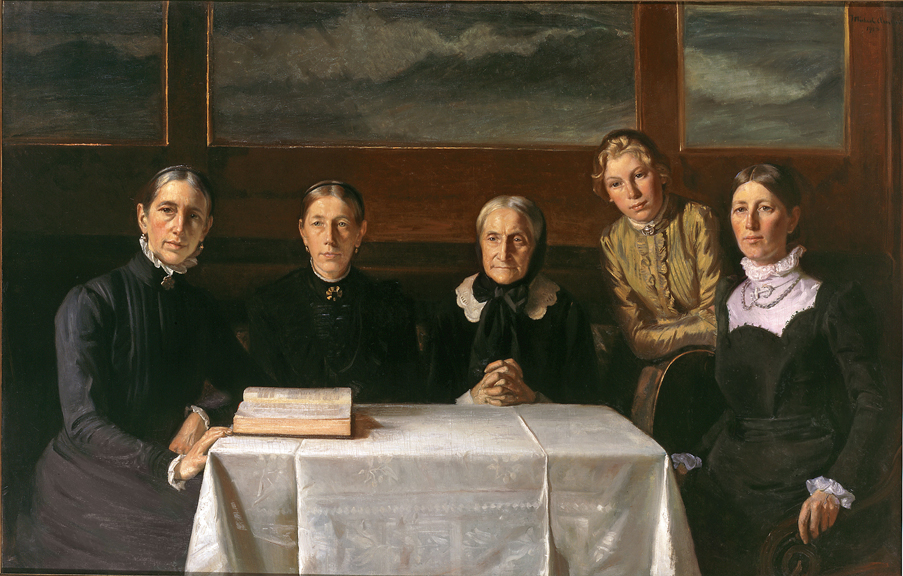 In Christmas Day 1900, Michael Ancher painted Anna and her female relatives in the dining room of Brøndum's hotel. Owned by Anna's family, the inn was the only one in Skagen and became a quasi-clubhouse for Skagen artists. Nearly life-size, this work depicts Anna (at the far right) alongside her sisters, mother, and daughter, Helga. In contrast to the turbulent seascape paintings behind them (also painted by Michael Ancher), the Brøndum and Ancher women seem reserved and serene. While this painting is representative of official group portraits of the time, it also provides an intimate look at their family.
Skagen artists drew influence from Dutch masters like Rembrandt, Haals, and Vermeer. The figures in Christmas Day 1900 are reminiscent of those in 17th-century painting, in which seated and standing figures face outward around a table.
Anna's mother, Ane Brøndum, became one of her favorite models. She painted her aging mother many times over the years, keeping her company as she sat. Two portraits of Ane Brøndum showcase Anna's wide range of styles.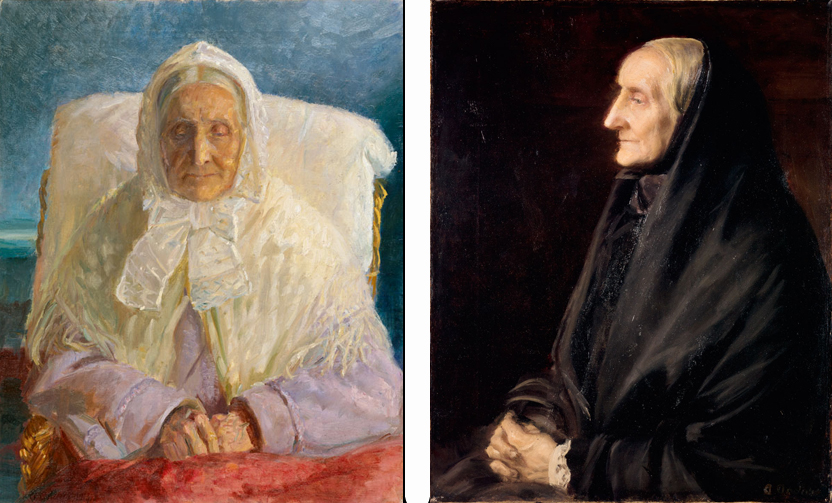 The profile portrait of her mother (1905) is rendered in dark colors with controlled brushstrokes. In contrast, a frontal portrait of Ane Brøndum (1913) depicts the older woman in a lighter palette of pastel blues, pinks, and purples. Not just a study in form, this work illustrates Anna's interest in light and color. Her fluid paint application and unblended brushstrokes effectively capture the effects of light and shadow.
The thematic gallery's family focus provides an additional layer of context with which to consider Anna Ancher and her contemporaries. As seen in the personal portraiture of the Skagen artists, Anna and her fellow painters reference the past and simultanteously embrace the avant-garde.