October 6, 2015
10/6/15
Born in Venice, Rosalba Carriera (1675–1757) was the daughter of a clerk and a lace-maker. Largely self-taught, she began her artistic career painting miniature portraits. Carriera employed ivory as the ground for her miniatures instead of the typical material for her time, vellum. Such works quickly solidified her reputation within Italian art circles and gained her acceptance into Rome's prestigious Accademia di San Luca in 1704.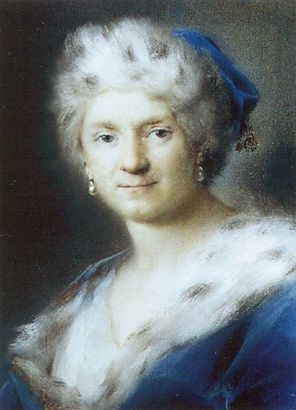 By her early twenties, Carriera was using pastel—the medium for which she later became famous. Previously the powdered pigment bound into sticks was used mostly for informal drawings and preparatory sketches. Carriera revolutionized its use for serious portraiture. Her works were admired for their velvety color palettes and striking details.
She received commissions from the courts of Modena, Vienna, and Dresden. In 1720, Carriera spent a successful year in Paris, where she visited renowned art collections, met French artists, and created portraits of prominent individuals, including the young Louis XV.
She later worked in Modena and Austria, assisted by her sister Giovanna. In Vienna, the Holy Roman Emperor Charles VI became her patron and the empress became her pupil. Her greatest patron, Augustus III of Poland, sat for her in 1713 and amassed more than 150 of her pastels.
Carriera primarily used pastel for portraits and allegorical images. In the 18th century, artists often personified the continents by using female figures in distinctive clothing. At the time, Europe recognized four continents: Africa, Asia, Europe, and America. Carriera's allegorical work in NMWA's collection, America, represents the region as a woman in costume. The realistic flesh tones of the figure exemplify Carriera's skill with pastel. She included a jeweled headband, feather hair accessory, and a quiver of arrows to allude to Europeans' common associations with America. Her ability to capture the textures of rich fabrics and accessories was appealing to her wealthy patrons.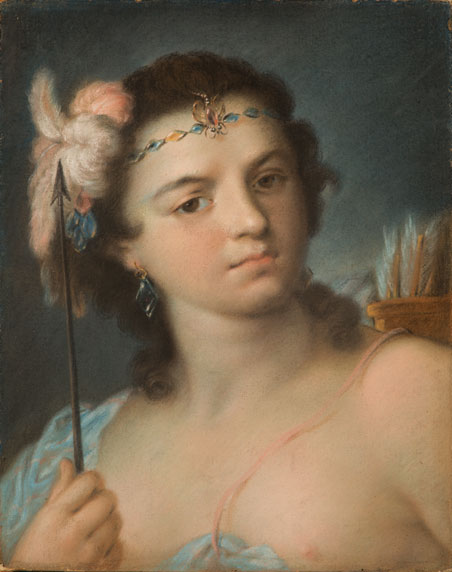 Carriera suffered emotional trauma following her sister Giovanna's death in 1738 and the loss of her own eyesight, which began eight years later. By 1749 she was permanently blind and unable to work. However, Carriera enjoyed such extensive fame that for subsequent women artists, to be called a "modern Rosalba" was high praise. Renowned French portraitist Elisabeth Louise Vigée-Lebrun (1755–1842) earned the moniker decades after Carriera's death, as Carriera's oeuvre continued to influence artists such as Vigée-LeBrun and Adélaïde Labille-Guiard.