September 19, 2011
9/19/11
Fay Ku's Sea Change, featured in NMWA's current exhibition, Pressing Ideas: Fifty Years of Women's Lithographs from Tamarind, stands out among the many other lithographs for its striking subject matter and meticulous detail. Sea Change provokes questions and curiosity in its viewers with the puzzling figure of a girl, seemingly transforming into a fish, swirling across the large print. In addition to Ku's work, Pressing Ideas displays over seventy prints made by women artists who have worked at the Tamarind Institute, on view at NMWA through October 2.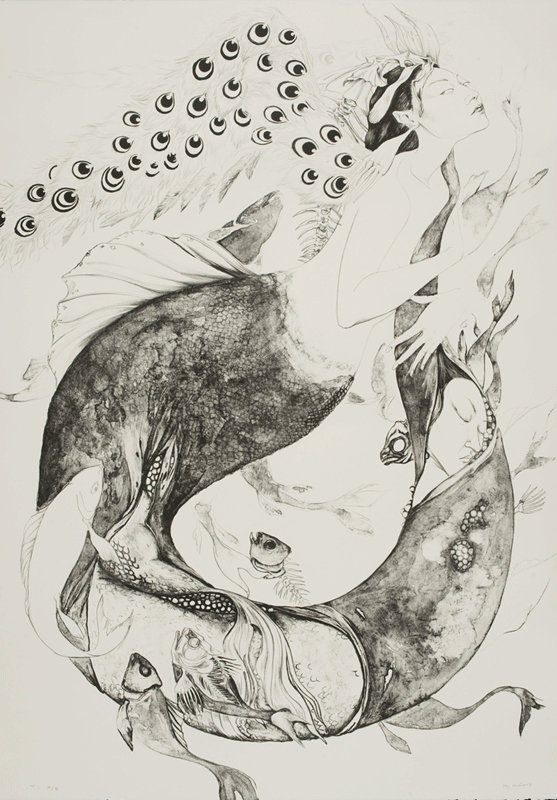 Fay Ku was born in Taiwan and moved to the United States at age three. She currently lives in New York and has had her work shown in solo and group exhibitions around the world, including solo museum exhibitions at New Britain Museum of American Art in New Britain, Connecticut, and the Contemporary Museum in Honolulu, Hawaii. Ku attended Bennington College and received her BA in literature and visual arts; she went on to the Pratt Institute in Brooklyn, earning her MS in art history and MFA in studio art. Ku lived and worked at the Tamarind Institute in 2009, learning the art of lithography and creating the print Sea Change.
Ku's inspiration for her artwork comes from myths, and folktales, stories she has heard, and her own imagination. These inspirations have influenced Ku to depict strange and unworldly subjects, shifting the viewer into an uncomfortable place. Sea Change explores identity issues, focusing on transformation and metamorphosis; many of Ku's pieces show humans transforming into animals, such as the fish shown here. The print is large and contemplative, juxtaposing lush imagery and minimal areas, revealing Ku's talent for precise, detailed lines that urge the viewer to examine more closely.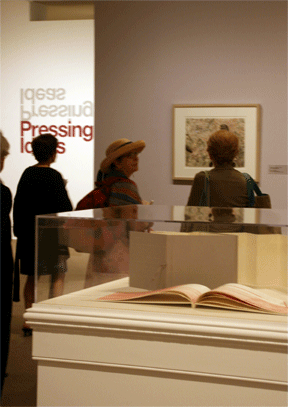 The world that Ku presents is eye-opening and unsettling; her whimsical and strange images evoke the unknown. Her subject matter combines Eastern and Western traditions. In a 2006 interview (http://theextrafinger.blogspot.com/2006/09/interview-with-fay-ku.html), Ku describes her work as "psychological, narrative, figurative. There is a term in psychoanalysis that I find very apt: 'the unthought known.'"
For more information about Fay Ku's work, past exhibitions, and current news, visit http://www.fayku.com. Visit NMWA to see Fay Ku's Sea Change, along with other lithographs by women artists featured in Pressing Ideas: Fifty Years of Women's Lithographs from Tamarind, on view through October 2, 2011.


To listen to Marjorie Devon, director of the Tamarind Institute, describe more of Fay Ku's fascinating style and history, click here.
Posted In
Artist Spotlight
NMWA Exhibitions