December 19, 2019
12/19/19
The End: A Meditation on Death and Extinction, the newest body of work by iconic feminist artist Judy Chicago, continues the artist's practice of tackling taboo subjects. In these works, she offers a bold reflection on mortality and the destruction of entire species. Visually striking and emotionally charged, the exhibition comprises more than 35 paintings on black glass and porcelain, as well as two large-scale bronze reliefs. On view September 19, 2019–January 20, 2020.
***
Judy Chicago has a long history of incorporating handwritten text into her bold and colorful artworks. Whether embroidered into cloth or painted in watercolor, Chicago uses words within a visual language that invites viewers to reflect on—or challenge—the status quo. In her most recent body of work, The End: A Meditation on Death and Extinction, the sections titled "Extinction" and "Mortality" are no different. In these works, made of kiln-fired glass paint on black glass, the artist's soft, cursive handwriting appears juxtaposed with the difficult and urgent subject matter it communicates. Through words and images, Chicago addresses a culture that averts its eyes from the inevitable and from destruction: aging, death, and extinction.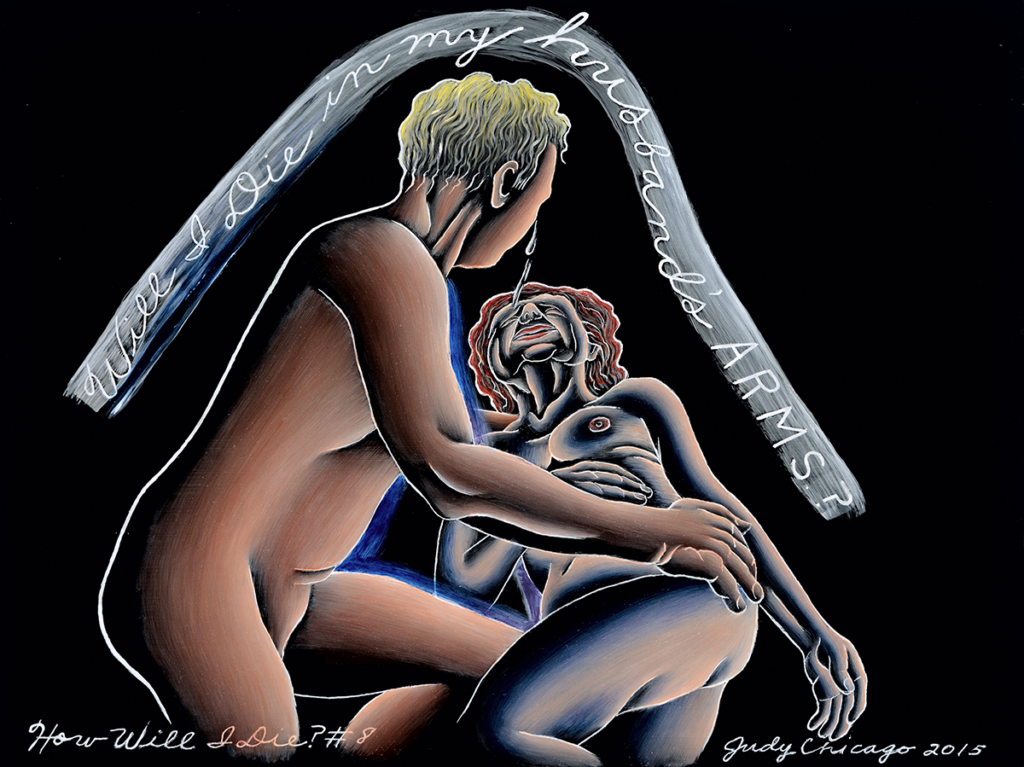 The panels in both series carry the intimacy of a diary in scale, at just 9 by 12 inches each ("Mortality") or 12 by 18 ("Extinction"). Her distinctive, swirling letters resemble a decorative motif and embrace femininity, sentimentality, and sincere personal reflection. In the "Mortality" works, Chicago imagines various ways she might die and renders these scenarios in striking imagery framed by ruminating text. "Will I die in my husband's arms?" hovers over an image of the artist's reclined body, her crying husband holding her.
In "Extinction," Chicago expresses compassion for the natural world by addressing human greed through factual, heart-wrenching descriptions. These works highlight her meticulous handwriting and commitment to research, presenting urgent information. Text in this series commands moral authority. In Declining (2016), Chicago paints three frogs perched on a cliff facing a distant horizon. Underneath the illustration, she writes:
Frog populations have been declining worldwide and nearly one-third are threatened with extinction. Frogs have survived in their current form for 250 million years and should serve as an alarm call that something is dramatically wrong with the environment. Frogs are considered accurate indicators of environmental stress. Pollution, global warming and habitat destruction have already taken a toll.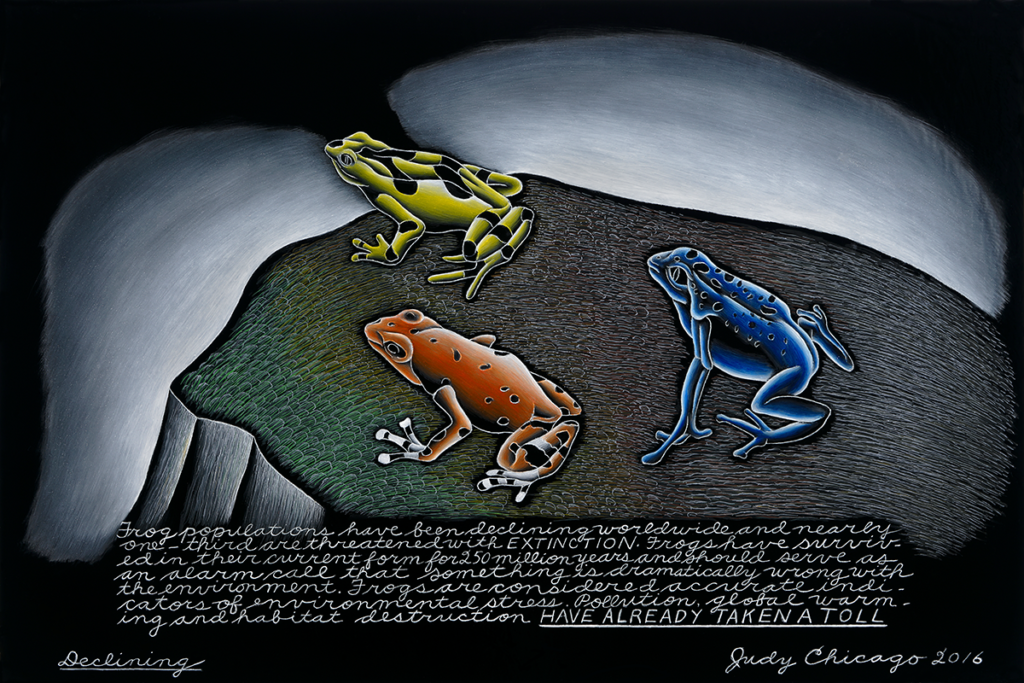 Though small in scale, works in "Extinction" are striking and emotional. They urge viewers to question consumption and destruction and advocate for change. In a recent interview, Chicago stated, "I wanted [the artwork] to be in my own hand because I wished to demonstrate that art does not have to be huge in order to be important or moving."
When artists include language as a technique, they liberate their artwork from its formal properties. Words have the power to control, influence, and inspire—often more directly than images alone. Chicago's use of her own handwriting welcomes interpretation and introspection, inviting us to reflect on how we spend our time here on Earth.