June 13, 2014
6/13/14
If you do not remember Isabella d'Este from history books, you might remember her from Judy Chicago's iconic installation The Dinner Party, where d'Este was given her own place setting!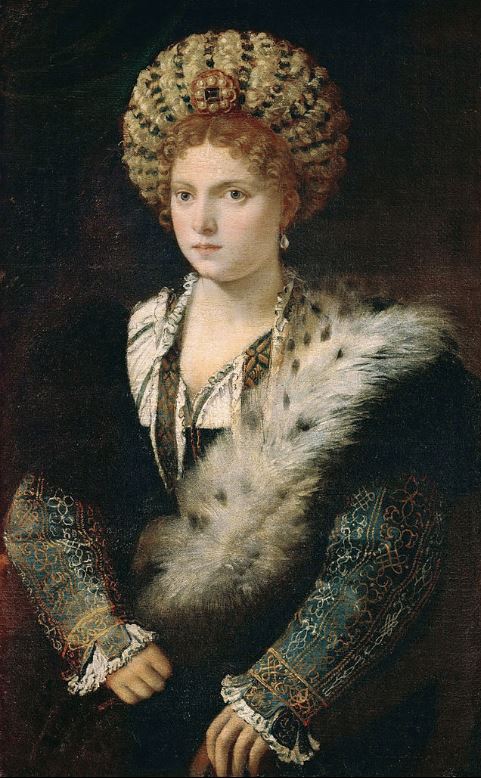 In the sixteenth century, Isabelle d'Este (1474–1539) was termed the First Lady of the Renaissance. Born into the ruling family of Ferrara, d'Este had parents who were preoccupied with their children's education—including that of their daughters. By the time she was 16 years old, Isabella could converse in Greek and Latin, discuss politics, and play musical instruments. Also by age 16, she was married to Francesco Gonzaga, Marquis of Mantua. As the Marchesa of Mantua, d'Este began building her place as a powerful patron of art.
Correspondences and inventories shed light on d'Este's somewhat aggressive collecting practices. Interested in more than work that was deemed "suitable" for a woman, she had a penchant for ancient art, going so far as to describe herself as possessing "an insatiable desire for antiquities."¹ D'Este, like her male peers, turned to contemporary 15th-century art and the collecting of mythological and history scenes. She acquired small objects constructed out of precious materials, displayed medals, cameos, and engraved gems in specifically designed cabinets accessible to only the most exclusive guests.²
In the article "The Court Lady's Dilemma: Isabella d'Este and Art Collecting in the Renaissance" Rose Marie San Juan states: "d'Este's collecting activities were instrumental in departing from the prescribed activities of the consort, and in inserting herself in spaces traditionally allotted to men. Not only did she collect on a much larger scale than other consorts, but more to the point she departed from the types of objects—religious painting, decorative arts—usually patronized by women in her position. In acquiring mythological paintings and antique statuary, Isabella d'Este seems to have been quite exceptional among Renaissance court women."
More than just an exceptional woman, Isabella d'Este impacted the way art is displayed at museums and collections to this day. The next time you're visiting a museum, think of her—why? Because, as San Juan describes, she was the first collector to dedicate select private rooms and display cases to the exhibition of her collection.
This blog post continues our series on women collectors throughout history—read about Catherine the Great.
Notes:
1. Sheryl E. Reiss, "Beyond Isabella and Beyond: Secular Women Patrons of Art in Early Modern Europe," in The Ashgate Research Companion to Women and Gender in Early Modern Europe: 446.
2. Susan Bracken, Andrea M Gáldy, and Adriana Turpin, editors, Women Patrons and Collectors: xxiv.
Posted In
Library and Research Center