October 16, 2023
10/16/23
In celebration of the museum's new Learning Commons and its re-envisioned gallery space, the Betty Boyd Dettre Library and Research Center (LRC) invited nine book artists to create works that honor the museum, its holdings, and women artists whose art has been historically overlooked. Holding Ground: Artists' Books for the National Museum of Women in the Arts features works by Alisa Banks, Adjoa Jackson Burrowes, Julie N. Chen, Suzanne Coley, IBé Crawley, Colette Fu, Kerry McAleer-Keeler, María Verónica San Martín, and Maricarmen Solis.
Many of the works reflect on the museum as a special and evolving place for art by women, now and into the future. Others remind viewers that creativity is expressed and uplifted in other spaces. While the books are primarily celebratory, all are rooted in the sense of struggle that infuses women's artistic expression.
Telling NMWA's Story
Julie N. Chen (b. 1963) realized her book, Many Hands (2023), as a meditation on NMWA's role as both a repository of women's art and as an institution that catalyzes women's artistic engagement. Many Hands honors the family members, friends, and collaborators who have contributed to Chen's own creative practices. The work comprises multiple elements anchored by a flexagon, a folding six-sided ring, which encircles a necklace beaded with a quotation from American painter Georgia O'Keeffe (1887–1986): "I feel that there is something unexplored about woman that only a woman can explore." Members of Marigold Beads, a Zimbabwean collective, created the necklace, a collaboration forged during Chen's recent trip to southern Africa.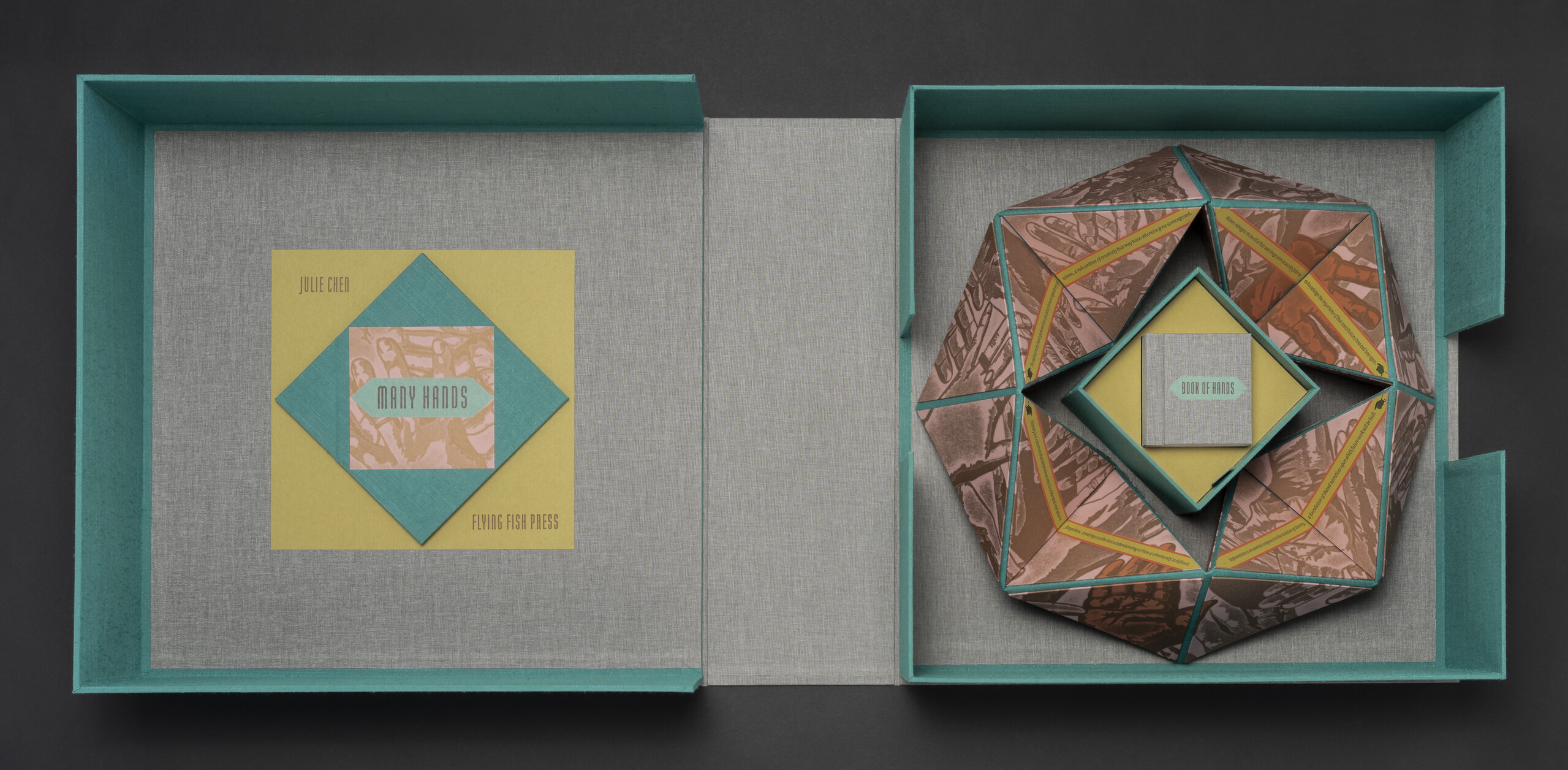 In Blossom Again (2023), author/artist Adjoa Jackson Burrowes (b. 1957) reimagined and altered her children's story Grandma's Purple Flowers (2000) into an elaborate artist's book that pays homage to artist Alma Woodsey Thomas (1891–1978). Burrowes folded and curled the pages of her original book. She embellished the work with paper spherical shapes printed to mimic Thomas's abstract paintings and added long paper strips, or "dangles."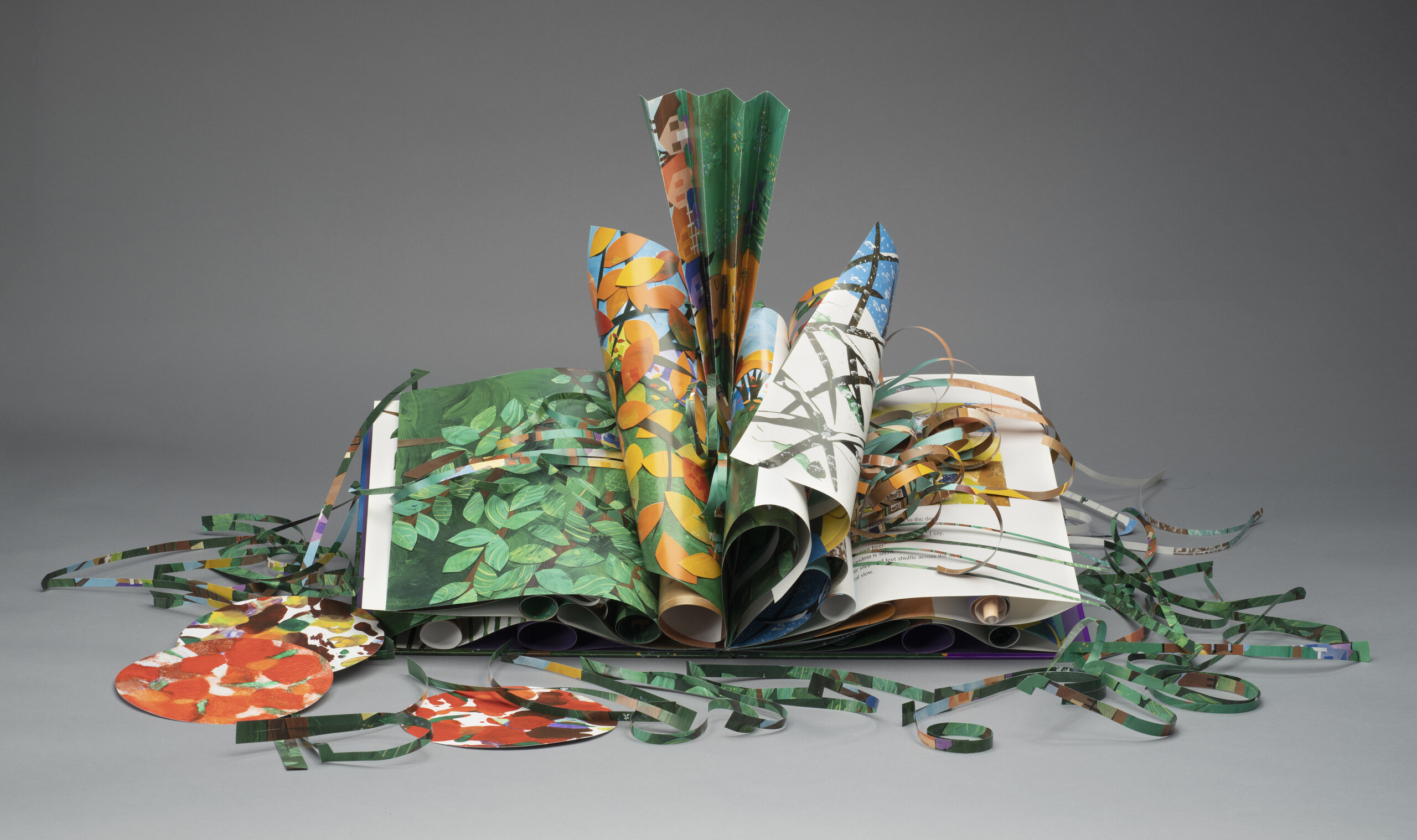 Seventeenth-century Flemish painter Clara Peeters (ca. 1581/85–after 1636) inspired Colette Fu (b. 1969) in her new work, which honors the collection and vision of NMWA founder Wilhelmina Cole Holladay. When closed, Fu's book appears to be a copy of H. W. Janson's History of Art, a reference work that for years largely ignored the contributions of women. But the surprise, upon opening, is a pop-up profusion of flowers, a near replica of Peeters's A Still Life of Lilies, Roses, Iris, Pansies, Columbine, Love-in-a-Mist, Larkspur, and Other Flowers in a Glass Vase on a Tabletop, Flanked by a Rose and a Carnation (ca. 1610), which was donated by Holladay to the museum.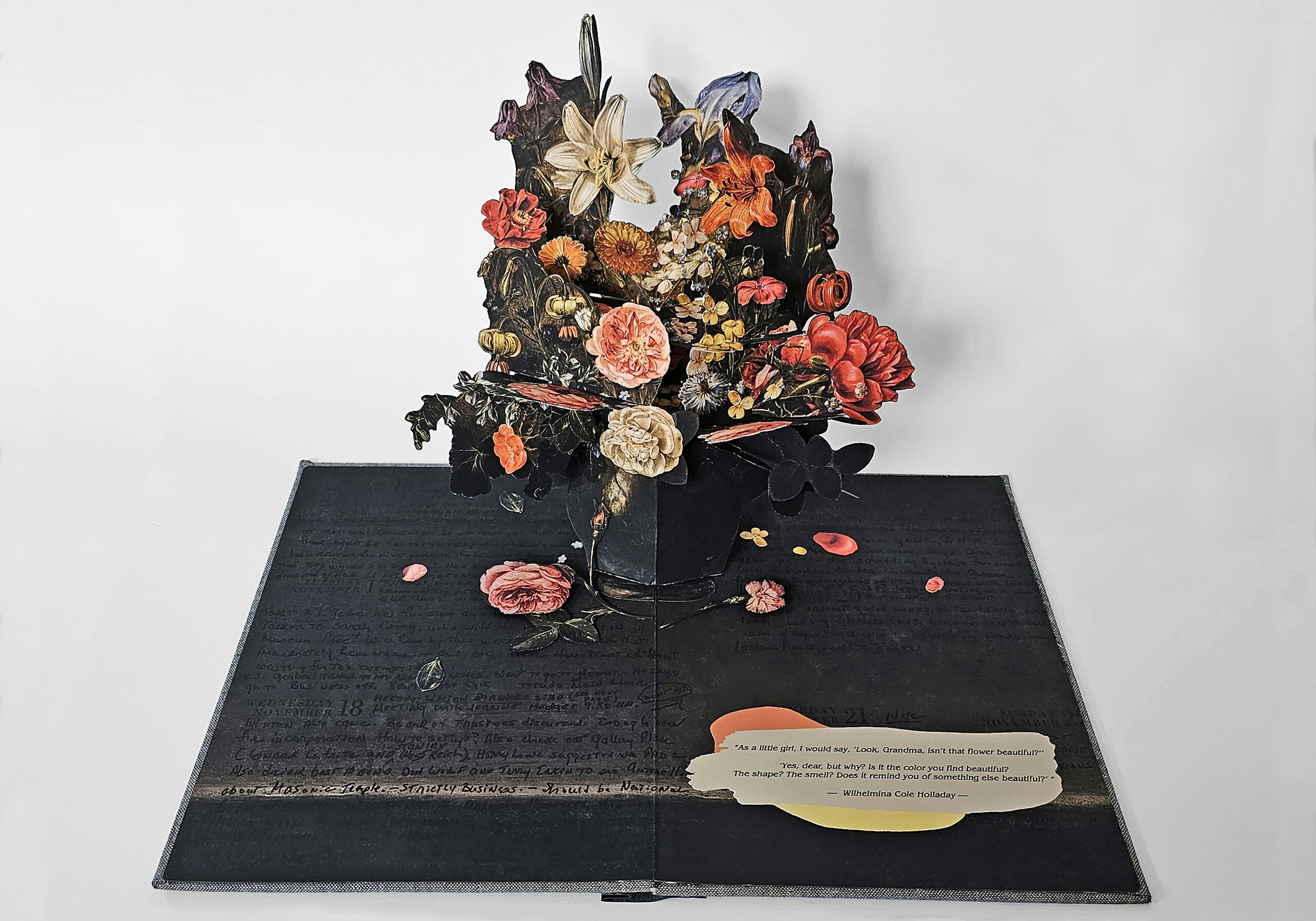 Reclaiming History
Other Holding Ground books are darker. During a year of loss, IBé Crawley (b. 1959) took to stitching to cope with grief. Her running stitches, looping overcasts, and cross stitches fortify and decorate her house-shaped work, A Dwelling for Her Story (2023). The book meditates on women's need for creative space and on Crawley's ongoing commitment to the preservation of African American history and culture.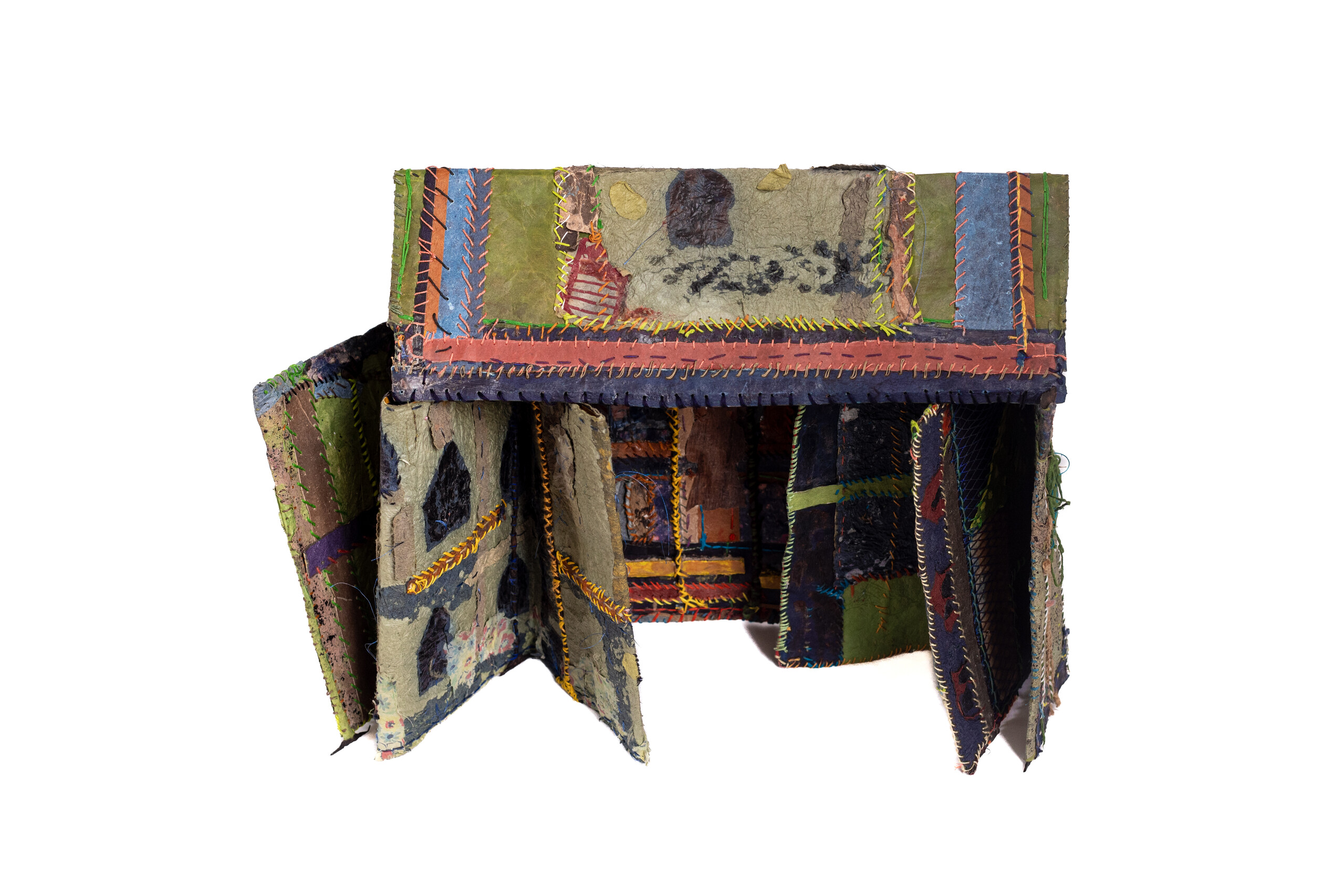 Memory is at the center of History of a People (2023) by Alisa Banks (b. 1961), in which, as she describes, "scent is the main object." The box holds perfume-filled apothecary jars representing aspects of the African American experience: journey, arrival, harrow, protest, visioning. According to Banks, "scent is what helps with memory when there is no written historical record."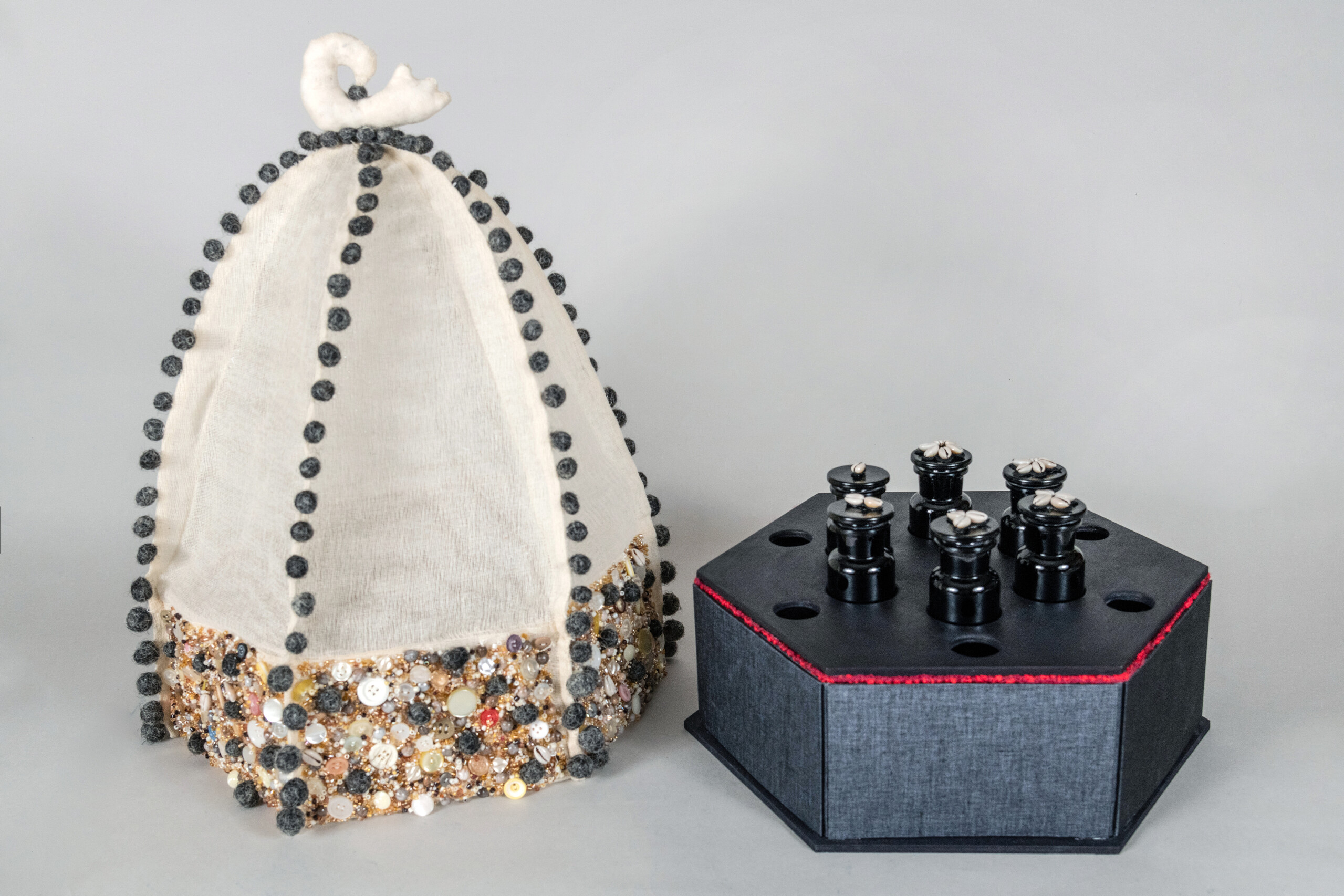 María Verónica San Martín (b. 1981) turned to the geology of memory in her work, which commemorates the people murdered during General Augusto Pinochet's seventeen-year Chilean dictatorship, which began in 1973. Mujeres Buscadoras, Fragmentary Memory, Chile (2023) includes a small shovel, handkerchiefs, and sand from Chile's Atacama Desert—a geologic wonder, but also a site where many victims of the Pinochet regime were buried. Mothers of the disappeared adopted traditional cultural practices, even the Pinochet regime's national dance, as forms of resistance. San Martín's book serves as a visual companion to these dancing mothers of the disappeared.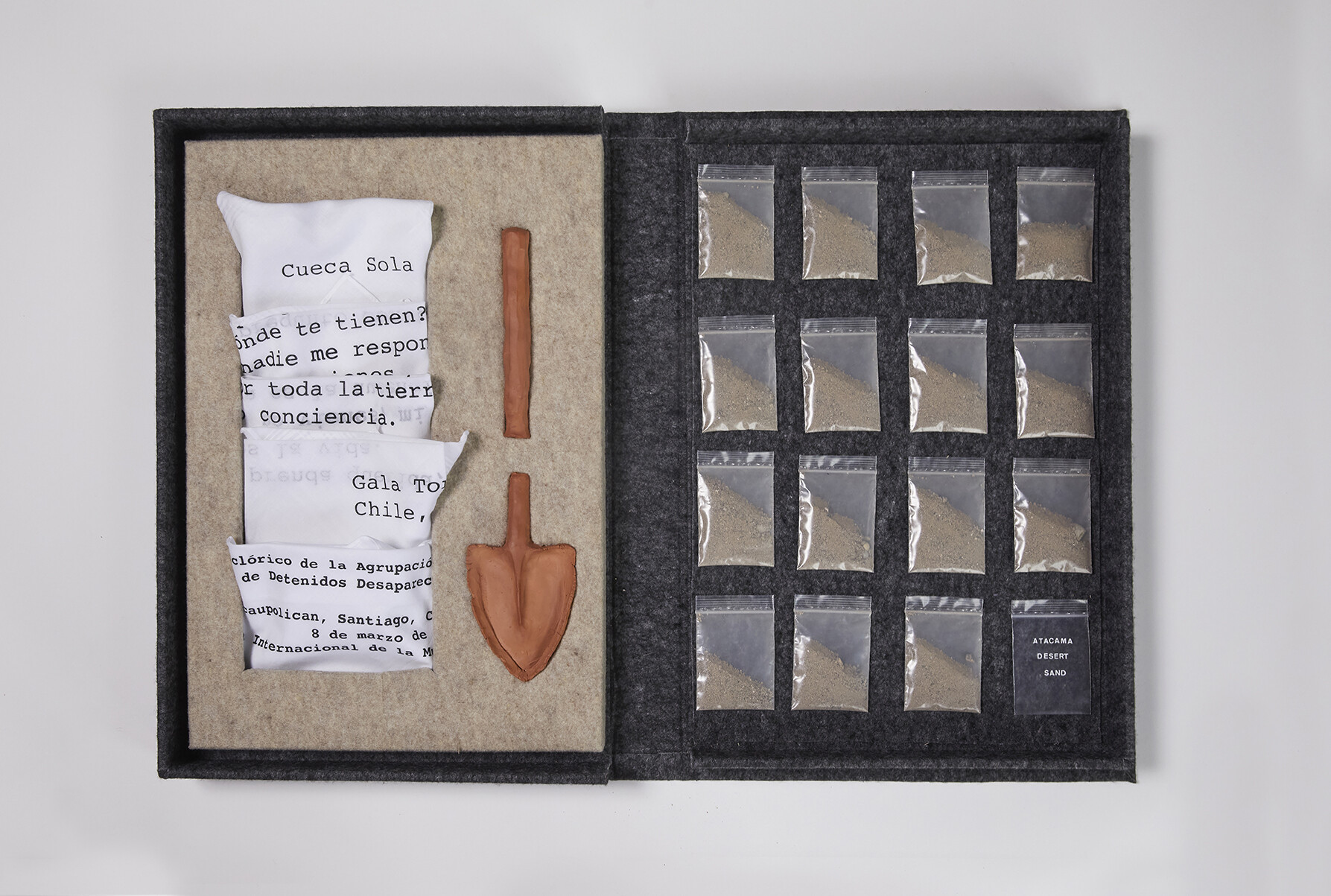 Transcending the Page
Inaugurating NMWA's renewed building, these book artists and the individuals they remember are among the millions of women holding ground, continually seizing spaces for their artistic expression.
---
NMWA reopens on October 21. Plan your visit to experience Holding Ground and the museum's other inaugural exhibitions, including The Sky's the Limit, Hung Liu: Making History, Remix: The Collection, and more.