September 29, 2011
9/29/11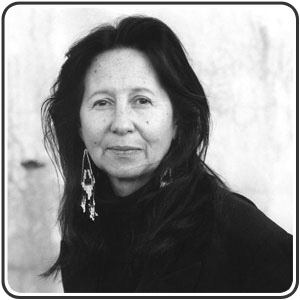 Jaune Quick-to-See Smith uses her ancestry and her passion for American Indian rights to create powerful images. By combining the techniques of painting, printmaking, and mixed media she creates richly textured representational and abstract images that confront subjects such as the destruction of the environment and oppression of Native cultures. Two of Smith's prints, Indian Heart and Modern Times, are currently on view in Pressing Ideas: Fifty Years of Women's Lithographs from Tamarind, open through October 2.
Quick-to-See Smith was born in St. Ignatius, Montana, and raised on the Flathead Reservation. She earned a bachelor's degree in art education from Framingham State College, an MFA in art from the University of New Mexico, and has been awarded four honorary doctorates, from Minneapolis College of Art and Design, Pennsylvania Academy of the Arts, Massachusetts College of Art, and the University of New Mexico. She has also shown her work in more than 90 solo exhibitions. At the Tamarind Institute, Quick-to-See Smith honed her skills as a printmaker alongside other artists learning and promoting the art of lithography; many of these artists are also featured in Pressing Ideas.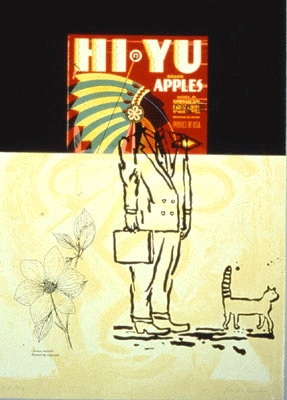 Two of Quick-to-See Smith's lithographs shown in Pressing Ideas, Indian Heart and Modern Times, are characteristic of her style. Both works use mixed media and abundant symbols to address today's tribal politics, human rights, and environmental issues with humor. Modern Times depicts contemporary Native Americans, and the dual nature of their lives in American society. The title is taken from a Charlie Chapman movie featuring a modern man trying to survive in the industrial world. The print shows a Native American lawyer dressed in a traditional headdress, representing the complexity that American Indians face today in negotiating between their tribal customs and urban society. The work references the irony of U.S. laws related to Native Americans, which she believes still treat them as property.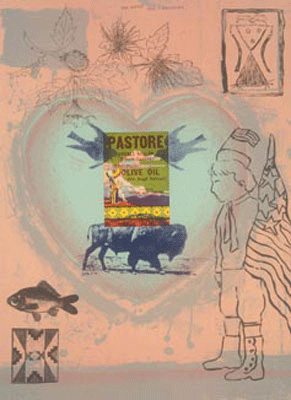 Both of Quick-to-See Smith's prints depict food labels that romanticize American Indians. In Indian Heart,each image is symbolic. The cat is traditionally European, the buffalo a symbol of the American landscape, and the commercial slogan refers to the stereotypes used for commercial gain by others, showing how Native Americans have been pigeonholed and commoditized in modern society.
Envisioning herself as a cultural art worker for the reservation, Quick-to-See Smith promotes other American Indian artists and draws attention to human rights issues. Her advocacy for the rights of Native Americans and exposure of injustice have strongly influenced her artwork. Quick-to-See Smith sees herself as "a harbinger, a mediator and a bridge builder. My art, my life experience, and my tribal ties are totally enmeshed. I go from one community with messages to the other, and I try to enlighten people." (http://www.nmwa.org/collection/profile.asp?LinkID=421)


Click here to hear more on the imagery and background of Jaune Quick-to-See Smith's works described by Marjorie Devon, director of the Tamarind Institute.
Visit NMWA to see Jaune Quick-to-See Smith's Modern Times, and Indian Heart, along with other works featured in the current exhibition, Pressing Ideas: Fifty Years of Women's Lithographs from Tamarind, on view through October 2, 2011.
Posted In
Artist Spotlight
NMWA Exhibitions