November 10, 2016
11/10/16
The next time you visit NMWA, come to the Betty Boyd Dettre Library and Research Center to see new books on women in the arts, as well as reference books, artists' books, and more.
Afterwar: Veterans from a World in Conflict by Lori Grinker (de.MO Design Limited, 2004)
On November 11, many nations around the world will observe Armistice Day, or Veterans Day, a holiday first created in 1919 to commemorate the end of World War I—known in its day as "the war to end all wars."
As Veterans Day approaches, 97 years since its first observance, it is sobering to reflect on the many conflicts that continue around the world. Photographer Lori Grinker employs portrait photography and first-person testimony to chronicle the lasting traumas experienced by male and female soldiers in her poignant book Afterwar: Veterans from a World in Conflict.
Grinker highlights veterans from both sides of wars in the 20th and 21st centuries, spanning more than 30 countries and five continents. Within 23 sections—one section for each conflict—Grinker assembles her subjects in an ideologically-alternating arrangement. In a chapter on the Israeli-Palestinian conflict, only one page separates the portrait of a Intifada fighter from that of an Israel Defense Forces veteran. The effect is startling and powerful. Ideologies become irrelevant. Grinker, who received her MFA from Vermont College of Fine Arts, manages to evoke something different and unique with each portrait, capturing post-war trauma in many enigmatic iterations.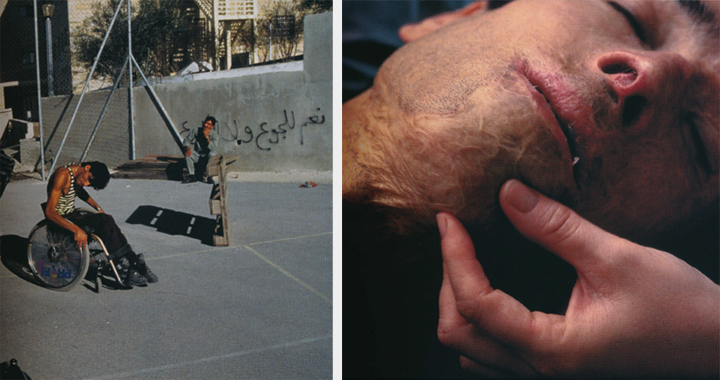 Grinker writes that her works "originate from the personal but…speak to our commonalities." She says, "ultimately, my work is about the ephemeral transcendence of everyday experience." Perhaps the real power of this book is its suggestion that human beings have more that unites than divides them. Viewed in this way, Grinker's powerful and elegiac perspective elevates Afterwar from journalistic account to artistic testimony.
All are welcome to view this book in the Betty Boyd Dettre Library and Research Center at the National Museum of Women in the Arts. If you're touring the museum's exhibitions, the library is open to the public and makes a great starting point on the fourth floor. In addition to beautiful books and comfortable chairs, library visitors enjoy interesting exhibitions that feature archival manuscripts, personal papers by women artists, rare books, and artists' books. Reference Desk staff members are always happy to answer questions and offer assistance. Open Monday–Friday, 10 a.m.–12 p.m. and 1–5 p.m.