July 18, 2011
7/18/11
NMWA's current exhibition, Pressing Ideas: Fifty Years of Women's Lithographs from Tamarind, features one of Julia Jacquette's recent works, White Square (2004).
Drawing on a number of conventions, especially old-fashioned illustration, Julia Jacquette's work focuses on confused desires and displaced appetites. Born in 1964 in New York City, Jacquette received a BS from Skidmore College and an MFA from Hunter College in 1992. Her early work combines glossy photo-based oil paintings of uneaten desserts with text, enticing visitors by arousing connections textually between food and sex.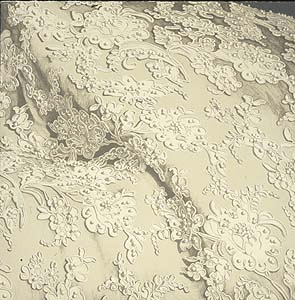 Jacquette's more recent works, in which she has eliminated the use of text, continue to explore consumerism and the manufactured envy that advertisements often evoke. Cropped and hyper-realistic works depicting consumer goods such as perfectly tousled blonde locks, white wedding gowns and alcoholic cocktails—such as Scotch, Rocks (2008)—are just some of her more recent projects. Her work becomes a means of critiquing the ideals of feminine beauty, elegance, and perfection. In a statement on Hunter College's Department of Art website, Jacquette says "In my artwork I speak about desire, desire for a glamour that is, in fact, unattainable—the product of art directors and magazine editors." Besides the socially conditioned attitudes toward women found in her work, Jacquette's paintings are also very personal. In a recent interview for the exhibition catalogue, Julia Jacquette: I Dreamt, the artist stated "I don't know how to make work that isn't about revealing my own weakness and my own desires. It seems like everything has to come from that."
Although best known for her glossy enamel-on-wood pop paintings and large-scale gridded canvases, Jacquette has worked in a number of other mediums, including lithography. She created a series of works featuring wedding dresses, cakes, and bouquets, including White Square, around the time of her own marriage, inspired by her fascination and repulsion at the idea of the big American wedding. Although she appreciates the aesthetic quality of an expensive dress and cake, Jacquette believes that creating these traditional items in her work negated the necessity for them in real life. Jacquette currently teaches at the Rhode Island School of Design and Princeton University. She resides and works in her studio based in New York City.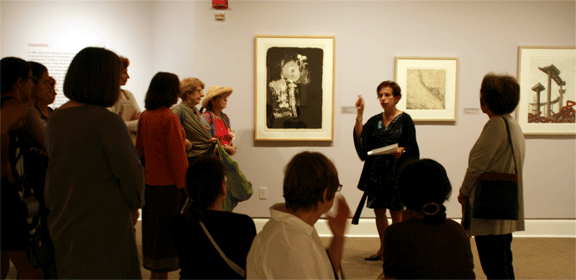 To see White Square and other fabulous lithographs by a wide variety of women artists, visit the National Museum of Women in the Arts before October 2. For additional information about Julia Jacquette, visit juliajacquette.net or annakustera.com/2011/04/julia_jacquette_images.html, and for additional information about Pressing Ideas: Fifty Years of Women's Lithographs from Tamarind, visit nmwa.org.