May 29, 2014
5/29/14
Julia K. Dabbs opens her book, Life Stories of Women Artists, 1550–1880 (Ashgate, 2009), with the following quotation from Christine de Pizan's Livre de la Cité des Dames (Book of the City of Ladies):
One would find any number of superior women throughout
the world, if one took the trouble to look for them. ¹
Though Christine de Pizan was writing six hundred years ago, the quotation still rings true today. Fortunately, Dabbs makes the search a little easier through her anthology on women artists. A recent acquisition at the Betty Boyd Dettre Library and Research Center, this compilation includes 46 biographical narratives written by the artists' contemporaries, more than half of which are newly translated into English. Each biography is easily digestible, but packed with information. In addition to introducing each artist, Dabbs includes information about the biographer, which is critical to fully understanding the work.

Many of the biographers made efforts to maintain a "feminine" appeal for their subjects. Lavinia Fontana's biographer insists that she is unique not because she is a woman, but for her ability to paint naturalistic works. The biographer of Elisabetta Sirani inexplicably labels Lavinia Fontana's work timid and typical of the weaker sex, whereas Sirani's work is bold and ferocious, a description that not only puzzles Dabbs, but also anyone who has seen a painting by Elisabetta Sirani.
Perhaps one of the most interesting stories is that of Maria Sibylla Merian, 17th-century naturalist and illustrator. Unlike many naturalists of her time, Merian actually bred and observed insects to accurately document stages of metamorphosis. Even more extraordinary, at the age of 52, she traveled to the Dutch colony of Suriname in South America to document exotic botanical and entomological specimens.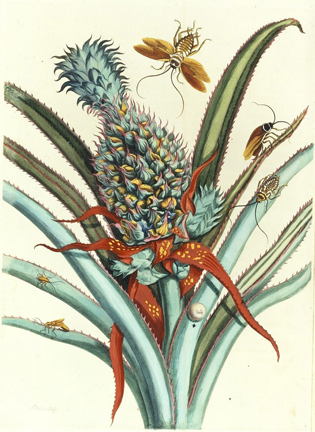 Works by Lavinia Fontana, Elisabetta Sirani, and Élisabeth Vigée-LeBrun, all featured in Dabbs's anthology, are on view at NMWA. In addition, several of Merian's manuscript illustrations are in the collection. Visit the museum and reacquaint yourself with the works on view! While you are here, stop into the library, take a look at Julia K. Dabbs's book, and learn more about your favorite artists.
The Betty Boyd Dettre Library and Research Center is open to the public M–F, 10 a.m.–noon and 1 p.m.–5 p.m. If you're touring the museum's exhibitions, the library makes a great starting point on the fourth floor! We hope to see you soon!
Notes
1.
Christine de Pizan, Le Livre de la Cité des Dames (1405; Paris, 1896), section XLI, p. 113, quoted in Julia K. Dabbs, Life Stories of Women Artists, 1550–1880 (Burlington, VT: Ashgate Publishing, 2009), 1.