July 18, 2016
7/18/16
More than 25 D.C.-area Instagrammers visited NMWA on June 17, 2016, for a before-hours Instameet. With access to the empty galleries, local photographers explored the museum's building and collection, as well as the special exhibitions She Who Tells a Story: Women Photographers from Iran and the Arab World and Alison Saar In Print. Attendees including @2020_productions snapped photographs of the event's snacks, including cookies inspired by the building's façade. Participants explored the building's history through a staff-led tour while sharing their tagged photos on social media with #EmptyNMWA.

Gordon Umbarger, NMWA's director of operations, explained the fascinating history behind the museum's architecture. During an outdoor segment of the tour, attendees learned that Theodore Roosevelt laid the building's cornerstone using the same gavel and trowel that George Washington used for the Capitol Building in 1793. @dc_explorer captured and shared this commonly overlooked feature.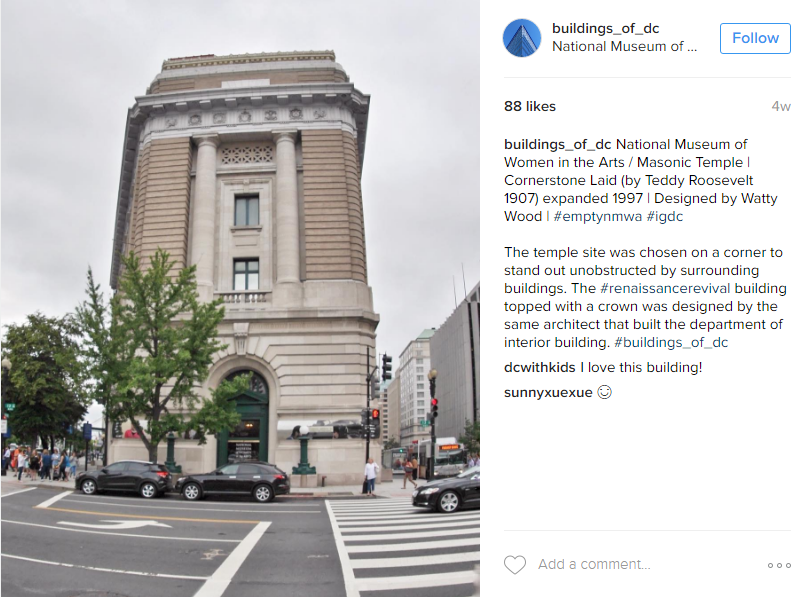 Did you know that the building was first constructed as a Masonic temple in 1907 and women were not allowed entry? It seems fitting that today the building houses works by women artists! Visitors can detect traces of Masonic architecture around the museum. @korofina zoomed in on the building's exterior frieze featuring the square and compass symbols. @buildings_of_dc captured the full building, which was designed in a Renaissance Revival style by prominent D.C. architect Waddy Wood, from a vantage point across street.
For additional income the Masons rented parts of the building to other local businesses, including George Washington University, a dentist, an insurance agent, and a uniform supply shop. The space hosted the Pix Theatre during the 1940s and early '50s—until the Masons terminated the theater's lease due to the sometimes racy nature of its movies. @kjhower1 captured decorative details that used to frame the movie screen.
In 1983, NMWA's founders, Wallace and Wilhelmina Holladay, purchased the space and opened the museum to the public in 1987. Ten years later, the museum opened an addition within an adjoining building. Formerly a "D.C. pleasure palace," the building was renamed the Elisabeth A. Kasser Wing, and it now houses NMWA's Museum Shop and sculpture gallery.

Participants found more Insta-worthy subjects inside the museum. @cczablotney snagged an incredible photo of the museum's Great Hall and one of its iconic chandeliers while @kaitlyntward focused on the marble balustrades. @beingdave even observed the benches in the Great Hall designed by Florence Knoll. Visitors also ventured into the collection galleries and special exhibitions. @setarrra photographed another participant mirroring a photograph from Tanya Habjouqa's "Women of Gaza" series, on view in She Who Tells a Story.
It was a fun and creative Instameet! To see all the event's photos, check out the Storify compilation or browse #EmptyNMWA on Instagram. Follow @WomenInTheArts on Instagram and Twitter to learn about future Instameet opportunities.