June 15, 2022
6/15/22
From a mural walking tour—starting from MISS CHELOVE's vibrant work on NMWA's façade—to online art talks that reach you at home, digital engagement is central to the museum's programming. Now, in the process of developing the museum's first-ever digital strategy, we plan to continue innovating—bringing the best of these ideas back into NMWA's renewed home in 2023.
Getting Strategic
In June 2021, NMWA began work on a comprehensive digital strategy that will focus our efforts as we plan for the future. The museum enlisted digital consultants Frankly, Green + Webb, who have extensive experience in the cultural realm. Through interviewing museum staff, reviewing our digital offerings, and establishing staff-wide working groups, they have helped NMWA begin to create a digital strategy for the coming years. Our plans have also been informed by you, our audience, via feedback from an online survey which garnered more than 1,200 responses.
Director of Digital Engagement Laura Hoffman says, "The digital strategy process has helped us clarify our goals: growing and diversifying our online audience, building relationships and partnerships through our digital content, and increasing our reach so that more people know our work in both art and advocacy. We want our digital efforts to act as a megaphone amplifying women artists."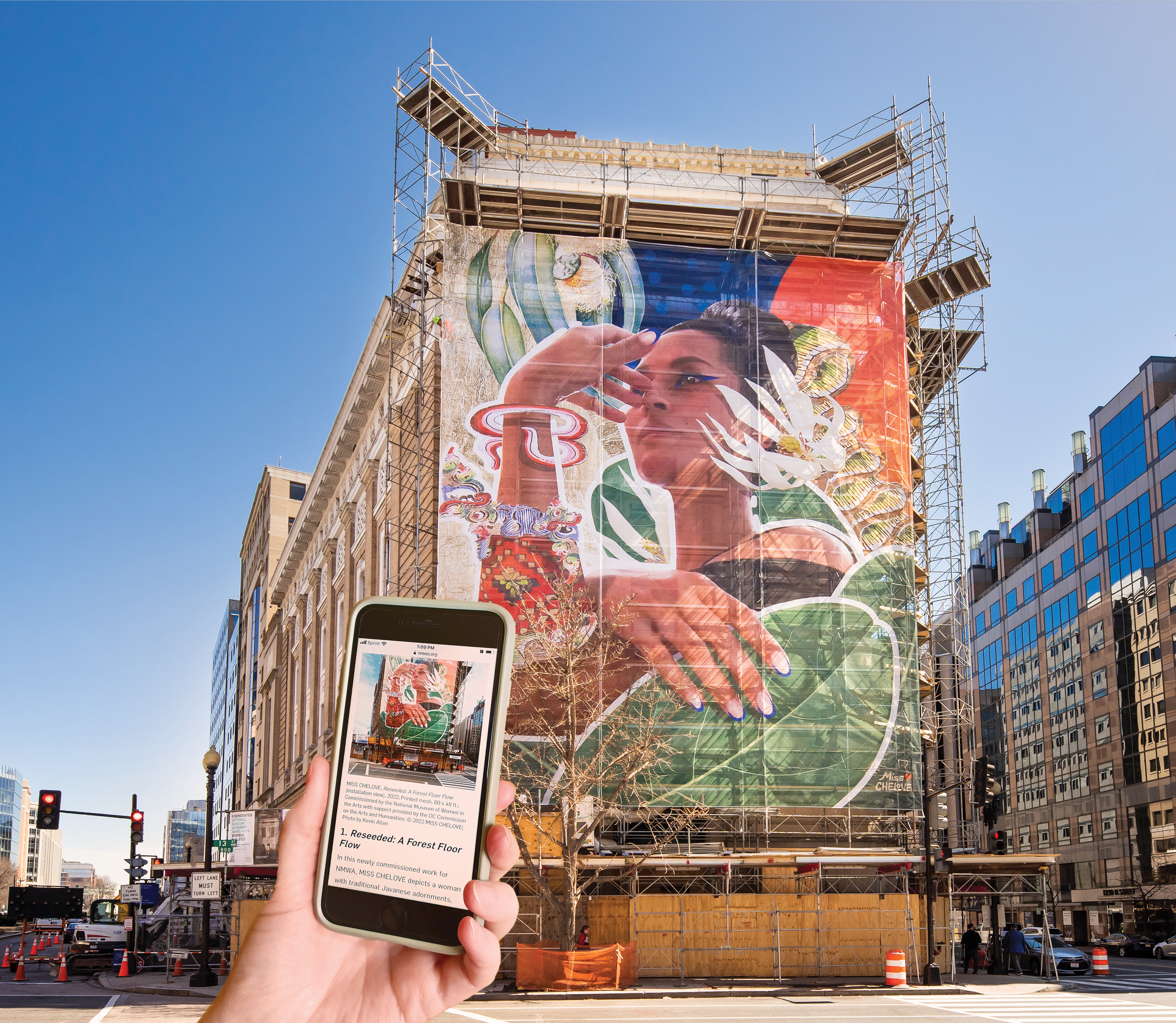 Prioritizing Digital Accessibility
Accessibility is integral to NMWA's digital strategy as well as our museum-wide focus on access, diversity, equity, and inclusion. Museum staff members are training with accessibility experts in order to bring you inclusive programs and content. Currently, virtual program attendees can enjoy live auto captioning and closed captions on NMWA's YouTube videos. Members can read the latest magazines via PDFs that are accessible by screen readers. Accessibility remains a high priority and a work in progress. We also welcome feedback: please contact us at access@nmwa.org to let us know about your experience.
New @ NMWA.org
During our building's transformation, our digital programs and outreach continue to engage visitors near and far:
Collection on the Move: Find out where you can see some of your favorite NMWA collection works at partner museums including the National Gallery of Art and Baltimore Museum of Art, as well as in special exhibitions around the world. Check back regularly for updates!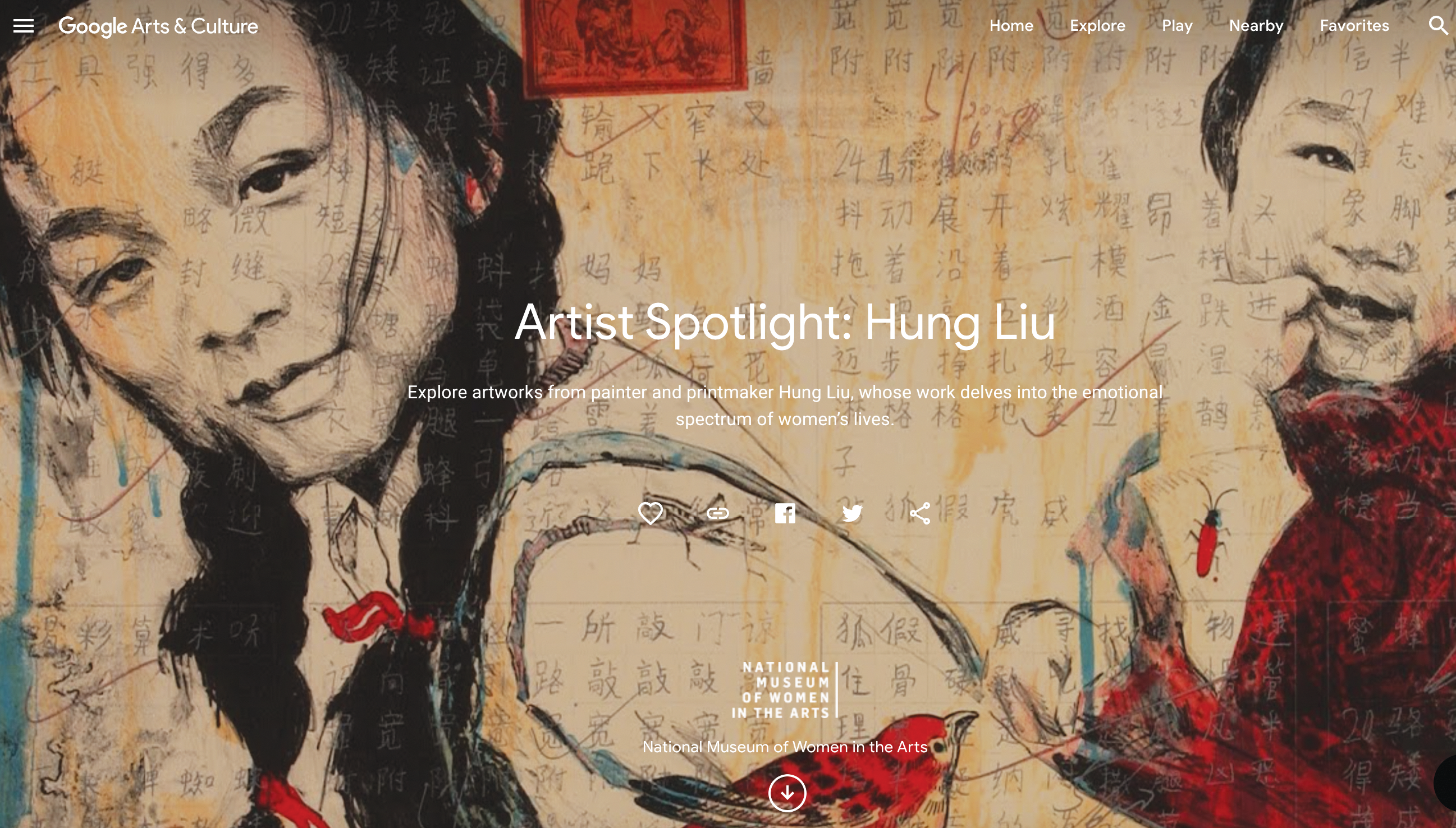 Google Arts & Culture: We have continued our partnership with Google Arts & Culture by producing multimedia stories for thematic collections. In May, for Google's Asian Pacific American Cultures hub, NMWA published a tribute to the late artist Hung Liu, based in part on our 2018 exhibition Hung Liu In Print. We have also contributed to Google's Pride Month hub, which will be published in late June.
Whether behind the scenes or on your social media feeds, NMWA's digital engagement team aims to bring the work of women artists to people of all abilities around the world. Visit us to discover more, and join in on social media @WomenInTheArts and #5WomenArtists.