July 20, 2022
7/20/22
When we reopen the renovated NMWA in fall 2023, visitors will notice changes from the moment they enter the building—or even before. Many of these improvements will be helpful additions such as ramps, railings, doorways, and signage that smoothly guide our guests to their destinations. These elements, among others, will make the museum a more accessible and inclusive place to visit.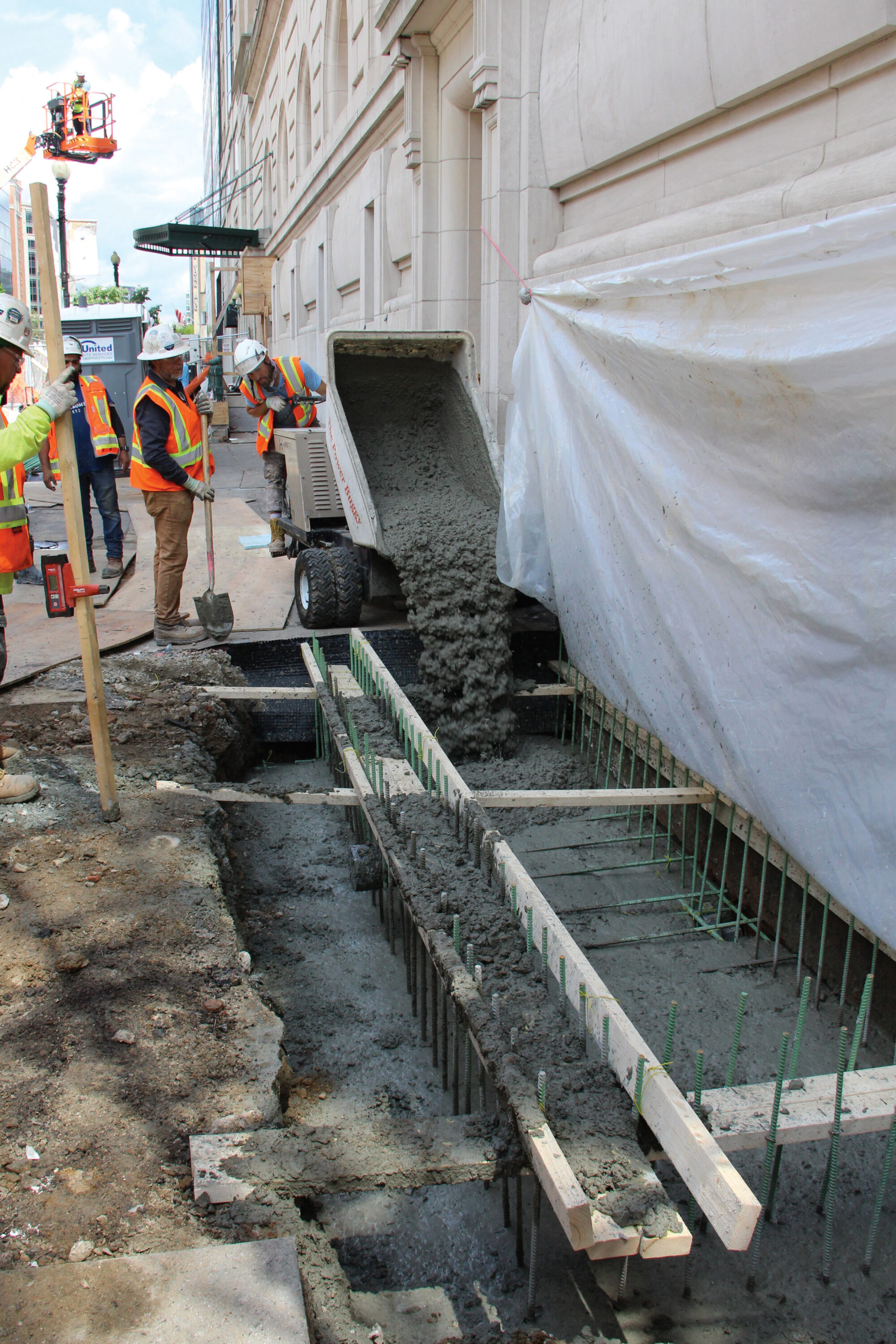 Concrete Changes
NMWA opened to the public in 1987 in our landmark building. Over the years, the museum has worked to incorporate changes reflecting the amendments and guidance provided by the Americans with Disabilities Act (ADA) of 1990, but our 1908 structure has presented challenges.
Upon NMWA's reopening in 2023, guests will find significant improvements—from clearer signage to new elevator options—and a more intuitive, visitor-centered design. In May, we reached a milestone when the construction team poured concrete for a new entry ramp. Leading to a new exterior door at the northwest corner of the building on New York Avenue, the ramp will provide an alternative accessible entrance that can be used during events and programs, giving the museum more versatility.
Springtime Progress
As you know, accessibility and navigation improvements are just one aspect of our work on the building. NMWA's top-to-bottom renovation encompasses much more—creating new public spaces and refreshing existing ones, enhancing stewardship of our world-class art collection, and restoring historic details such as the exterior cornice.
Over the spring months, our expert construction team advanced their work both inside and outside the building:
Demolition activity reached the Performance Hall, as crews removed furniture and fixtures to begin restoration work.
On the exterior, the construction team removed a portion of the sidewalk above the "vault," an area of the museum's basement that extends beyond the building's walls below ground.
Crews built scaffolding along the west-facing façade of the building, enhancing access to the cornice and exterior for needed repairs. After scaffolding went up, we were thrilled to see the vibrant mural by MISS CHELOVE installed outside, bringing life and color to the museum even while it undergoes these extensive renovations.
Follow Our Renovation
You can also follow our transformation online. We are partnering with EarthCam in documenting the renovation project with video, images, and time-lapses of construction activity. Recent images capture progress on our fourth floor, where future visitors will find our Library and Research Center (LRC), LRC Reading Room, and new galleries and education studio. Work has included removal and reinforcement of a section of the floor, which will be rebuilt to support the weight of the museum's library and archival collections.
At each phase of this project, we are focused on ensuring that the building's renewal helps to engage a broad audience with our mission. Thank you for supporting the museum as we work to build an ideal space to share the work of women artists.