June 17, 2022
6/17/22
The first-ever public sculpture depicting a nude, openly trans woman was unveiled at this year's Art Basel. Designed by American trans artist Puppies Puppies (a.k.a. Jade Guanaro Kuriki-Olivo), the work is a life-sized bronze statue in the tradition of classical sculpture, based on a 3D scan of the artist's body. Written on the work's plinth is the word: "woman."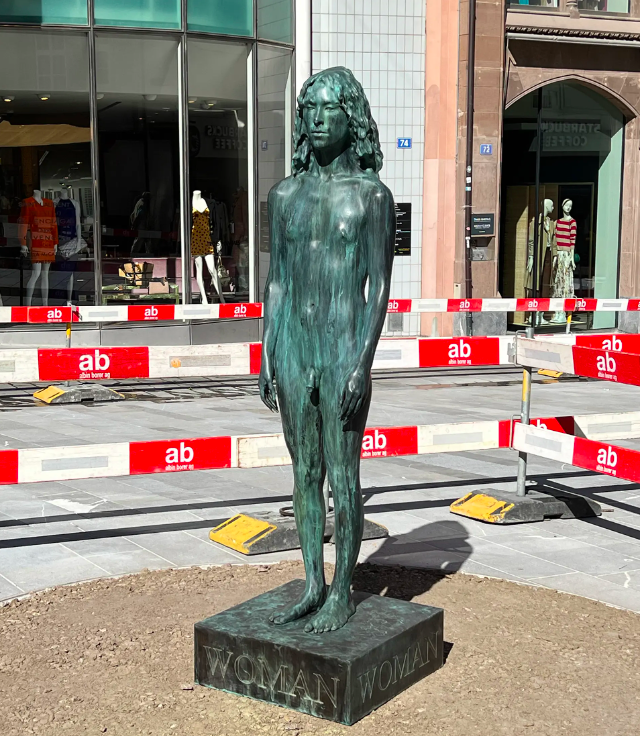 Kuriki-Olivo said, "I realized that hiding in complete anonymity meant something different as a trans woman of color. I needed to overcome the fear and fight the fight through my art, life, and activism. I want a future generation to see what's possible. I want to honor the brave 'transcestors' who were visible in times when the laws forbid us from existing." In addition to the statue, Kuriki-Olivo will also be performing at Art Basel: She is reenacting Ana Mendieta's 1973 performance Untitled (Rape), in which Mendieta used her own body to stage the aftermath of a rape.
Front-Page Femmes
At Art Basel, Hauser & Wirth sold a 1996 steel version of Louise Bourgeois's iconic Spider sculpture for $40 million—a new record for the artist.
Dr. Tiffany E. Barber won this year's National Portrait Gallery Director's Essay Prize, which fosters leading research in the field of visual biography and American portraiture, for her essay "Narcissister, a Truly Kinky Artist."
Hyperallergic reviews the abstract works of Vivian Browne, artist, activist, and founding member of the Black Emergency Cultural Coalition.
Paris Hilton has gifted the Los Angeles County Museum of Art an acquisition fund for acquiring digital works by women artists.
Frieze reviews Laurie Anderson: The Weather, a retrospective of the artist's multidisciplinary works at Washington, D.C.'s Hirshhorn Museum.
Hyperallergic visits sculptor Jillian Conrad in her studio, drawing comparisons to fellow contemporary sculptors.

ARTnews interviews Marina Abramović about the launch of her first-ever NFT based on one of her most personal performance pieces.
Chicago-based architect and artist Amanda Williams explores the way that color shapes our world in her new solo exhibition CANDYLADYBLACK at Gagosian.
Another reviews Penny Goring's Penny World, an exploration of the artist's 30-year multidisciplinary career, currently on view at London's Institute of Contemporary Art.
Hyperallergic reviews Hanne Darboven's exhibition Six Books on 1968, a cinematic rendering of the artist's book-based work in which she employed an original method of marking time in the tumultuous year of 1968.
Shows We Want to See
The Guggenheim presents Cecilia Vicuña: Spin Spin Triangulene, the first solo exhibition in a New York museum for the pioneering Chilean artist, poet, activist, and filmmaker. In her works, the artist explores themes of memory, language, science, and Indigenous spirituality and knowledge. On view through September 5, 2022.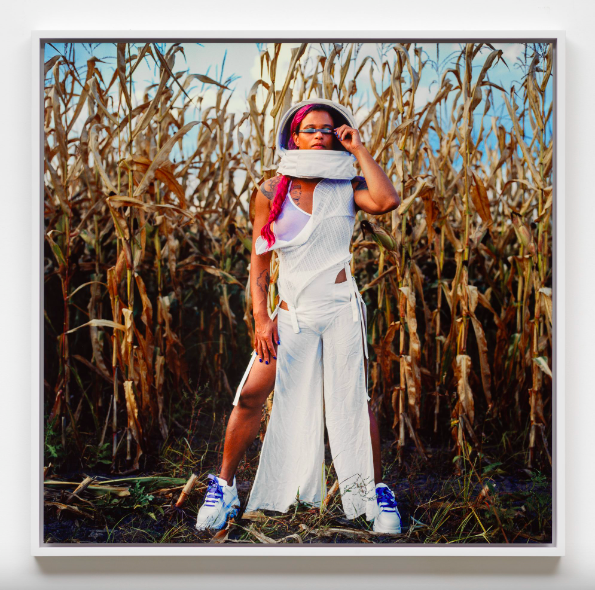 52 Artists: A Feminist Milestone at the Aldrich Contemporary Art Museum celebrates the 51st anniversary of the historic exhibition Twenty Six Contemporary Women Artists, curated by Lucy R. Lippard and presented at the Aldrich in 1971. This exhibition includes the original 26 artists as well as 26 emerging artists who "reflect the revolutionary advancement of feminist art practices." On view through January 8, 2023.