January 10, 2018
1/10/18
Magnetic Fields: Expanding American Abstraction, 1960s to Today places abstract works by multiple generations of black women artists in context with one another—and within the larger history of abstract art—for the first time, revealing the artists' role as under-recognized leaders in abstraction.
Harlem Flag (2014)
By: Abigail DeVille (b. 1981, New York, New York)
A New York City native and the youngest artist represented in Magnetic Fields, Abigail DeVille approaches her work with the mindset of an artist, archaeologist, and historian. Eschewing the traditional two-dimensional form, she assembles her paintings with scavenged materials found on the streets of New York and other areas that inspire her. DeVille's assemblages speak to the displacement of marginalized communities and the destruction of deep-rooted regional histories. She aims to provide these sites with new agency to voice their injustices. In describing her work, DeVille explains, "I'm interested in telling invisible histories, about groups of people that occupied a space that no longer exists."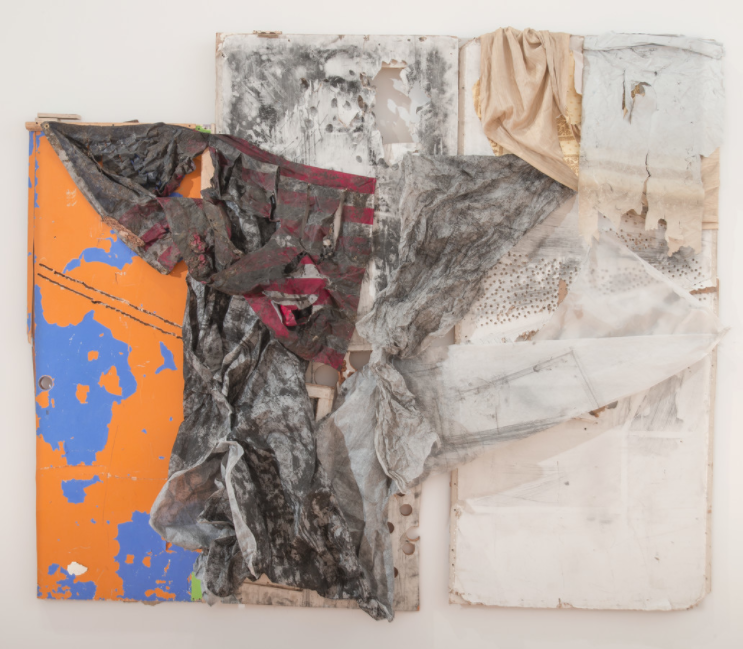 Harlem Flag was first exhibited in Material Histories at the Studio Museum in Harlem. Objects taken from the streets of Harlem are arranged in a way that reveals parallels between the past and the present. The piecing together of this assortment of discarded materials results in a richly textured canvas. Drawing inspiration from her grandmother—a vibrant figure in her Bronx neighborhood known for gathering and transforming discarded possessions—DeVille "translates the act of collecting into not only a tool of sociocultural archiving but also one of self-discovery and explorations of otherness."
DeVille combines sheetrock, wax, encaustic paint, charcoal dust, staples, a door, a window shade, and an American flag into a statement about the materials' shared importance in the history and memory of Harlem. The American flag, in the work's title and composition, contains a dual meaning that confronts the viewer. For some viewers the flag is a symbol of pride and freedom; for others it recalls a history of oppression and ownership of people. In her work, DeVille creates shifting perspectives of the physical world, introducing a new genre of storytelling that engages the imagination.
Visit the museum and explore Magnetic Fields, on view through January 21, 2018. Learn more through the Magnetic Fields Mobile Guide.