January 15, 2020
1/15/20
The End: A Meditation on Death and Extinction, the newest body of work by iconic feminist artist Judy Chicago, continues the artist's practice of tackling taboo subjects. In these works, she offers a bold reflection on mortality and the destruction of entire species. Visually striking and emotionally charged, the exhibition comprises more than 35 paintings on black glass and porcelain, as well as two large-scale bronze reliefs. On view September 19, 2019–January 20, 2020.

***

When asked if it was hard to confront the topic of death—one most people try to avoid—in her latest body of work, Judy Chicago revealed that the process of addressing her own mortality brought her to a place of acceptance. Harder, however, was her work on the "Extinction" section of The End, which she described creating through two "excruciating" years of intense painting. Chicago does not mince words: "To be faced every day with what we are doing to other creatures and the planet was to enter the kingdom of hell."

Chicago expresses a collective sense of anxiety and sadness in the 15 "Extinction" panels, which depict, often in graphic detail, groups of animals, fish, birds, and flora that have been irrevocably harmed by humans. Her titles for these works directly name the violence enacted on innocent life forms: Smothered, Battered, Bleached, Finned, Harvested, Slit Open, Targeted, Silenced, Poached, Vulnerable.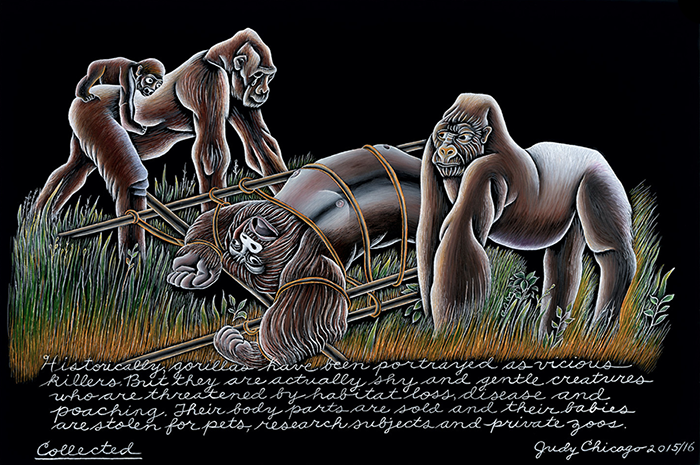 From polar bears displaced by melting Artic ice to trees flayed of their bark for medicinal purposes, Chicago offers her lament for each of her subjects. Chicago's handwriting, which has long been part of her artistic practice, appears here as it does in each section of The End. While the artist frequently employs writing in her work to communicate or narrate, the writing in the "Extinction" panels also becomes an integral part of the composition. Chicago emphasizes significant words and phrases with different text sizes, often in capitalized block letters.
Chicago includes a large bronze relief sculpture in "Extinction"—an assemblage of the likenesses of creatures threatened with extinction. The material is notable for its prevalence in monumental statuary and its use throughout history in high art and ceremonial vessels; Chicago honors the animals that once lived. However, the work also evokes the visual language of mounted hunting trophies, calling into question the ethics of killing purely for sport or luxury, and presenting a haunting image of suffering.
For Chicago, the physical stamina needed to execute these works was compounded by the grief she felt for her subjects. Recalling a similar emotional toll while working on the Holocaust Project (1985–93), Chicago says, "That was hard but this was worse," adding that the Holocaust Project dealt with events in the past while there is no end in sight to the extinction of countless species.