November 10, 2015
11/10/15
Dynamic women designers and artists from the mid-20th century and today create innovative designs, maintain craft traditions, and incorporate new aesthetics into fine art in Pathmakers: Women in Art, Craft, and Design, Midcentury and Today, now on view at the National Museum of Women in the Arts. Each week, compare and draw parallels between works on view in Pathmakers and NMWA collection favorites.
On view in Pathmakers
Hella Jongerius, Polder Sofa XL, 2014
Hella Jongerius designs holistically, rather than adopting the "quantity over quality" mindset of many companies. Fusing industry with craft, high-tech with low-tech, and contemporary with traditional, Jongerius creates furniture, ceramics, and textiles. Among her works in Pathmakers is Polder Sofa XL—part of her redesign project for the United Nations Delgates' Lounge.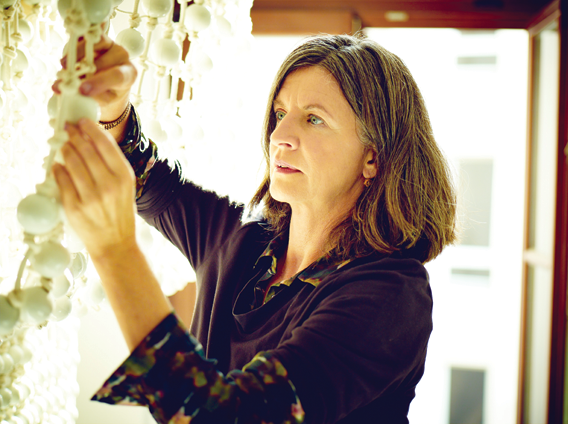 Who made it?
Industrial designer Hella Jongerius (b. 1963) graduated from Design Academy Eindhoven (the Netherlands) and has worked with Vitra, IKEA, Cibone, and Nymphenburg Porcelain Manufactory. Following the path of midcentury designer Dorothy Liebes, Jongerius led a team to redesign the UN Delegates' Lounge in 2013. Believing the desire for newness often leads to thoughtless consumption, Jongerius says, "just the skin can make the new design—that's also why I find textiles interesting."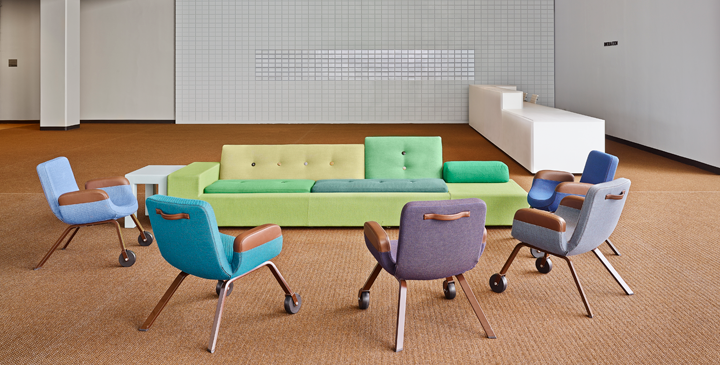 How was it made?
Jongerius and her team studied the space and preserved some of its iconic Scandinavian designs. With subdued, neutral-colored surroundings, Jongerius chose greens, blues, and reddish browns for the upholstery. Inspired by the horizontal Dutch landscape, the sofa takes its name from the Dutch word "polder"—land reclaimed from the sea. Manufactured by Vitra, Polder Sofa XL features rectangular cushions arranged to offset gaps. With subtle color variations, the cushions are made with high-tech thread and accented by large buttons made of natural materials. The sofa, with a 20,000-porcelain-bead curtain, privacy bubble desks, and rolling chairs, revitalized the lounge for quick, informal meetings between delegates.
Collection connection
In NMWA's collection, Jackie (India), painted by Andrea Higgins in 2003, also integrates politics and textiles. Based on Jacqueline Kennedy's iconic outfit worn during her 1961 trip to India, Jackie (India) looks like a magnified fabric swatch. To create this work, part of "The Presidents' Wives" series, Higgins examined photographs, enlarged the textile, and mimicked the fabric's stitches by layering painstaking, uniform brushstrokes.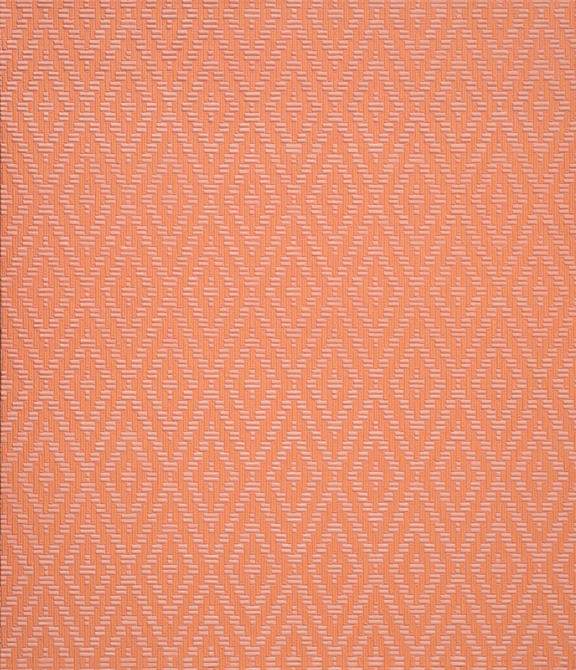 Inspired by a trip to Indonesia in 1995, Higgins (b. 1970) saw Hindu women weaving stylish clothes in the hopes of attracting gods' attention. Higgins compared the practice to high-profile first ladies crafting their public images through clothing. The patterns represent the women who wore them and also allude to the social and political climate of the times. Higgins says, "Fabrics are a fundamental aspect of the aesthetics of all societies. . . . My paintings are optical, abstract compositions and at the same time refer to the associations the individual viewer has to the particular fabric."
Visit the museum and explore Pathmakers, on view through February 28, 2016.