August 1, 2011
8/1/11
The career of Kiki Smith can best be described as eclectic. Born in 1954, her earliest and most constant exposure to art was through the work of her father, sculptor Tony Smith, whose influence may have inspired her interest in multi-dimensional artwork.
She has been trained as a banker and an EMT and has worked in mediums as varied as glass, paper, and wax. Her work has been exhibited across the United States and throughout Europe, has appeared in numerous publications, and has been featured everywhere from MoMA and the Carnegie Museum of Art to the set of the CW's Gilmore Girls. Now Kiki Smith's work graces the walls of the National Museum of Women in the Arts as a part of Pressing Ideas: Fifty Years of Women's Lithographs from Tamarind.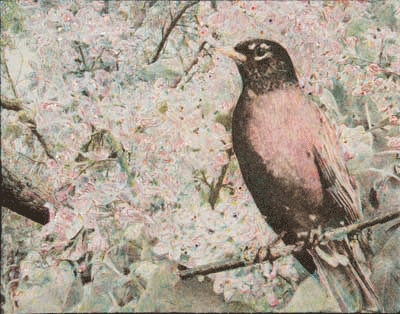 Two works by Smith hang at NMWA through October 2, Bird in Hand, a series of drawings of a disembodied hand holding a bird, and Afternoon, a still-life featuring a robin. Both lithographs exhibit the blurry, sketchy feel that is common to the medium, emphasizing the tactility and motion of Smith's works. (For more information on the process of lithography, visit http://www.moma.org/interactives/projects/2001/whatisaprint/print.html, an interactive teaching tool from MoMA, or http://tamarind.unm.edu/, the website of the Tamarind Institute.)
Bird in Hand looks like an excerpt from an artist's sketchbook, repetitive studies of a subject from a variety of angles that showcase its anatomical properties and Smith's artistic skill. Smith uses the subject matter to explore captivity and containment. The bird is held "in hand" and shows no effort to escape; it may even be dead.
Kiki Smith is very interested in discussing topics of the body and free will through her artwork. Her body physically creates her work through her exertion of will, and so she is very much intertwined with her process of creation and ultimately tied to the creation itself. Quoted in Helaine Posner's book Kiki Smith, the artist says, "I like the feeling when you're making art, that you're taking the energy out of your body and putting it into a physical object." This action is particularly apparent in artistic processes requiring intensive physical effort, such as lithography.
In Afternoon, Smith employs a gentler touch than in Bird in Hand. In contrast to the stark, monochromatic studies of the bird and hand, the robin in this work is vibrant and alive, flush with the pink palette of the work and ready to burst forward off the branch it stands on. This five-color lithograph exhibits the medium's tell-tale blurry effect, which is caused by a slight stagger in the printing cycles. The five colors are predominantly rose pinks and sea-foam greens, natural colors that complement the living creature they describe. Smith has added glitter on top of the print, perhaps a nod to her craft-art past, adding a dimension of sparkle to this subtly vibrant piece.
To listen to Marjorie Devon, director of the Tamarind Institute, describe Kiki Smith's works, which "resonate with emotional intensity," and her visit to Tamarind, click here.
To see Afternoon and Bird in Hand, visit Pressing Ideas: Fifty Years of Artists' Books from Tamarind, on view at NMWA through October 2. For additional information about Kiki Smith, visit NMWA's Museum Shop to purchase books, including Kiki Smith: A Gathering, 1980–2005 by Siri Engberg, Kiki Smith by Helaine Posner, and Kiki Smith: Photographs by Elizabeth Brown.