November 13, 2019
11/13/19
Women Artists of the Dutch Golden Age presents paintings and prints by eight successful artists in the Netherlands during the 17th and early 18th centuries—a period of unprecedented economic growth. Works are drawn primarily from NMWA's collection, with key loans that illuminate the artists' lives and careers. The exhibition highlights women who excelled as artists, pushing boundaries in art and in life. On view October 11, 2019–January 5, 2020, this presentation features works by Judith Leyster, Maria Sibylla Merian, Clara Peeters, Rachel Ruysch, and more.
The lives and works of women artists of the Dutch Golden Age reveal connections between artists, patrons, and the subject matter of the natural world. The Dutch took pleasure in the wonders of nature—from flowers to food—and this is evident in the profusion of still-life paintings executed during the era.
The field of botany took root in the Netherlands, where one of the oldest botanical gardens, the Hortus Botanicus (est. 1638), still exists in Amsterdam. Private citizens also tried growing and maintaining the new species of plants that arrived via the Dutch East and West India Companies. One of these individuals was Agnes Block (1629–1704), a wealthy, educated collector of plants and art. Block commissioned artists, including Maria Sibylla Merian (1647–1717), Alida Withoos (ca. 1661–1730), and Maria Moninckx (ca. 1676–1757), to document her gardens in paint and pencil. In 1687, Block commissioned Withoos to paint one of her prize plants: the first successfully grown pineapple in Europe. While Withoos's painting does not survive, Merian's two illustrations of it in her publication Dissertation in Insect Generations and Metamorphoses in Surinam do. Merian based the images on observations of plants and insects during her travels to the Dutch colony of Suriname in South America.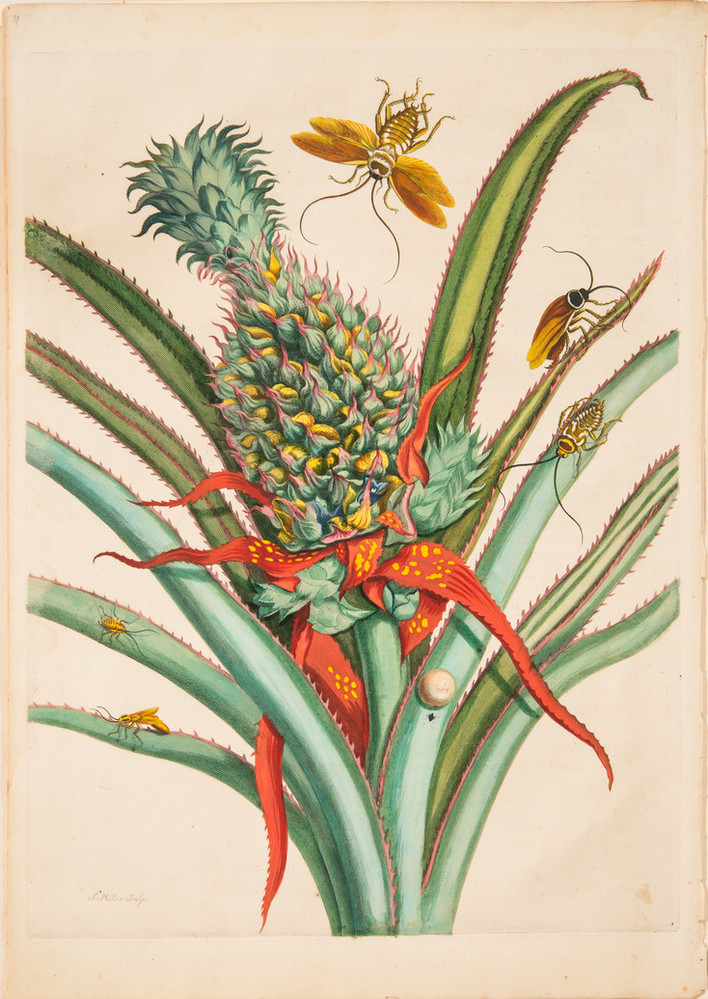 Artists in Bloom
The greatest floral still-life painter of the Golden Age was Rachel Ruysch (1664–1750), whose compositions burst with movement and color. She achieved such authenticity because of her experience looking closely at organisms. Her father, Frederik Ruysch, was professor of botany at the Hortus Botanicus, as well as a surgeon, obstetrician, and collector. Art historian Maryanne Berardi notes that while surrounded by these natural wonders, Ruysch honed her observational power and artistic skill.
Clara Peeters (ca. 1587–after 1636), a pioneer of still-life painting, was the only Flemish woman known to have specialized in the field as early as the first decade of the 17th century. When Peeters painted her largest and most exuberant floral work, A Still Life of Lilies, Roses, Iris, Pansies… (ca. 1610), the genre was still relatively new.
Withoos excelled in forest still lifes, or bosstilleven. Rather than depicting flowers in a vase, she anchored them to the forest floor, indicated by the tufts of sprouting grass. The grouping of flowers is pure artistic invention, however—bouquets like this do not grow naturally.
These artists flourished while creating authentic, imaginative renderings of the ephemeral natural world.