May 14, 2018
5/14/18
Questions about a woman's "place" resonate in our culture, and conventional ideas about the house as a feminine space persist. Global artists in Women House recast conventional ideas about the home through provocative photographs, videos, sculptures, and room-like installations. Miriam Schapiro, Laure Tixier, and Rachel Whiteread use miniaturized depictions of the house and household objects to satirize stereotypical gender roles.
Miriam Schapiro, Dollhouse, 1972
Miriam Schapiro (b. 1923, Toronto, Canada; d. 2015, Hampton Bays, New York) was a pioneer of the 1970s feminist art movement. Male-dominated art forms such as painting and sculpture were considered "high" art. Craftwork, traditionally created by women, was considered merely decorative. Schapiro and other feminist artists employed materials traditionally associated with craft into their art to elevate "women's work."
In 1972, Schapiro and Judy Chicago founded Womanhouse, a collaborative installation that challenged the dominant art historical narrative. Schapiro's Dollhouse, first exhibited at Womanhouse, "combines the beauty, charm, and supposed safety and comfort of the home with the unnamable terrors existing within its walls." In Schapiro's Dollhouse, a rattlesnake lurks in the parlor corner, men glower through the kitchen window, and a monster sleeps in a cradle. Schapiro turns a symbol of domesticity into a literal house of horrors. Schapiro also reverses the archetypal roles of male artist and objectified female model. In the artist's studio, a nude male model stands on a wooden platform, while Schapiro herself assumes the role of artist.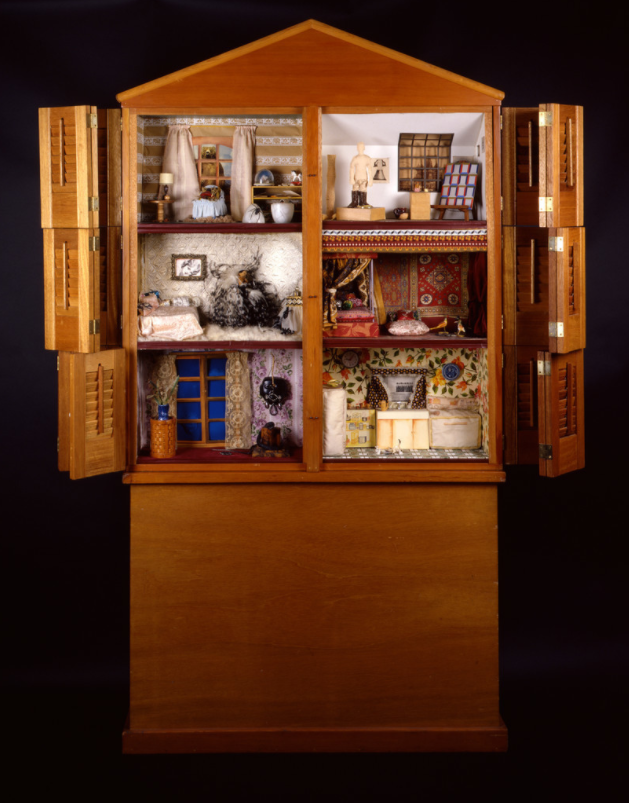 Laure Tixier, Plaid Houses, 2005–2011
Laure Tixier (b. 1972, Chamalières, France) combines childlike imagination with specific references to architectural history in her drawings, maquettes, and large scale sculptures of buildings. Plaid Houses is an eclectic neighborhood of miniature dwellings inspired by various cultures, including an art-deco house, a primitive yurt, and a minaret. In reference to blanket forts built by children, Tixier constructs her monochrome homes by stitching together pieces of fabric. Like blanket forts, these houses appear cozy and welcoming, despite the structural vulnerability of their textile walls. The drooping fabric makes the houses appear animated and alive, as if they "are bodies with a felt skin." Tixier's use of felt continues the feminist practice of blending craft with fine art, a practice now embraced by the contemporary art world.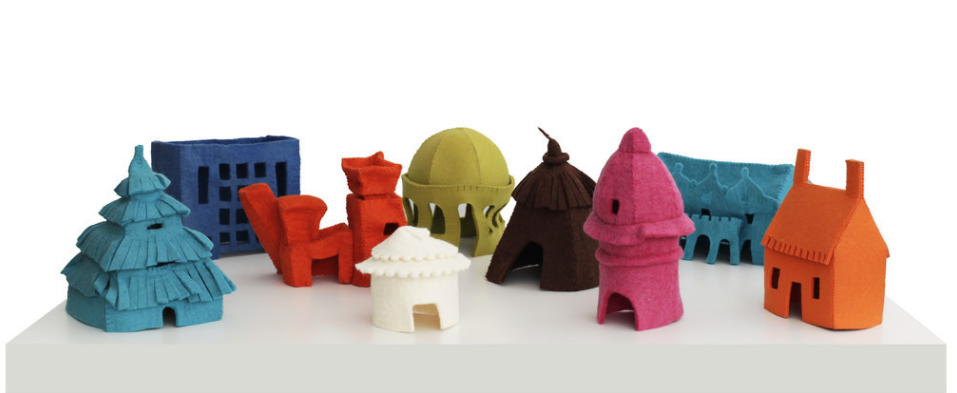 Rachel Whiteread, Modern Chess Set, 2005
Using resin, metal, and plastic, Rachel Whiteread (b. 1962, London, England) creates casts of domestic interiors and furnishings. She often focuses on the negative space around and within objects and buildings to explore their physical relationships to the human body.
Modern Chess Set was originally commissioned for a 2005 exhibition called The Art of Chess, which featured 10 unique chess sets created by contemporary artists, including Barbara Kruger and Yayoi Kusama. Whiteread created casts of her own childhood dollhouse furnishings for the chess set, turning a domestic space into a battleground where household objects are pitted against each other.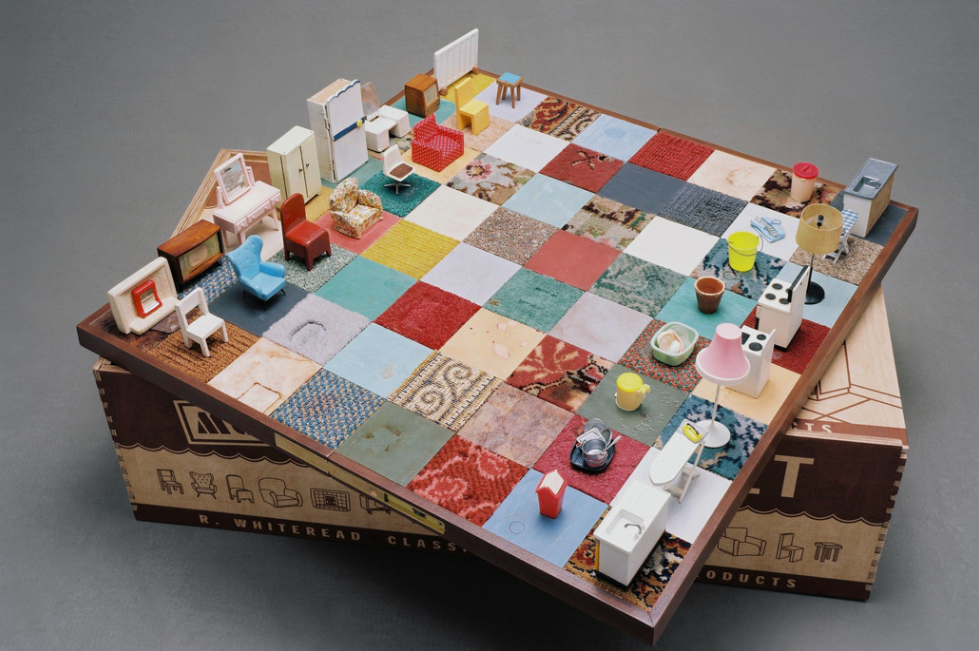 Visit the museum and explore Women House, on view through May 28, 2018.