November 9, 2010
11/9/10
Slyvia Sleigh died on Sunday, October 24 at the age of 94. Born in 1916, Sleigh studied painting at the Brighton School of Art. While she was taking art history classes at London University during the years of the Second World War, she met her husband Lawrence Alloway. The couple emigrated to U.S. in 1961 to live permanently. As in the 1950s, the English art scene was very difficult for a woman to break into, Sleigh found the right climate for her own artistic voice in U.S. She easily blended into the stylistic diversity and the vibrant artistic life in New York and was taken very seriously by the other fellow artists from the very beginning.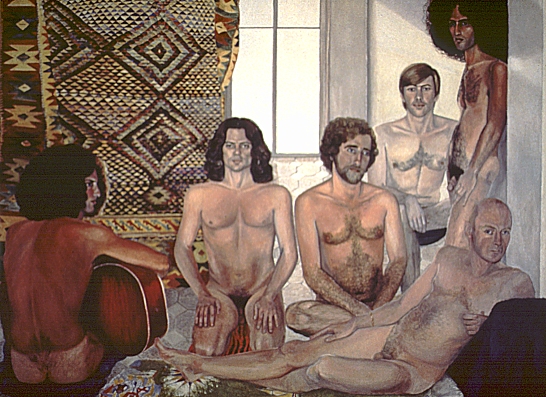 Sleigh is perhaps best known for her reclining male nude paintings which are interpreted as subversions of the power dynamics between the male gaze and the objectified female body as well as a daring challenge to the traditional art history. Her oeuvre The Turkish Bath, resonating Jean-August-Dominique Ingres's Le Bain Turc (1862), is a fine example of this. Featured in the WACK! Art and the Feminist Revolution exhibition at NMWA in 2007, the Turkish Bath portrays a group of 6 male nudes among whom are Sleigh's husband, the art critic Lawrence Alloway and artists such as Scott Burton and John Perrault. Her male nudes looking directly at the viewer form a sharp contrast with Ingres's intoxicated females, which do not go beyond a stereotypical image of Oriental women. By substituting the male for female, Sleigh upends not only the female nude iconography, but also the conventional images of masculinity.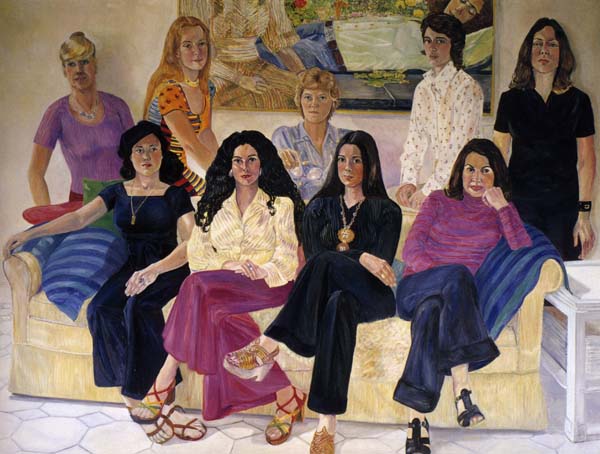 However, Sleigh's works are not limited to the images of reclining male nudes. Her uniqueness relies on her exploration of the conventions of portraiture throughout her artistic career. In her paintings, where she challenged these conventions, she portrayed both clothed and unclothed males and females, either in groups or in isolation. Her sitters are always represented as individuals with their distinct features and expressions in full body, rather than just the head. Her emphasis on the individuality of each group member is clearly seen in SoHo 20 Group Portrait, which portrays the members of the women-only cooperative gallery Sleigh was associated with.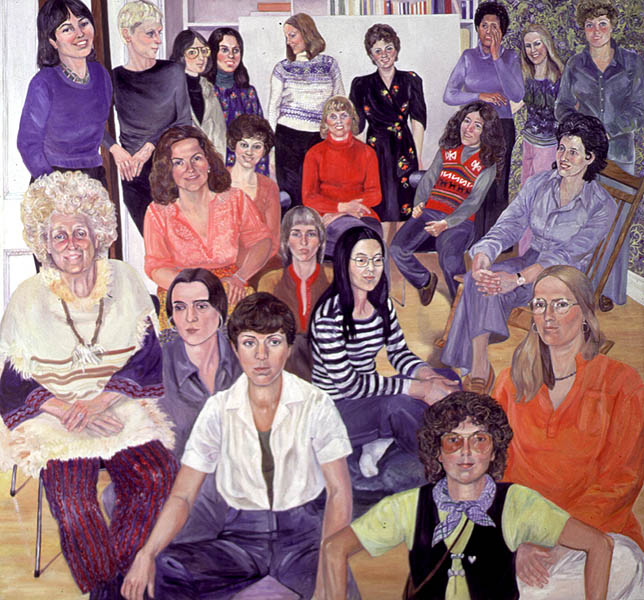 In addition to her feminist stance in art, Sleigh was also actively participated in projects organized by women collectives. In the 1970s, she worked with two women only cooperative galleries SoHo 20 and Artists in Residence (A.I.R.). Meeting her at the opening of the exhibition of WACK! Art and the Feminist Revolution, Kathryn Wat remarks that Sleigh "struck me as a sleeper: she was demure and soft-spoken, but she also held strong opinions, and all of the visitors to WACK! were impressed by her large-scale, intensely colored paintings. She laughed when I remarked on the groovy mid-1970s hair styles and clothing that she featured in her famous A.I.R. Group Portrait (which includes likenesses of many of her fellow feminist artists). That was one aim of her art—to paint figures as unique individuals at a particular point in time, not just "types."