June 30, 2010
6/30/10
Ida Applebroog's simplified figures in comic-like settings wrapped in social criticism make her artwork easily identifiable. The Collaborative Print: Works from SOLO Impression features two of Applebroog's prints, on view through September 13.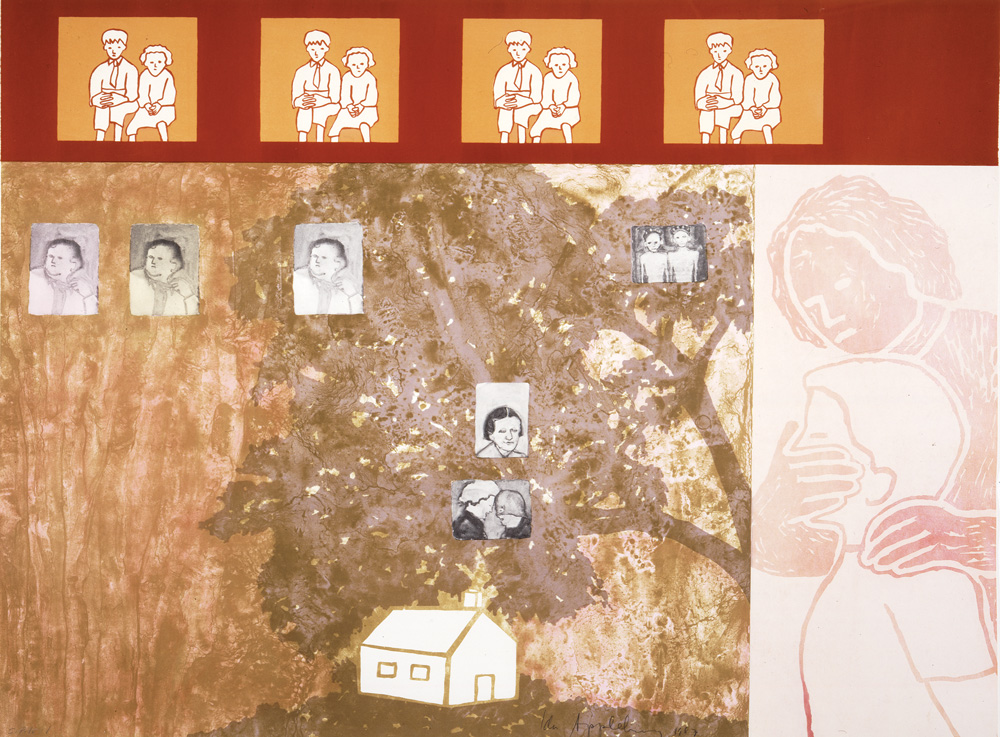 Born in the Bronx, New York, in 1929, Applebroog graduated from the New York State Institute of Applied Arts and Sciences in 1949 and began working at an advertising agency. She trained at the Art Institute of Chicago from 1965 to 1968. It was around this time that her artwork gained public recognition. She became well known for her small books that she called "performances." Her unique graphic works tackle issues of war, sexism, racism, gender and sexual identity, and violence. Applebroog addresses these subjects through minimally drawn figures, repetition, curt texts, and uncanny colors that often trigger uncomfortable reactions. Applebroog was at the Art Institute of Chicago before "feminism was out of the closet," and her work and the feminist movement took off simultaneously, and she later joined the Heresies feminist collective. When she moved back to New York in the 1970s she began making books out of her drawings and mailing them to artists, writers, and gallery owners (whether she knew them or not). She also created films and installations, but no matter her medium her theme remained focused. "It's hard to say what your work is about," she said in an interview, "but for me, it's really about how power works."
Applebroog is the recipient of several awards, including a John D. and Catherine T. MacArthur Foundation Achievement Award and a Lifetime Achievement Award from the College Art Association. She has had solo exhibitions at the Corcoran Gallery of Art, Washington, D.C.; the Whitney Museum of American Art, New York; the Contemporary Arts Museum, Houston; and the High Museum of Art, Atlanta, among other institutions. Most recently, the artist recovered her "crotch" drawings from 1969 (160 India ink and pencil drawings made in her home bathroom) for an installation presented by Hauser & Wirth in New York.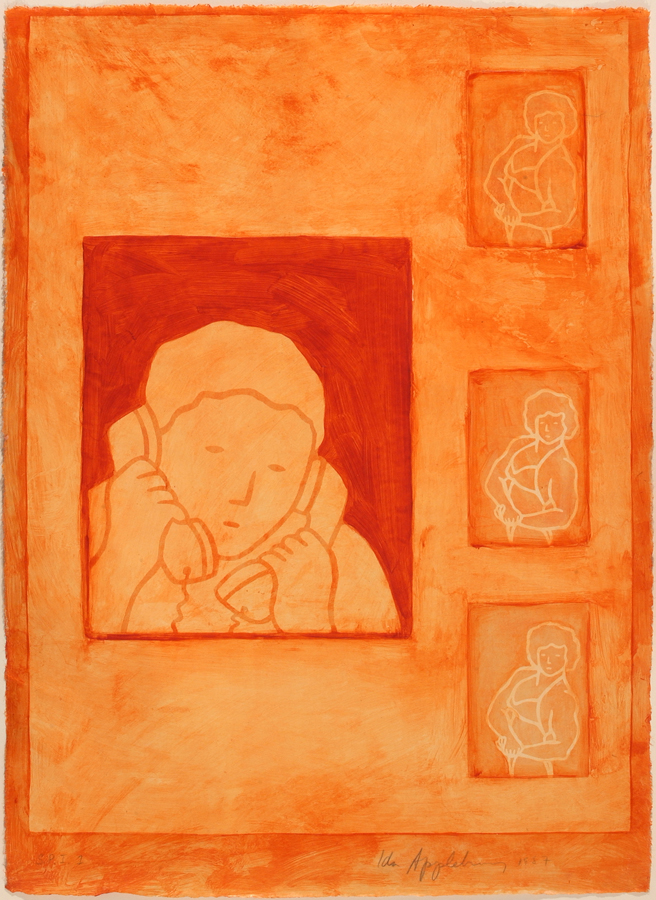 Applebroog worked with Master Printer Judith Solodkin on Promise I Won't Die?, which combines lithography, linocut, and a rubbing technique that Applebroog and Solodkin developed accidently. The technique created a "soft, dissolving landscape" that Applebroog found appropriate for the background. Her pointed, yet subtle social commentary is evident in this piece through the bold pictures of death including Auschwitz victims and suicide. Characteristic of Applebroog's work, both Promise I Won't Die? and Gulf + Western Plaza emanate vulnerability and disquiet.