August 31, 2011
8/31/11
The Guerrilla Girls Talk Back, on view at NMWA through October 2, immediately strikes viewers with overwhelming statistics and figures. The Girls have combined eye-grabbing graphics and startling numbers to create the posters, postcards, newsletters, stickers, and other materials in this exhibition; they use these powerful tools to convince the public of the pervasive discrimination in the art world and in society as a whole. Many of the pieces on view, including work by the Girls from 1980 through 2005, provoke strong reactions by presenting almost unbelievable data and large, bold numbers. This common thread through their work proves their perseverance and their determination to hold the art world accountable for entrenched discriminatory practices.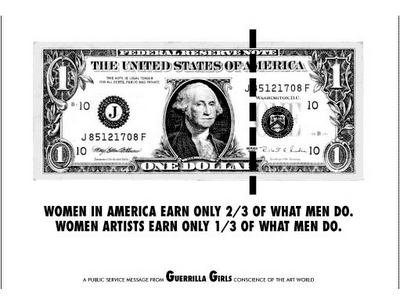 An untitled piece, depicting a dollar bill split along one third, astonishes viewers who are unaware of the inequality of salaries earned between women and men. This difference is even more extreme between women artists and men artists. This piece is effective because its highly graphic and easily distinguishable image so clearly illustrates the Girls's message.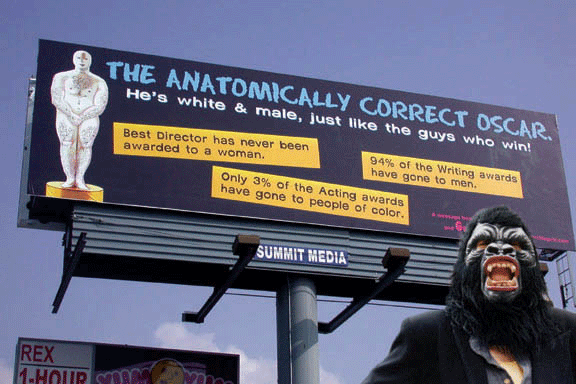 In contrast, some of the Guerrilla Girls's work focuses solely on numbers and text to communicate extreme messages. The Anatomically Correct Oscar Billboard, presented in a comical manner but still displaying alarming statistical information, enlightens viewers about the disproportionate number of Oscar winners who are male to those who are female, and also the discrimination toward people of color within the business. Another example, an untitled piece, uses only text and numbers to prove the surprising assertion that only 16 percent of artists represented in major New York City galleries are women. Using just these two techniques, the Girls clearly communicate the powerful message of inequality.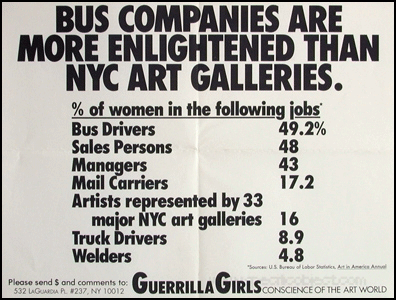 These works are only a few that highlight the Guerrilla Girls's use of provocative statistics in their artwork; NMWA's The Guerrilla Girls Talk Back presents additional alarming facts and figures. In fact, viewers may wonder about the persistence and ubiquity of statistics in their work—the Girls's posters are often decorated with asterisks and footnotes that back up their claims, and these added greatly to the effect the girls strive for. Their meticulous research, as well as their anonymity, allows them to criticize and document inequalities. Using statistics that are carefully cited, and keeping their own identities secret, the Guerrilla Girls emphasize the hard facts, putting themselves in a position that becomes extremely hard to refute, and making their work all the more influential.
To see these protest images, visit The Guerrilla Girls Talk Back at the National Museum of Women in the Arts, along with other current exhibitions Pressing Ideas: Fifty Years of Women's Lithographs from Tamarind and Susan Swartz: Seasons of the Soul, all on view until October 2.
Posted In
Artist Spotlight
From the Collection
NMWA Exhibitions