December 9, 2019
12/9/19
The End: A Meditation on Death and Extinction, the newest body of work by iconic feminist artist Judy Chicago, continues the artist's practice of tackling taboo subjects. In these works, she offers a bold reflection on mortality and the destruction of entire species. Visually striking and emotionally charged, the exhibition comprises more than 35 paintings on black glass and porcelain, as well as two large-scale bronze reliefs. On view September 19, 2019–January 20, 2020.
***
In a piece for the New Yorker this summer about a polar bear that was sighted far from its usual terrain, Michele Moses wrote, "The story of climate change has been told, in part, through pictures of polar bears. And no wonder: in their glittering icy habitat, they reflect the otherworldly beauty that rising temperatures threaten to destroy." Polar bears, dependent on a habitat of sea ice to hunt for food and raise their young, were the first species to be declared threatened or endangered due to climate change. Little has been done to end this destruction, and greenhouse gases continue to shrink the extent of Arctic ice.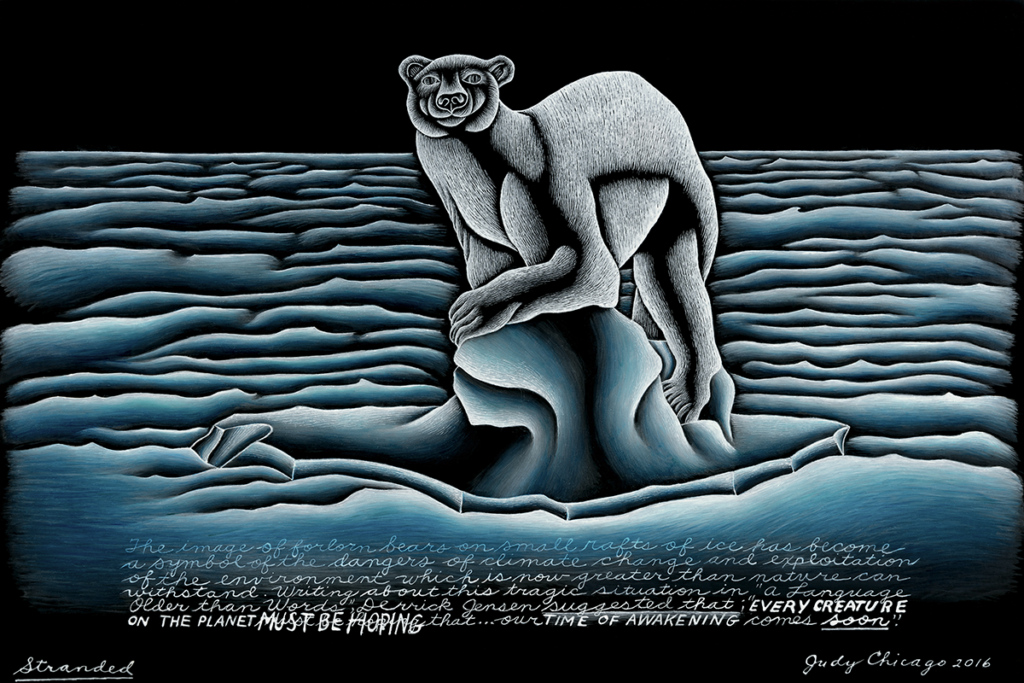 Judy Chicago (b. 1939) captures that otherworldly beauty—and human-caused destruction—in Stranded, from The End: A Meditation on Death and Extinction (2016). In kiln-fired glass paint on black glass, Chicago depicts a polar bear looking out toward the viewer as it seems to drift backward on an ice floe. Luminous colors evoke the vibrant blues of the Arctic ocean and the reflected light from water and ice.
As artists contend with the urgency of climate change, some portray nature's stunning grandeur to inspire viewers into protecting the planet; others show human-caused damage that provokes shock and anguish. In combining those approaches, Chicago delivers a painful message through beautiful and delicate works. She has said that this body of work was "personally excruciating to create. To be faced every day with what we are doing to other creatures and the planet was to enter the kingdom of hell."
Separate sections of The End show the artist grappling with grief and with her own mortality. Stranded is part of the "Extinction" series, a group of works that each depict the plights of individual animals or plants—birds, sea turtles, elephants, frogs, coral, and orchids appear, among others. Chicago uses written text throughout her work to describe the threats that imperil each creature and to issue a plea for compassion. The handwritten text within Stranded underscores the importance and centrality of the polar bear, and it includes a quote from environmental activist Derrick Jensen: "Every creature on the planet must be hoping that…our time of awakening comes soon."