June 13, 2023
6/13/23
Inaugural Exhibition of Monumental and Large-Scale Sculpture Follows a Transformative Museum Renovation
WASHINGTON—When the National Museum of Women in the Arts (NMWA) opens its doors on October 21, 2023, after a two-year, top-to-bottom building renovation, a dramatic inaugural exhibition will highlight the new space. The Sky's the Limit, featuring contemporary sculpture and immersive installations by 13 international and U.S.-based artists, is a rare survey of large-scale work by women from the last two decades. On view through February 25, 2024, the exhibition is accompanied by a fully illustrated catalogue.
The Sky's the Limit showcases 31 sculptures dating from 2003 to 2023 by artists Rina Banerjee (b. 1963), Sonya Clark (b. 1967), Petah Coyne (b. 1953), Beatriz Milhazes (b. 1960), Cornelia Parker (b. 1956), Mariah Robertson (b. 1975), Alison Saar (b. 1956), Davina Semo (b. 1981), Shinique Smith (b. 1971), Johanna Unzueta (b. 1974), Joana Vasconcelos (b. 1971), Ursula von Rydingsvard (b. 1942) and Yuriko Yamaguchi (b. 1948). The works dangle from the ceiling, cascade down walls and extend far beyond their footprint on the gallery floor. Monumental scale and a bold approach to materiality are combined with handwork, repetition and unconventional materials to achieve maximum impact.
From its opening in 1987, NMWA committed to collecting and exhibiting visionary sculpture by women. As the museum prepares to reopen the doors of its revitalized building, The Sky's the Limit expresses the museum's dedication to illuminating artists' profound impact and ongoing influence.
"This inaugural exhibition offers an opportunity to engage audiences with powerful, large-scale works," says Kathryn Wat, Deputy Director for Art, Programs and Public Engagement/Chief Curator. "Presented in our transformed space, the artworks convey an energy and dynamism that dovetails with the urgency of the museum's mission to oppose historic and contemporary gender inequality. The pieces reach out to directly engage audiences and evoke a precariousness that is exciting."
Presented in the museum's redesigned 6,500-square-foot special exhibition galleries, the layout of The Sky's the Limit subtly demonstrates new possibilities offered by the renovated space—from reinforced interior supports that greatly expand the potential size and weight of installations to movable walls that are adaptable to each exhibition. NMWA's architectural team and staff collaborated to create intimate niches and open spaces that alternate throughout the museum's entire second floor. This configuration allows each artist's work to be presented individually, while inviting visitors to experience connections between adjacent artworks.
Exhibition Highlights
Highlights of The Sky's the Limit include recent acquisitions and works never before exhibited at NMWA by Sonya Clark, Beatriz Milhazes, Cornelia Parker, Mariah Robertson, Davina Semo, Shinique Smith and Joana Vasconcelos. In addition, Petah Coyne, Alison Saar, Ursula von Rydingsvard and Yuriko Yamaguchi shared new work from their studios or rarely seen loans from private collections.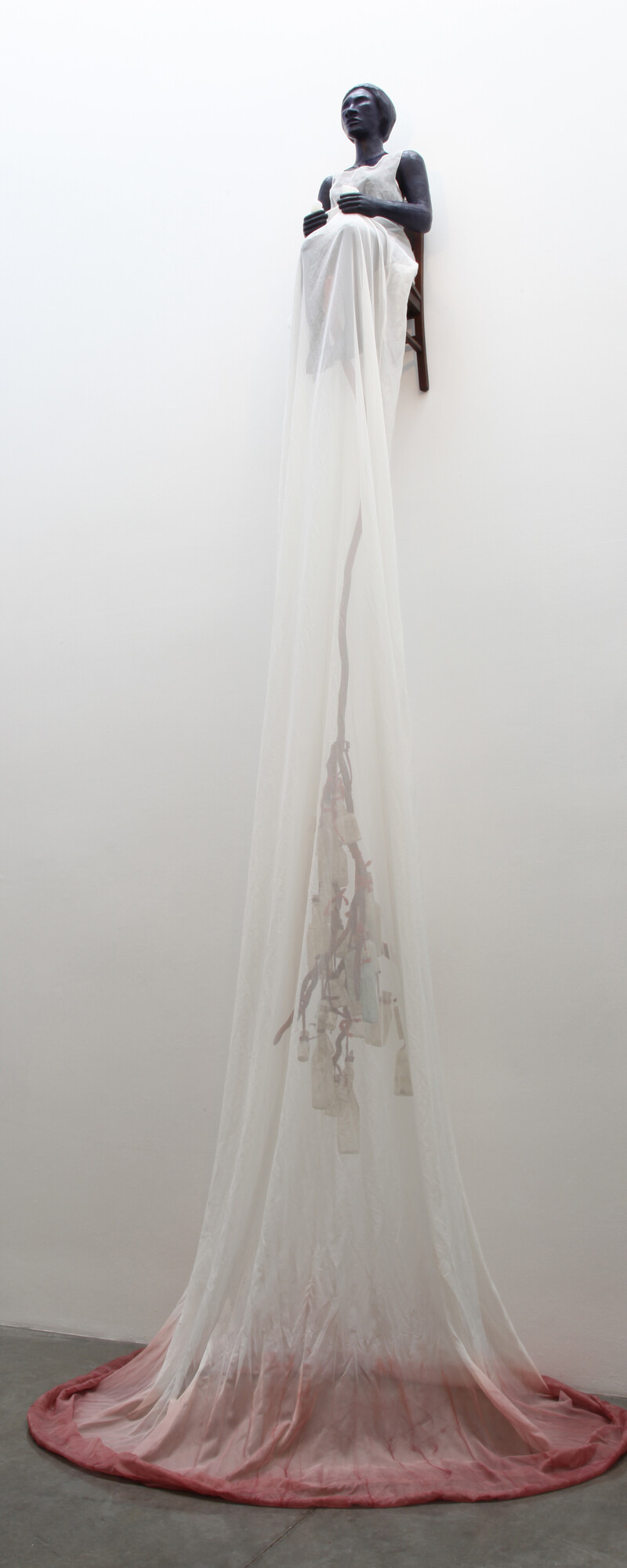 Sculptures on view incorporate an array of found objects, including silver-plated vessels, T-shirts, wooden spools, hair combs, faux flowers, glass bottles, parasols and a wooden rhinoceros, each imbued with social and cultural associations that the artists recontextualize. For example, Rina Banerjee's sensuous, large-scale assemblages are comprised of materials ranging from glass and feathers to bird cages and bones. They conjure the sometimes-dark nature of cultural exchange and the formation of identity within diasporic communities.
Other works on view are composed from materials that bear strong associations to the natural world, industry and the built environment, such as wool, paper, wire, resin, cedar wood and aluminum. Cedar wood sculptures by Ursula von Rydingsvard sweep out from the walls and push deep into gallery space or flare out high above viewers' heads. These rough-hewn, imposing constructions resemble real-world objects—vessels, bowls and tools—but they are most essentially the product of the artist's hands, mind and spirit. Johanna Unzueta's textile-based sculptures often route through gallery walls and hug corners. They act as stand-ins for her own body and handwork while paying homage to hidden industrial labor and the unthinking use and waste of natural resources.
Among the featured works on view from NMWA's collection are Mariah Robertson's 164-foot-long abstract photograph 9 (2011), which cascades from the ceiling and speaks to the psychological impact of extreme scale; Rubra (2016), a functional and flamboyant illuminated chandelier by Joana Vasconcelos made from crocheted wool and Murano glass; and Daisies up your butterfly (2013) by Shinique Smith, a hanging bundle crafted from reclaimed clothing tightly bound by ribbon, brimming with the energy of both secrecy and discovery.
The Sky's the Limit is organized by the National Museum of Women in the Arts. This exhibition is underwritten by Presenting Sponsor Denise Littlefield Sobel.
Curatorial research funds were provided by Marcia Myers Carlucci. Additional support for the exhibition catalogue comes from The Deborah Buck Foundation.  
Publication
The Sky's the Limit features an accompanying publication with images of the work on view in the exhibition, as well as additional related works by each artist. The large-format, 128-page, full-color publication reveals the rich intricacies of each artist's techniques, materials and approaches. The catalogue includes a comprehensive essay by Wat and a special composition about NMWA's support for large-scale sculpture in public space. Short essays and verse commissioned from each participating artist illuminate the inspiration and intent that shape their work.
The National Museum of Women in the Arts
The National Museum of Women in the Arts (NMWA) is the first museum in the world solely dedicated to championing women through the arts. With its collections, exhibitions, programs and online content, the museum inspires dynamic exchanges about art and ideas. NMWA advocates for better representation of women artists and serves as a vital center for thought leadership, community engagement and social change. NMWA addresses the gender imbalance in the presentation of art by bringing to light important women artists of the past while promoting great women artists working today. The collection highlights a wide range of works in a variety of mediums by artists including Rosa Bonheur, Louise Bourgeois, Lalla Essaydi, Lavinia Fontana, Frida Kahlo, Hung Liu, Zanele Muholi, Faith Ringgold, Niki de Saint Phalle and Amy Sherald.
The museum building is currently closed for a major renovation, reopening on October 21. Visit nmwa.org/renovation for more information about the building project, and nmwa.org/exhibitions for details about additional inaugural exhibitions.
During the building closure, NMWA continues its mission-based work and engages supporters and friends through a dynamic slate of online programs and events, off-site and virtual exhibitions, and digital content. For information, call 202-783-5000, visit nmwa.org, Broad Strokes blog, Facebook, Twitter or Instagram.
Media Contacts
National Museum of Women in the Arts
Amy Mannarino, amannarino@nmwa.org
Emma Filar, efilar@nmwa.org
Nicole Straus Public Relations
Katrina Weber Ashour, katrina@krwaconsulting.com
Amanda Domizio, amanda@domiziopr.com