February 15, 2023
2/15/23
Inaugural exhibition The Sky's the Limit features bold, large-scale work by a dozen contemporary women artists
WASHINGTON—The National Museum of Women in Arts (NMWA), the world's first major museum solely dedicated to championing women artists, reopens its extensively renovated building on October 21, 2023. The transformed museum will feature new exhibition spaces, re-envisioned public programming areas, improved amenities and increased accessibility for visitors at its historic home at 1250 New York Avenue, NW, in Washington, D.C. In addition to an expansive reinstallation of the collection, NMWA will present an inaugural exhibition, The Sky's the Limit, featuring powerful monumental sculpture and immersive installations by a dozen contemporary women artists, in an innovative presentation not possible prior to the renovation.
"NMWA has a distinctive role in the art world. As both a museum and a megaphone, we advocate for gender equity through excellence in the arts," said NMWA Director Susan Fisher Sterling. "We have continued to do this work virtually and off-site during our closure, but we are really looking forward to reopening our building this fall. Our renewed and reimagined spaces will enhance our ability to share great works of art, engage with our visitors and reach out to new audiences."
NMWA's $67.5 million project, designed by Baltimore-based architectural firm Sandra Vicchio & Associates, is the museum's first full renovation since it opened in 1987. It honors the legacy of the 1908 Classic Revival structure while improving its interior spaces, façade and infrastructure. Updates include gallery spaces enlarged by nearly 15% to showcase historic and contemporary artworks and installations; a new Learning Commons, featuring an Education and Public Programs Studio for hands-on workshops as well as an improved Research Library; an updated, state-of-the-art Performance Hall; and more efficiently designed museum collections storage and conservation areas.
The grand reopening celebration will feature public programs for audiences of all ages. More details will be announced in the coming months.
The Sky's the Limit
NMWA will reopen with a special exhibition focused on women's pioneering work in large-scale sculpture. On view October 21, 2023, through February 25, 2024, The Sky's the Limit presents artworks by 12 artists, including Petah Coyne, Cornelia Parker, Mariah Robertson, Shinique Smith, Joana Vasconcelos and Ursula von Rydingsvard. Sculptures will be suspended from the ceiling, arc across walls and project outward from corners, inspiring close encounters with artworks.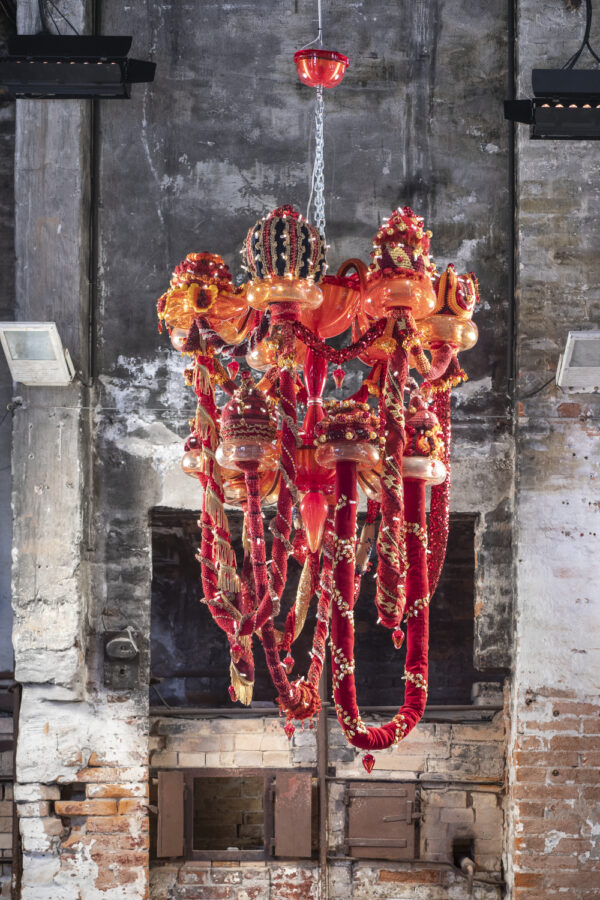 The core of The Sky's the Limit is a group of never-before-exhibited works from NMWA's collection. The renovation has created purpose-built spaces for art of all kinds, inspiring bold installations that tell a fuller story of women in art—notably encompassing powerful and monumental work. Highlights include Mariah Robertson's 164-foot-long abstract photograph 9 (2011), which cascades from the ceiling; Joana Vasconcelos's Rubra (2016), an illuminated chandelier made from crocheted wool and Murano glass; Shinique Smith's Daisies Up Your Butterfly (2013), a hanging bundle crafted from reclaimed clothing, which brims with the energy of secrecy and discovery; and Cornelia Parker's ghostly Thirty Pieces of Silver (exhaled) Sugar Bowl (2003), featuring steamrolled silver teapots and musical instruments that hover above the floor as if by magic.
Additional Inaugural Exhibitions
To complement the grand scope of The Sky's the Limit, NMWA presents two focus exhibitions: one that explores a contemporary artist's legacy and another that offers new perspectives on a historical work. Hung Liu: Making History highlights the oeuvre of the renowned Chinese-born American artist (1948–2021), who transformed her canvases and prints into memorial sites for women and children. Featuring approximately ten selections from NMWA's deep collection of her work, the exhibition explores the downtrodden and often-forgotten individuals that the artist chose to honor as mythic figures through history painting.
The exhibition Antoinette Bouzonnet-Stella focuses on the 17th-century French artist's series of 33 prints from 1675 depicting The Entrance of the Emperor Sigismond into Mantua. Her engravings, on view at NMWA for the first time in nearly 15 years, were commissioned by King Louis XIV's minister of finance to reproduce an Italian Renaissance stucco frieze. The exhibition provides an immersive look into Bouzonnet-Stella's technique and an exploration of her life in 17th-century Paris. With a unique wrap-around presentation, this narrative frieze is in dialogue with the installations of The Sky's the Limit, linking immersive works of the past and present.
Remixed Collection Galleries & Programming
An expansive collection reinstallation offers thematic and provocative combinations of works from NMWA's holdings that span six continents and six centuries. Favorites from NMWA's collection will be presented thematically in nine groupings, such as Fiber Optics, in which a quilt by Faith Ringgold and a sculpture made from thread by Sonya Clark weave in themes of race and history; Photo Credit, featuring early works by pioneering photographers Julia Margaret Cameron and Jessie Tarbox Beals, as well as contemporary images by Lalla Essaydi and others that expand photography's boundaries; and Land Marks, with works by Rosa Bonheur, Loïs Mailou Jones and Jaune Quick-to-See Smith that illustrate how landscape images are rarely objective or neutral.
The inaugural exhibitions also include a series of commissioned videos profiling women artists, created by NMWA and the award-winning film company Smartypants. Featured artists include Ambreen Butt, Sonya Clark, Colette Fu, Guerrilla Girls, Graciela Iturbide, Delita Martin, Rania Matar and Alison Saar. Through personal reflections, the videos will explore artists' inspirations, challenges and visions for the future. Visitors will be able to enjoy the museum's improved new-media capacity and continued emphasis on artists' voices throughout the galleries.
Renovation Highlights
NMWA's building renovation project includes:
Transforming the building to provide easier access for all visitors, with upgraded technologies and amenities as well as improved ADA accessibility
Renovating and enlarging galleries to accommodate a wider variety of historic and contemporary artworks and installations
Creating a new Learning Commons, which features an exhibition gallery, a state-of-the-art Library and Research Center with reading room, and an Education and Public Programs Studio that provides flexible space for a range of museum events including hands-on workshops, classes and curated conversations
Upgrading the 182-seat Performance Hall with new furnishings and state-of-the-art technology to enhance presentation of public programs, lectures, films and live performances
Improving wireless and interactive technology in galleries, which will enrich visitors' experiences and learning opportunities with additional connectivity
Updating the Great Hall and Mezzanine to preserve these iconic spaces while improving their functionality for museum events and facility rentals
Expanding the Museum Shop to accommodate even more items by women-owned companies and women makers
Installing new lighting, climate control and security technology to support long-term conservation of the art and the comfort of visitors
Enhancing collection storage spaces to store and conserve art more efficiently and effectively
Improving signage to provide easy-to-follow pathways throughout the museum
Restoring the roof, historic cornice and the building exterior in accordance with the D.C. Historic Preservation Office
Support
NMWA has raised more than $63.5 million to date, toward a capital campaign goal of $67.5 million. The museum's "Space to Soar" capital campaign is directed by a steering committee of NMWA trustees, advisors and senior museum staff and is supported by gifts from individuals, foundations and corporations. In addition, the museum has received federal and city funding through competitive grants from the Institute of Museum and Library Services (Museums for America Grant) and the DC Commission on the Arts and Humanities.
About the Historic Building
Designed by the architecture firm Wood, Donn & Deming, the museum's Classical Revival-style building was completed in 1908 as a temple for the Masons, an organization that did not allow women members. The main building is listed on the D.C. Inventory of Historic Sites and the National Register of Historic Places. The building incorporates Doric elements and Masonic symbolism.
In 1983, founders Wilhelmina and Wallace Holladay purchased the property to establish a museum dedicated to women artists. The building was refurbished in accordance with the highest design, museum and security standards. After the extensive renovations, which won numerous architectural awards, NMWA opened to the public on April 7, 1987.
National Museum of Women in the Arts
The National Museum of Women in the Arts (NMWA) is the first museum in the world solely dedicated to championing women through the arts. With its collections, exhibitions, programs and online content, the museum inspires dynamic exchanges about art and ideas. NMWA advocates for better representation of women artists and serves as a vital center for thought leadership, community engagement and social change. NMWA addresses the gender imbalance in the presentation of art by bringing to light important women artists of the past while promoting great women artists working today. The collection highlights a wide range of works in a variety of mediums by artists including Rosa Bonheur, Louise Bourgeois, Lalla Essaydi, Lavinia Fontana, Frida Kahlo, Hung Liu, Zanele Muholi, Faith Ringgold, Niki de Saint Phalle and Amy Sherald.
The museum building is currently closed for a major renovation, reopening on October 21, 2023. Visit nmwa.org/renovation for more information.
During the building closure, NMWA continues its mission-based work and engages supporters and friends through a dynamic slate of online programs and events, off-site and virtual exhibitions, and digital content. For information, call 202-783-5000, visit nmwa.org, Broad Strokes blog, Facebook, Twitter or Instagram.