Anna Hyatt Huntington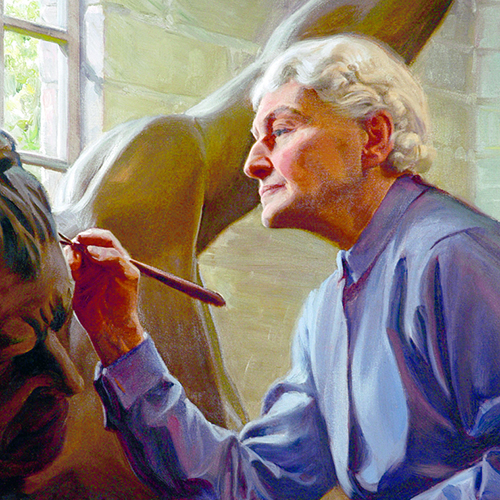 Huntington had been encouraged to develop her artistic talents by her father, an accomplished professor of paleontology and zoology. In 1923, at the peak of her career, Huntington married philanthropist and scholar Archer Milton Huntington.
In 1930, they purchased Brookgreen Gardens in South Carolina. At first a resting home for Huntington after she contracted tuberculosis in 1927, the gardens eventually became a public showcase for more than 300 sculptures (several by Huntington, others collected). She and her husband founded and supported many other cultural institutions, including the National Sculpture Society and the Hispanic Society of America.
The Huntingtons moved to Redding Ridge, Connecticut, in 1939 where she continued working after recovering from her illness. She began experimenting with aluminum, a lightweight, highly portable medium that allowed for more dynamic compositions. She created lively surfaces with rich modeling combined with abstract, stylized features borrowed from modernist trends.
Huntington, who exhibited internationally and received countless honors for her artistic talent and community service, continued working until a few years before her death at the age of 97.