Anne Vallayer-Coster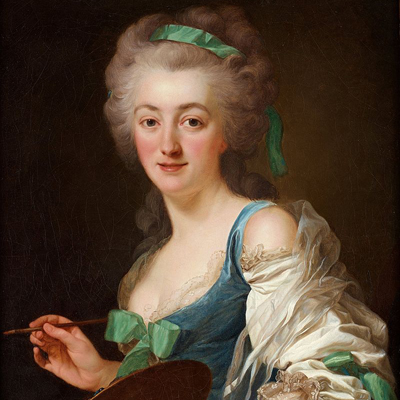 Vallayer-Coster was born into an artistic family; her mother painted miniatures and her father Joseph Vallayer was a master goldsmith. Her father's elevated status and aristocratic patronage may have helped the young Vallayer-Coster overcome some of the restraints that hindered many women artists.
At the age of 26, Vallayer-Coster was elected into the Académie Royale by a unanimous vote, a remarkable sign of approval as only four women artists were admitted to the Académie at a time. She exhibited in the Salon regularly from 1771 until 1817, showing still-life paintings of bowls of fruit, dead game, shells, and flowers.
In 1780 she was named Painter to Queen Marie Antoinette. She continued painting a broad range of subjects and themes including animals, trompe-l'oeil bas reliefs, miniatures, and full-sized portraits, which mirrored the opulence of French aristocracy before the Revolution.
Vallayer-Coster was often compared to female contemporaries, including Adélaïde Labille-Guiard and Elisabeth Louise Vigée-LeBrun, who were more widely praised as portraitists. After a scathing review from critics at the Salon of 1785, Vallayer-Coster quit painting portraits and instead focused on still lifes.
Due to her close association with Marie Antoinette, her career suffered during the French Revolution. She continued exhibiting at the Salon, however, until the year before her death.