Cecilia Beaux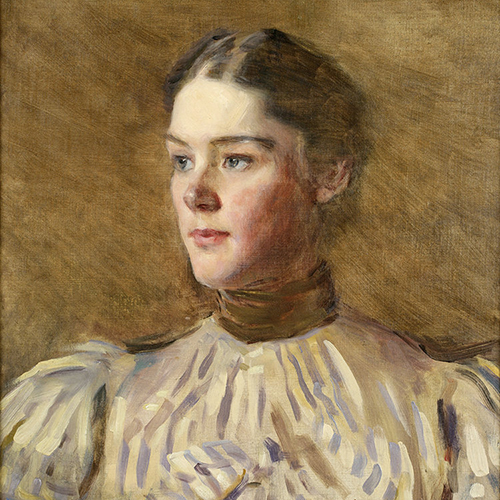 Born to Cecilia Kent Leavitt and Jean-Adolphe Beaux, the artist's early life was shaped by her mother's death, just 12 days after her birth. Beaux's father returned to France, leaving Beaux and her older sister, Aimée, to be raised by relatives. Beaux's early interest in art was encouraged at home and school.
By age 18, Beaux was earning her living through commercial art, making lithographs and painting on china while studying in Philadelphia. She completed her first medal-winning portrait in 1884. In 1888, after rejecting several marriage proposals, Beaux decided to devote herself to portraiture and studied in Europe for 19 months.
Back in Philadelphia, Beaux painted prominent writers, politicians, and other artists. For many years, she taught at the Pennsylvania Academy of the Fine Arts. Beaux's pictures were widely exhibited in the United States, as well as in Paris and London. She moved to New York in 1898 and also built a summer house in Gloucester, Massachusetts, which became a popular stopping point for her distinguished clientele.
Her reputation hit its peak during the 1930s when she received several major awards, including the Gold Medal at Exposition Universelle, Paris, in 1900; had two retrospective exhibitions; and published her autobiography. In 1933, First Lady Eleanor Roosevelt presented Beaux with the Chi Omega fraternity's gold medal, for "the American woman who had made the greatest contribution to the culture of the world."