Georgia O'Keeffe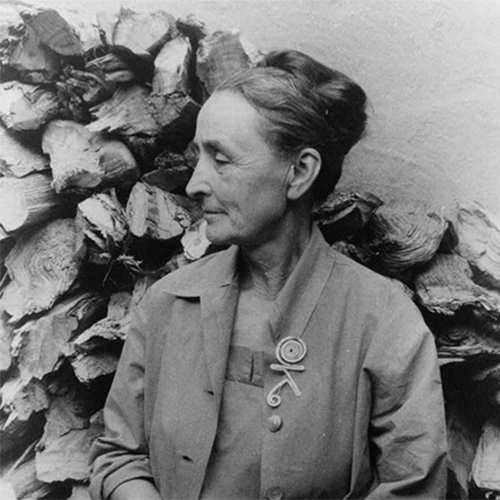 Born near Sun Prairie, Wisconsin, O'Keeffe decided to become an artist at age nine. She received formal art training at the School of the Art Institute of Chicago and New York's Art Students League. After two years as a commercial illustrator, she spent seven years (1911–18) teaching in Virginia, South Carolina, and Texas, while continuing her own study.
O'Keeffe was strongly influenced by the ideas of Arthur Wesley Dow, who advocated simplifying forms as a means of capturing their essence and developing a personal style. In 1915, following her time with Dow, O'Keeffe destroyed all of her previous work. She returned to the basics, creating radical charcoal drawings that led directly to experiments with total abstraction.
In 1918, O'Keeffe moved to New York at the behest of influential photographer and art dealer, Alfred Stieglitz. Stieglitz gave O'Keeffe her first exhibition, and their professional relationship evolved into a personal one. Stieglitz's sensuous photographs of O'Keeffe contributed to her persistent reputation as a painter of women's sexuality, despite her vehement rejection of any such interpretations. In 1924, O'Keeffe married Stieglitz, and they lived in New York until his death 22 years later.
O'Keeffe settled in New Mexico, which she had visited even during Stieglitz's lifetime. The dry, bright open spaces appealed to her immensely. She continued to paint there until her death at 98. Towards the end of her life, she painted with the help of an assistant due to increasing vision loss.