Isabel Bishop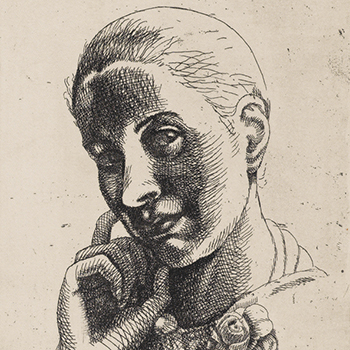 Born in Cincinnati, Ohio, she arrived in New York in 1918 at age of 16, where she studied illustration and painting. After marrying Dr. Harold Wolff in 1934, she lived in Riverdale but maintained her studio on Union Square near 14th Street until 1984.
Bishop's work shifted focus—in her early artwork she had depicted realistically rendered nudes, but in New York she began to draw, etch, and paint the distinctly urban subject matter that surrounded her. After moving to Union Square in 1926, she became enamored of the area and its inhabitants. Shop girls, straphangers, laborers, and derelicts became her models as they traversed. By capturing their motions and gestures in prints, Bishop produced the walking figures for which she is best known.
Bishop taught at the Art Students League as the only female full-time instructor from 1936 to 1937 and also at the Skowhegan School of Painting and Sculpture, among others. She received awards and prizes including an American Academy of Arts and Letters award (1943), an award for Outstanding Achievement in the Arts presented by President Jimmy Carter (1979), and several honorary doctorates. She was the first woman to hold an executive position in the National Institute of Arts and Letters when she became vice-president in 1946.