Mirella Bentivoglio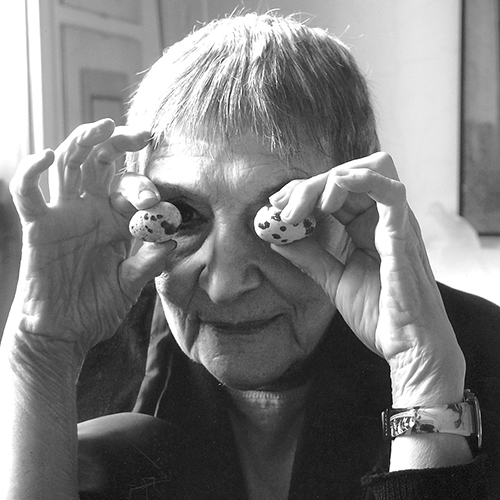 Born in Klagenfurt, Austria, to Italian parents, Bentivoglio grew up in Milan. Her linguistic studies in Switzerland and London were interrupted by World War II, and during this period, she used her father's extensive library as a home-based university.
Unlike most poets, Bentivoglio presents poetry "liberated" from the traditional printed page. The artist played with words, breaks rules of syntax, detaches words from phrases, and isolates letters from words. The results of these experiments—concrete and visual poems—are perceived as symbols and metaphors. She also created unique artists' books, often made from unusual materials such as marble, wood, metal, and earth, and published limited-edition portfolios. She was a renowned sculptor and performance artist.
She curated many exhibitions of work by women artists in Italy and all over the world, and for the artist's 90th birthday, the National Gallery of Contemporary Art in Rome organized a retrospective exhibition of her work.