Miriam Schapiro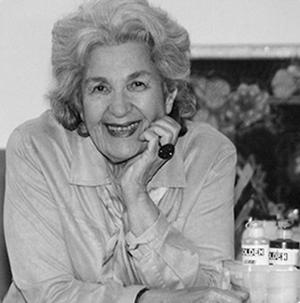 Her defining breakthrough came in 1972 when she, Judy Chicago, and 21 of their students from the Feminist Art Program at the California Institute of the Arts created the installation Womanhouse.
Contained in an abandoned mansion, Womanhouse used icons of domestic work to explore the processes and history of gender construction, linking women's cultural heritage with progressive feminist expression.
In subsequent years, Schapiro developed this link into a visual language that sought to recover and elevate the work of women artisans of the past, employing decorative conventions found in quilting, embroidery, and appliqué. To describe her artworks, as well as the activities they reference, she used the term "femmage," a word she invented to suggest a continuity between high art collage and works created by anonymous women.
Since the 1990s, Schapiro's works incorporated figurative elements; the femininity alluded to in her abstract works became personified and emerged from within "femmaged" patterns as exuberant, dancing women.